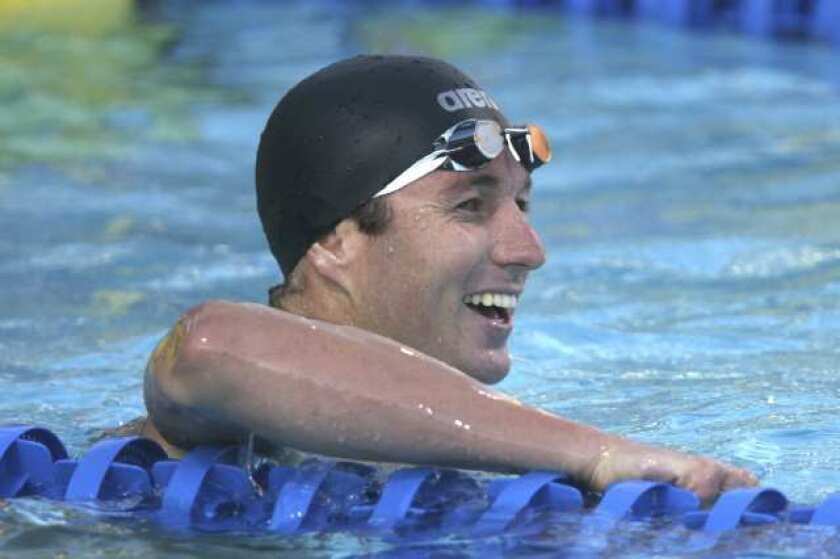 Aaron Peirsol stood and waved from the champion's top spot on the podium moments after winning the 100-meter backstroke Aug. 18, 2010.
His hometown crowd cheered for him at the William Woollett Jr. Aquatics Center in Irvine. They were happy to see him win and they were looking forward to what he would provide next. But Peirsol knew his career was over, he said Wednesday when he explained his reasons for retiring.
Peirsol's coach Eddie Reese told swimmingworldmagazine.com Tuesday that the five-time Olympic gold medalist had retired.
Peirsol, a former Newport Harbor High star, said he never really thought to make his retirement public or "to make a big deal about it."
He told people close to him that he was done with competitive swimming shortly after the Pan Pacific Championships in August.
"I ended up doing everything I set out to do," Peirsol said during a phone interview from his home in Austin, Texas. "It was an amazing feeling to know that I was done when I was on that podium."
Peirsol called his final competition, "poetic," since he swam at the pool where he had trained as a kid with Irvine Novaquatics.
When he was through, Peirsol said he hung his goggles and gear at a locker and just walked away.
"It was cool," he said. "It felt amazing. I was always thinking how it would be when it was over, and I just knew it had ended."
Peirsol had been thinking about retiring since 2008, after winning two gold medals at the Beijing Olympics. In 2010, he said it was difficult for him to find a goal and to gain motivation. But he said he was fine with that. He was content with what he had accomplished.
"I always told myself that when I was done I would be done," the 27-year-old said. "When I look back on my career I can smile."
Peirsol also expressed joy when he talked about growing up in Orange County and the special memories he has about home.
The laid-back star swimmer is revered in various parts of Orange County, including Newport Beach. He started out as a youth competitor for the Harbor View Swim Team where he broke several age-group records. Later, it was on to Irvine Novaquatics. He also competed for Newport Harbor and he's known as one of the greatest athletes to come out of the school, that also has NBA great George Yardley and beach volleyball legend Misty May-Treanor as alumni.
Peirsol stressed he wanted to call the Daily Pilot first to talk about his retirement because the newspaper reminded him of home and where he grew up.
Olympic aspirations began at a young age for Peirsol, who trained with Dave Salo and Brian Pajer of the Novaquatics. Pajer, who now heads Irvine Aquazots and coached UC Irvine swim teams until the sport was eliminated two years ago, developed Peirsol into a backstroke swimmer.
Salo, the former Orange Coast College coach who is still in charge of Novaquatics and is the head coach at USC, told a 13-year-old Peirsol he could make the Olympics. He made it at 16.
"I felt comfortable projecting that," Salo told the Daily Pilot in 2004. "You can't do that with every swimmer. But he's special. What has made him different is that he has accepted the challenge of being the world-record holder in the backstroke. He's different than most people. He's a confident, young man. He's not necessarily cocky. People tend to think he's some sort of surfer dude, because he's from Newport Beach, but I don't think that's him. He's just casual. And, he has a lot of confidence."
Peirsol displayed that confidence throughout his career, holding the world record in the 100 and 200 back and being referred to as the Backstroke King. In 2002, he led Newport Harbor to its first CIF Southern Section Division I team championship, as he won two individual titles and was on two winning freestyle relays.
He also went on to star for two years at the University of Texas. He won three gold medals at the 2004 Olympics, sweeping the backstroke races and contributing to the victorious 400 medley relay. He won two gold medals at the 2008 Olympics in the 100 back and 400 medley relay.
Peirsol also won 10 long-course world titles, as well as six world championships in short-course races.
Peirsol said he plans to enroll in a graduate program. He also continues work with projects for keeping the oceans clean. He said he wants to stay around the sport and wants to go to the 2012 Olympics to cheer for the Americans.
He said he still loves to swim. He won't compete, but he still wants to just swim, he said.
"I'm free right now and it feels good," Peirsol said. "I'm taking it easy right now."
---