Salata's wonderful life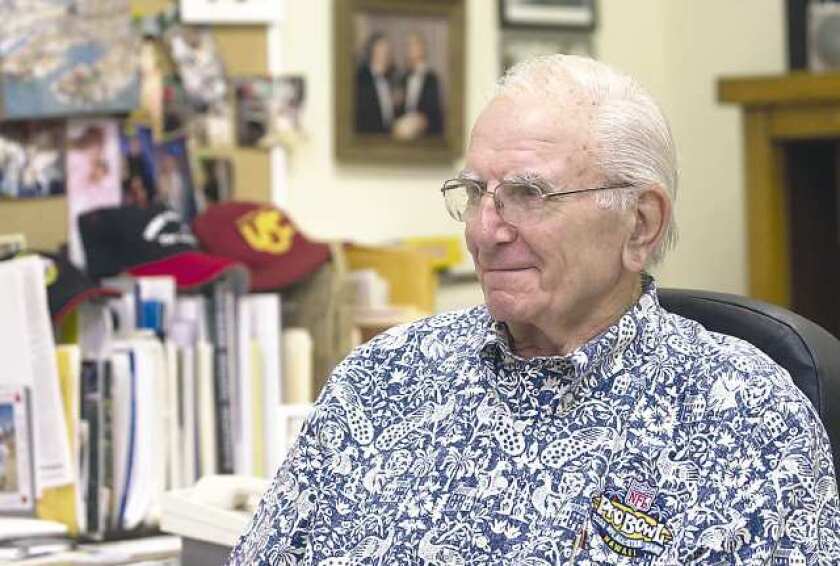 There is irony usually intertwined with Irrelevant Week when you think of the owner of the quirky concept.
Who could find relevance with so much laughter, joking and silliness? Look deep. Look at the man who owns the trademark of Mr. Irrelevant and Irrelevant Week.
Paul Salata, 84, has built a nationally known product based on celebrating someone for no reason at all. It seems crazy to think there could be so much fun when throwing a huge party for the final pick of the NFL Draft. But look deeper, find Salata, and you realize why it's so much fun.
Salata, a Newport Beach resident, has lived his life like a long party. Along the way he made some significant accomplishments. Along the way, he experienced hurt and despair. Along the way he found a way to win.
It was just a decade ago he beat cancer, tackled it like he does each day: with humor and a carefree attitude.
Now he enters the 36th Irrelevant Week, which starts Monday at the Newport Dunes Waterfront Resort. The NFL has noticed the tireless work Salata and his family have put into Irrelevant Week and the league wants to be a bigger part of it.
Salata wants to keep the zany week in Newport Beach. Salata, with the help of family and friends, is trying to prove to the NFL that the beach town is the perfect place for Irrelevant Week.
"I never thought about it lasting," Salata said of Irrelevant Week. "I thought that much about our town. How can anyone not like it?"
Some just like the week because it means a good time. Some like it because of Salata. When you look deep, you know there is a good time with that name.
*
GROWING UP IN L.A.
Tucked away in a small Newport Beach office, there are pictures and awards that decorate the rooms in a place referred to as Irrelevant Week Headquarters. Amid all the pictures, there is a poster board displaying a few old photos of Salata's life.
His daughter, Melanie Salata Fitch, points to each boy in a photo and smiles as she talks about each uncle.
"Uncle Pete looked like dad but he had a mustache," Melanie says. "And, he had a great sense of humor."
So is that where Salata gets it from?
Salata responds with a sly smile before providing one of his many zingers.
"I don't know if it works or not," Salata says of his humor. "But it's better now because you can lie a lot because there are no witnesses left. They're all gone."
Salata doesn't laugh much when he talks about growing up in Los Angeles. It's a point in his life he just uses a matter-of-fact tone when talking about it.
Salata, of Serbian descent, was the second of seven Salata boys. When Paul was 12, his father, Chetko, died suddenly.
Paul and some of his brothers had to go to work to help their mother, Melania.
"We didn't know any better," Paul says of his childhood. "Sometimes we didn't have a car. There were like two cars per block where we lived. We just did what they told us … Education was the most important thing."
Paul was a newspaper boy, selling papers at the street corner. The Salata brothers also worked on catering trucks and sometimes ate the leftovers. They would tend gardens and sometimes picked lettuce and carrots for themselves. Other times there were meals offered after mass at their local church.
Somehow, Paul found opportunity and he found it with athletics.
"I was up for anything," Salata said. "I did high jump and track, baseball and football."
At Franklin High in Highland Park, Salata starred in football. He said he was named third-team All-City before graduating a year early.
He worked his way to a scholarship to play at USC.
He served 18 months in the Army Air Corps. before going back to playing football at USC.
*
TROJAN FOR LIFE
When Salata talks about playing football at USC he speaks of his alma mater with great fondness.
"It was the big time," Salata said.
Salata, a receiver, or an end in those days, says he holds many memories in high regard, but one sticks out: Jan. 1, 1945. USC beat Tennessee, 25-0, in theRose Bowl.
He still has the picture of the young Salata catching a touchdown pass. In the background, the scoreboard is a visible along with a sold-out crowd.
"But I caught two touchdowns," Salata jokes.
He shows another picture of a catch in the end zone with a foot clearly inbounds, but the referee missed the call.
"The record book shows I only scored one touchdown," Salata says. "But the picture shows I had two."
Salata still attends USC games and he remains a loyal supporter of the football team, even in these hard times for the Trojans. He has a scholarship in his name, reserved for the special teams captain.
That makes Salata smile.
*
MADE TO BE A PRO
When Salata finished at USC, he played in a semi-pro-type league. It was there he was scouted by the San Francisco 49ers and was asked to try out for the team. He played for the 49ers for two years and still attends the organization's alumni weekend each year.
Salata also played for the Baltimore Colts, where he caught 50 passes in 1950.
"I was third in the league," Salata said.
When the Colts folded in 1951, he was re-drafted and picked by the Pittsburgh Steelers. But Salata chose to play for the Calgary Stampeders in Canada.
"They offered me twice what the Steelers were offering," Salata said.
Salata said he just wanted to earn enough money to raise a family and buy a house. Sounds simple enough. But hardly anything is simple with Salata.
Sure he never had to worry with the money he earned.
"I was never in debt," Salata said with pride.
He played in Canada for five years. He later broke into real estate and other ventures.
As a pro, he worked. After the game ended, he worked.
Where was the fun?
If you Google his name, look deep, and you can find it.
Salata dabbled in movies. He was an extra in a few. In one movie, he played the part of a thug who cuts Frank Sinatra's nose in the movie, "The Joker Is Wild."
And, of course, later in life came something irrelevant.
*
HIS GREATEST MEMORY
In 1976, Salata created the Mr. Irrelevant concept. He said he had always joked about celebrating the guy on the bench, honoring the underdog. He said he also heard of some club in Laguna Beach that would throw a party for a random person.
"They did something nice for someone for no reason," Salata said, repeating the slogan of Irrelevant Week, which also continues to raise money for charity.
Kelvin Kirk, a wide receiver out of Dayton, became the first Mr. Irrelevant. Back then he was the 487th pick. This year's Mr. Irrelevant, Cheta Ozougwu of Rice, was No. 254.
There have been so many memories throughout the years. Salata throws out a number, "52,586 memories," he says in a silly tone.
"But if you ask me which one is my favorite, I know the one," he says smiling.
In 1983, John Tuggle, a Cal running back, became Mr. Irrelevant. Salata went out of his way to make some sort of connection with the Bears. It was not too long ago Cal was involved in "The Play."
Was there anyone irrelevant in that crazy ending to a game against Stanford when the band came on the field? Remember that trombone player who gets trampled over in the end zone by Kevin Moen?
Salata and his team found him. Coming off the plane in Orange County with Tuggle was Gary Tyrrell.
Salata said they asked Tyrrell to play the Stanford fight song on cue throughout the week. When they got off the plane, Tyrrell played. At the Lowsman Trophy Banquet, he played. But Salata thought it was a weak performance each time.
Salata was angry and said he reminded Tyrrell that he was supposed to play the Stanford fight song.
"He told me, 'Mr. Salata, that's the Stanford fight song,'" Salata said. "He said, 'I'm third trombone and that's my part.'"
Salata still laughs. He's happy these days, especially as Irrelevant Week approaches. It's a popular event.
There's been a mystery novel based on Mr. Irrelevant. There's also a movie in the works, said Melanie, who is the CEO of Irrelevant Week.
She said she heard another movie named, "Mr. Irrelevant," is in the works in Canada, but she wants to look into it once the crazy week is over next week to see if there is any copyright infringement.
Maybe someone will make a film about Paul Salata's story. Sounds like a fun movie.
*
One Big Party
Monday – Arrival Beach Party: 5:30 p.m.-7:30 p.m. at Newport Dunes Waterfront Resort
Tuesday – Mr. Irrelevant will be a special guest ofDisneyland
Wednesday – All-Star Losman Banquet: 6 p.m. at Newport Beach Marriott Hotel and Spa
Thursday – Irrelevant Week Regatta & BBQ
*For more information go to https://www.irrelevantweek.com
---