Pajer still hard at work with AquaZot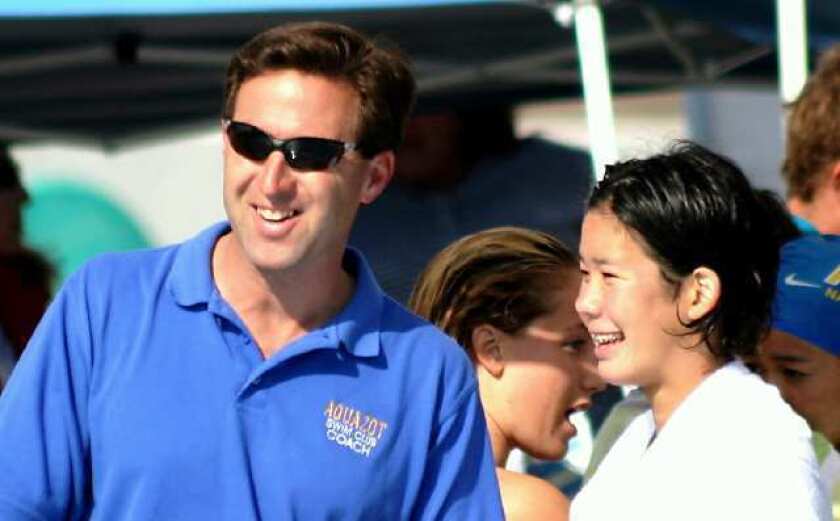 There's no truth to the rumor that Brian Pajer has the Olympic Games rings tattooed across his chest. But if he did, it would be difficult to blame him.
Pajer was a two-time Big West Conference swimming coach of the year during his days as UC Irvine's head coach, but his success as a coach extends beyond the college-aged swimmers.
Pajer was coaching at Irvine's Novaquatics when Amanda Beard, Aaron Peirsol and Mike Cavic swam there as grade-schoolers, eventually becoming Olympic medalists. And after starting up the AquaZot Swim Club he coached another future Olympian in Kristen Caverly.
For now, Pajer is focused on his current group of swimmers at AquaZot, the club he founded in 1999 when he was an assistant at UCI and the school asked him to start a swim club based at the school's new pool.
The collegiate swimming program at UCI was eliminated in 2009, so Pajer has since put all his efforts into AquaZot, which included kids ages 5 through high school. This weekend he's been in Santa Clarita as AquaZot is competing in the California-Nevada Gold Sectionals and in a few weeks the team will go to Indianapolis for the Junior Nationals.
It's high level stuff. Or not. Pajer said AquaZot's goal is to help his swimmers reach theirs, whatever they may be.
"Our biggest thing is we want parents and kids to set goals for what they want in the sport, and it's our goal to help them achieve those goals," he said. "If those goals are being a successful high school swimmer, at the CIF level, then we have a way to help them with that.
"If they want to be a part of the USA Swimming Junior Nationals program, we focus on that, or the Senior Nationals Program, we have a program to get them to that level. If they want to be a part of the Olympics or whatever international experience they want, we want to be able to provide that as well."
AquaZot produced its first Olympian in 2004 when Caverly took second place in the 200 backstroke at the Olympic Trials held in Long Beach. She went to the Games in Athens and placed 17th.
"I worked with her for quite a while, since she was 8 or 9 years old," Pajer said of Caverly, who graduated from San Clemente High. "She went to Stanford, came back and made the Olympic team."
And now with the Olympic Games taking place in London, it's a chance for Pajer to give his swimmers some tangible evidence of what is possible.
"We do talk to the swimmers about the Olympics," he said. "They know every four years they have a chance to see their idols like Michael Phelps or Ryan Lochte. Swimming really comes to the forefront every four years, it gets the kids excited about it. We make sure they're watching it and we talk to them every day about it.
"Usually the Olympic year is a year when we see a big influx in swimming – our membership tends to grow after the summer with the Olympics. They called it the 'Phelps effect' after 2008."
Five AquaZot swimmers competed a few weeks ago in the U.S. Olympic Trials in Omaha, Nebraska, gaining valuable experience.
Kaitlyn Albertoli (age 15 from JSerra High) swam the 50-yard freestyle in 26.65 and took 113th place; Kendall Brown (18, home schooled) swam the 200 butterfly in 2:19.68 for 110th place and the 400 individual medley in 5:01.98 for 109th place; Daniela Georges (15, Woodbridge High) swam the 200 free in 2:04.52 for 80th place, and the 200 backstroke in 2:22.55 for 171st place; and Brynne Wong (16, Corona del Mar High) swam the 100 butterfly in 1:02.97 for 134th place.
The only boy competing at the Trials from AquaZot was Corey Okubo, (16, University High) and his time in the 200 butterfly (2:00.33) was 18th overall and the best among all swimmers 18 and under. That qualified him to compete next month in the Junior Pan Pacific Championships in Honolulu, Hawaii, which is an international competition. Okubo also competed in the 200 backstroke (2:03.93), 200 IM (2:05.88) and the 400 IM (4:24.25) at the Trials.
"He's been a part of our program since he was 8 years old," said Pajer, who was a three-time All-American swimmer himself while attending UCI, and placed seventh at the U.S. Olympic Trials in the 100 backstroke in 1992. "He continues to get better each year. Last year he made the Junior World Championship team to go to Lima, Peru in the 200 butterfly. And that was as a 15-year-old and the [Junior] World Championships are 18 and under, so he was a little young."
He still has a long way to go, but Okubo's performance at the Trials last month could just be the beginning for him.
"He's a great kid," Pajer said. "He was probably the smallest guy at the Olympic Trials, he's probably 5-9, 140 pounds. But he's got a lot of heart and he's put in a lot of work the last few years, and now we're seeing the improvement from that."
---