A time to celebrate for Slammers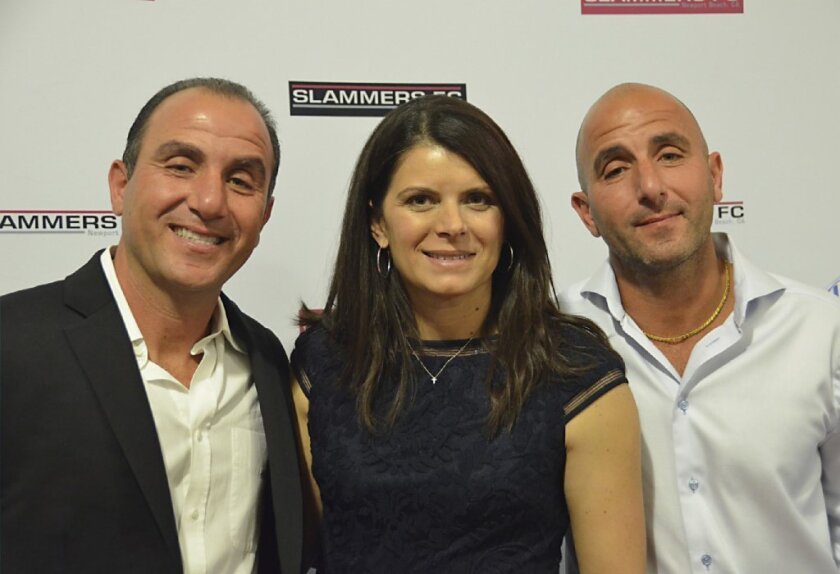 A soccer party took place Saturday night at the OC Mix in Costa Mesa and it was called, "The Slammers FC Celebration."
But for Walid and Ziad Khoury it was also known as a dream come true.
The brothers who are the directors of coaching for the elite soccer club, based in Newport Beach, had always wanted a night like Saturday when a reunion of sorts took place intertwined with pride of past accomplishments, acknowledgment of the present talent, and strong confidence for the future.
There were stories to be told and jokes to laugh about. It was a time to celebrate so much success.
"This was a great way to celebrate the kids we have put into college and for us to talk about the direction we're going for our future," Walid Khoury said. "We started in 1999. We had been with OC United and then we started Slammers. It's been a great ride ever since. We impacted a lot of lives. We started small. We started with four teams and got bigger. We have around 30 teams right now. But it's not about the number of teams that we have, it's about the quality that we have."
Talented soccer players and their families filled the OC Mix, where many received a booklet about the Slammers Celebration.
"Since 2002, Slammers FC have played in 16 national championships and won nine (seven girls, two boys), the latest in 2012," it read on a page inside.
Another statement could be seen on the same page, "Since the Soccer America national youth club rankings began in 2004, Slammers FC has ranked within the top six, six times and is currently ranked No. 5, the highest ranking for a So Cal club."
There are so many reasons for that success. Many in the room said the reasons were the Khoury brothers. They trained the players and created a winning atmosphere, many said. And the alumni gave the club even more credibility.
The U.S. women's national team features two Slammers, Christen Press and Whitney Engen.
Cami Levin, also a Slammer alum, starred at Stanford with Press. The Newport Coast native is the captain of the U.S. under-23 women's national team. She showed up Saturday and spoke about her time with the Slammers.
"Just being back here right now and being with players I've been with and seeing all the players and parents, it brings tears to my eyes," Levin said. "This Slammers family has been such a huge part of my life. I grew so much as a person and a soccer player because of them. I know I would never be where I am without them."
Family and relationships appeared to be the theme of Saturday's event, which also featured Jack McBean, a former Slammers player now with the L.A. Galaxy, and Mia Hamm, the soccer great who had been part of the coaching staff at times recently.
"It's not about the trophies and it's not about the championships," Hamm told those in attendance. "Life is about the relationships."
McBean, who grew up in Newport Beach and played at Corona del Mar High, expressed gratefulness for Slammers and coaches like George Larsen.
Larsen, the Slammers boys' director and the Corona del Mar High boys' soccer coach, referred to part of the club's philosophy as a "simple formula."
"We're in the soccer and competition business, and that's the main focus for other clubs," Larsen said. "The difference with our club, it's always been about the people and the relationships. That's what separates our culture from others."
Danesha Adams, the former UCLA standout who helped lead Slammers to two state championships, also spoke and talked about how Slammers gave her a strong competitive fire. Like all of the speakers, she thanked the Khoury brothers for teaching her so much about the game.
The Khoury brothers talked about sacrifice and paying the price to be among the elite. The younger players earn their spot on the club and the older players become a part of the Slammers via recruiting or selection, Cheyne Gordon, a Slammers coach said.
He said the coaches demand great effort from their players.
"We're preparing for national championships," said Gordon, who coaches three girls' teams. "We train as many as five days a week. We try to expose them to a high level of training similar to a college program."
Girls like Parker Hoffman, Trystan Jones, Taylor Schmidt and Maddie Tumbarello, who play on the Slammers White U-14 team that recently won the Legends Cup, said they have learned a great deal while playing for the club.
"I've learned a lot about friendships and teamwork," Hoffman said. "Soccer is just like a different family for me. Soccer teaches you how to be a good team player. It teaches you good qualities."
Jones and Schmidt said they were a bit nervous when they first started with Slammers after leaving a different club. But they soon felt comfortable because others players welcomed them and wanted unity for the team, they said.
Tumbarello and the girls said they enjoyed seeing the alumni at the event.
"It's inspiring," Tumbarello said of the great players who have been on the Slammers. "A lot of times you see people who have done so well and you see people who do great things. But when you see the people who have gone the same path as you and have the same coaches as you it's just makes it greater."
Kathryn Hoffman, Parker's mother and a co-chair of Saturday's event, said she wanted her daughters to be a part of the club because of its great reputation. She also said she enjoys the environment and atmosphere that the Khoury brothers and the coaches create.
"They're amazing at what they do," said Kathryn Hoffman, who also has a daughter, Kira, on a Slammers U-12 team. "They develop and create success. They make champions."
Hoffman also pointed out that Slammers alumni tend to keep in touch with Khoury brothers because their time on the club was so special for them.
The Khoury brothers expressed their gratitude for those past players Saturday night and reminded everyone that they always hoped for an event such as the celebration. They also wanted to create more success in the future.
---