'Mellow' Campbell ready for U.S. Open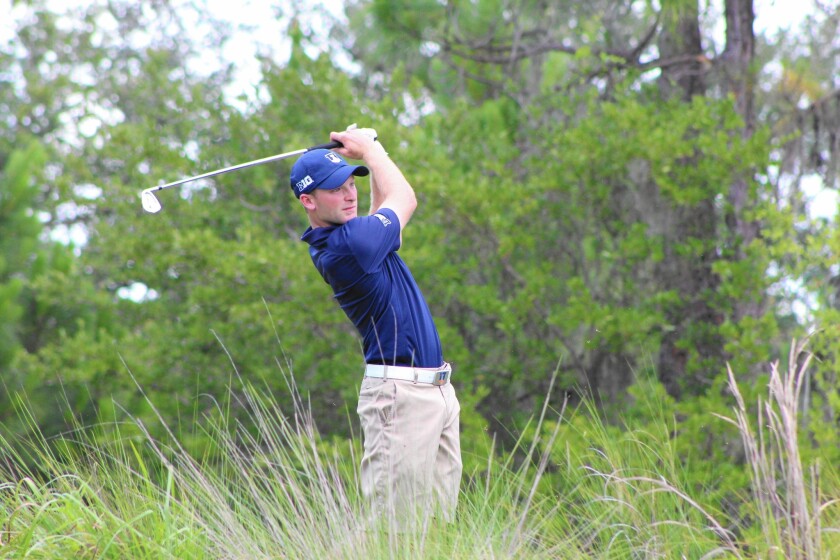 By now, at age 22 and having just graduated from the University of Illinois, Brian Campbell knows what it takes to have a great round of golf.
He knows what he needs to do to play well.
Campbell, who is from Irvine and grew up playing at Mesa Verde Country Club, where his parents are members, knows that he must stay calm and relaxed. Sounds kind of boring, but he'll take it and use it while he's playing in the U.S. Open at Chambers Bay Golf Course in University Place, Wash.
He starts Thursday at 3:01 p.m. on No. 10.
"I talked to my coach [Mike Small] a lot about this," Campbell said Friday at Mesa Verde Country Club. "Every person is different. I say a player like Billy Horschel needs to be wired to be playing good, like a nine out of 10 energy level. For me, I'm more of a mellowed guy. I like to relax and enjoy what I'm doing."
A clear example of this came at last year's U.S. Open, where a high-wired Campbell shot 6-over-par 76 at Pinehurst, N.C. in his first round. But then he played his game and calmed down, shooting even in his second round. Still, he missed the cut by one stroke.
He was obviously disappointed, yet walked away with confidence, knowing that he belonged with the pros.
Now a wiser, and, yes, mellow Campbell is at Chambers Bay.
"The level of motivation is definitely there," Campbell said. "I want to do as good as I can. Nothing is going to stop that. I really am just focused on getting out there and enjoying my time and getting more experience under the belt. I'm just going to work my [tail] off."
Campbell said it was a special time Friday at Mesa Verde Country Club, where members, family and friends gave a toast/send-off to Campbell and his friend, Jake Knapp, an honorary member.
Campbell's parents, Don and Kim, have been members for over 10 years. Their friends at the club have been proud of Campbell and have kept track of their favorite golfer.
When Campbell qualified for his second U.S. Open on June 8 in Newport Beach, many at Mesa Verde Country Club celebrated, including head pro Tom Sargent, who has seen Campbell grow up.
Campbell shot -6, to grab the fifth of six qualifying spots at the sectional qualifier, where he went -2 at Newport Beach Country Club and -4 at Big Canyon.
Campbell's father, Don, was not able to attend Friday's event at Mesa Verde, as he attended his cousin's funeral in Canada, Campbell's mother, Kim said.
Don used to take a young Campbell out to a golf course in Canada, too. Campbell also excelled in soccer, but became serious with golf just before attending Mater Dei, where he competed for the Monarchs.
Campbell was also pushed to succeed in athletics by his older brother, Derek, a baseball standout at Mater Dei, who went on to play for Cal. He was then drafted by the Philadelphia Phillies.
Kim has noticed a higher level of play in her youngest son. It comes at a great time, as Campbell faces the decision for when to turn pro.
"He has really come into his own through tournaments and through school," Kim said. "He has just grown up a bit. Last year that first round at the U.S. Open he was kind of out of sorts. The second day, he decided to play golf and enjoy the moment. I think he needed par on the last hole. He has now kind of come full circle and believes it's just another round of golf, and just enjoy it. Take it in."
Campbell enjoyed his time while competing for the Fighting Illini.
Campbell, the 2014 Big Ten Conference Player of the Year, led Illinois to the NCAA semifinals this past season.
"Brian Campbell has been a star at this place for four years and I hate to see him go," Small recently told reporters. "He has been a thrill to coach and he is going to have a great career."
Campbell is among 16 amateurs in the U.S. Open. He is one of two of the amateurs having U.S. Open experience, as his friend, Beau Hossler, is also a veteran, as he enters his third U.S. Open.
Campbell said he enjoyed qualifying in Newport Beach for the U.S. Open with Hossler and Knapp, as the three grew up, competing against each other in junior tournaments and playing rounds together.
Campbell can easily identify with Hossler and Knapp, as all three are known to play with great confidence.
"We definitely got that confidence through playing at such high levels in college, having success in college," Campbell said. "Going through that and playing against the best in college and winning a few tournaments gives you confidence. No matter what happens you have to keep that confidence up and keep playing your game. Just believe in yourself."
---