All falls into place for Desguin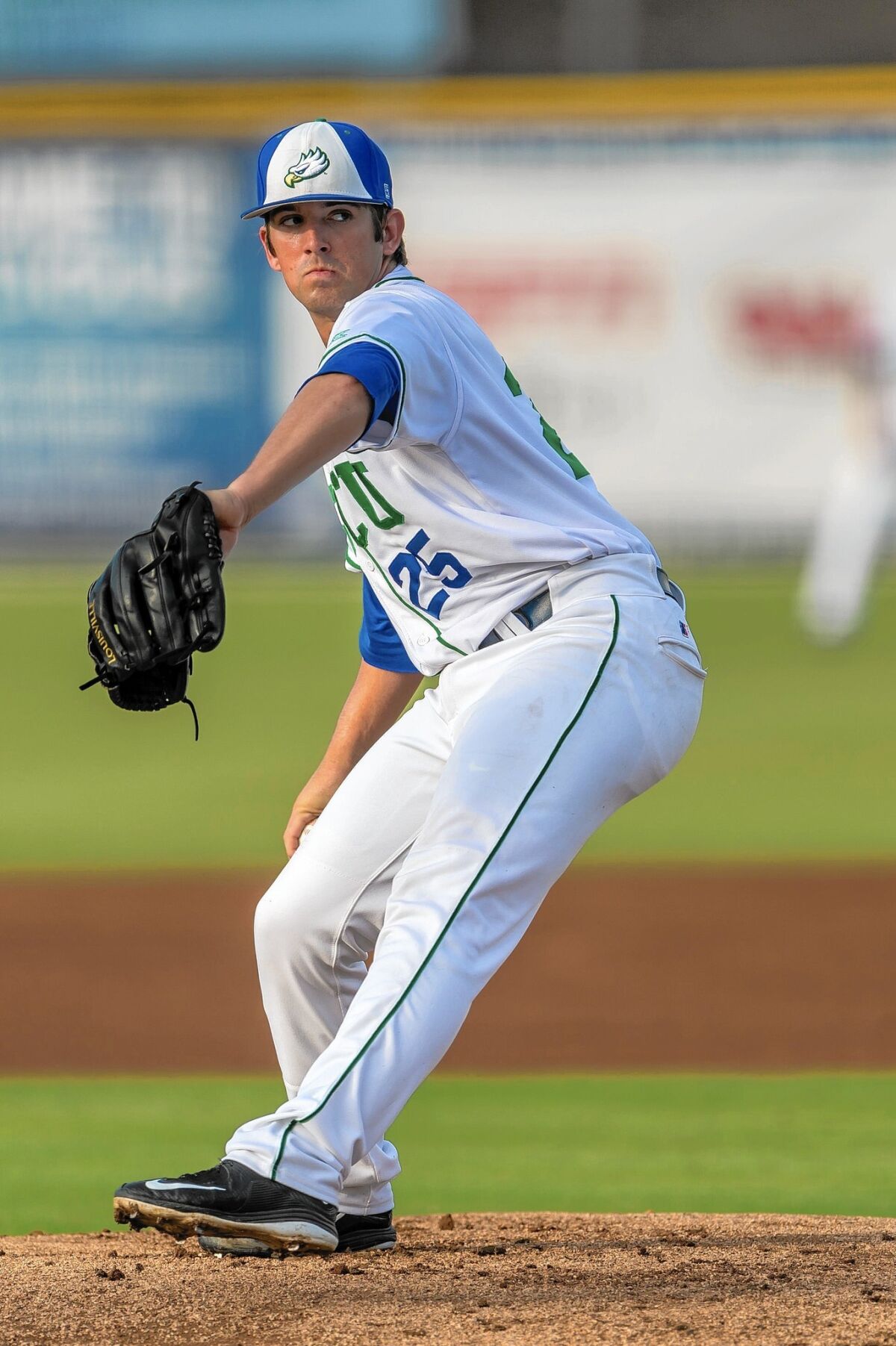 The summer of 2013 turned out to be a season of change for Jordan Desguin. Or as Desguin put it, something happened that was just meant to be.
While playing summer baseball for Feather River Community College, which is located in Quincy, Calif., Desguin saw three pitchers suffer injuries. Desguin, who played shortstop basically his whole life while growing up in Newport Beach, was asked about his pitching. That's when the change started.
Desguin offered that he had a decent knuckleball and he could throw pretty hard. Apparently, that's all he needed to begin the transition to pitcher.
"It felt right and it felt good," Desguin said Wednesday, talking about his switch to pitcher during a phone interview. "I asked myself, 'How long can I play baseball?' I realized I can play baseball a lot longer as a pitcher."
Turns out pitcher was where he should play. Maybe this was really meant to be. After standout seasons at Feather River and Florida Gulf Coast University, Desguin, 21, made the big decision to turn pro since the Milwaukee Brewers drafted him.
The right-hander was picked in the 36th round of the Major League Baseball Draft in June. Last month, he carefully weighed his decision whether to return to FGCU or begin a pro career with the Brewers organization.
"I saw it as a great opportunity," Desguin said of turning pro. "I felt this was the year to go. It just felt like the right move. I had a lot of confidence."
Where did that confidence come from?
Desguin not only had confidence as a pitcher, but also as a pure athlete. He had successfully made the switch for that reason, because he could rely on his athleticism.
However, Desguin denied taking all of the credit for his recent success.
"It was very challenging," Desguin said of switching from shortstop to pitcher. "I don't think any switch is easy in baseball. But I felt confident in my abilities. Yes it was hard, but I also feel like it was pretty smooth. But to credit me is not correct. I think I was lucky enough to be surrounded with great coaches. Being surrounded by them is what made it so easy for me. It was truly meant to be."
While growing up in Newport Beach, Desguin never really thought pitching would be his ticket to play professional baseball. He mostly played shortstop, growing up as a coach's son, in the Newport Harbor Baseball Assn. program. His father, Joel, was also a head coach at Newport Harbor High before Jordan played there.
Jordan played for Evan Chalmers, then three years for Patrick Murphy while with the Sailors. Jordan had a big season his senior year, earning first-team All-Sunset League honors in 2012. He was bound for Florida State, where he spent a year before transferring to Feather River, led by Coach Terry Baumgartner.
As a pitcher at Feather River, Jordan Desguin made it seem as if he had been pitching all his life. He was named Golden Valley Conference Pitcher of the Year after leading the Golden Eagles to the conference title. He finished the season with a 6-2 record and a 2.28 earned-run average, and he led the conference in strikeouts with 74.
Then it was on to Florida Gulf Coast. There was a reason he was drafted.
Desguin went 6-1 in 20 appearances last season, which was tied for the most victories on FGCU's staff. He held opposing batters to a .216 average, best on the team. He finished with a 3.63 ERA and struck out 58, which was second on the team.
"I was pretty confident I would get drafted," Desguin said. "I thought there was interest from multiple teams. Then I felt that after talking with my parents and other people that this was the year to go. I learned a lot at Florida Gulf Coast, thanks to my pitching coach Pete Woodworth. He taught me a lot about pitching. He's big on the mental side of the game. I got more mentally strong. He made more of a difference than anyone could've done."
Desguin made an impact on FGCU before leaving the Eagles for the Brewers.
"He's a special arm, a special kid," FGCU Coach Dave Tollett told the Naples Daily News. "We're not only losing a good player, but a great kid and a leader on the team."
Desguin now hopes to make an impact with the Brewers. He's 2-2 with the Arizona League Brewers. He has a 1.77 ERA with 20 strikeouts in 20 1/3 innings.
"I'm on a five-man rotation," Desguin said. "I pitch once every five days. Basically I show up at 1 p.m. and have a game at 7 every night. I'm working out and just getting better. I'm making sure I'm always lifting correctly, doing all that good stuff.
"It's a dream come true. I don't have to worry about school or tests. It makes it a lot easier to enjoy baseball and work at it. It's now just baseball, baseball, baseball."
Desguin hopes it stays that way for a long time.