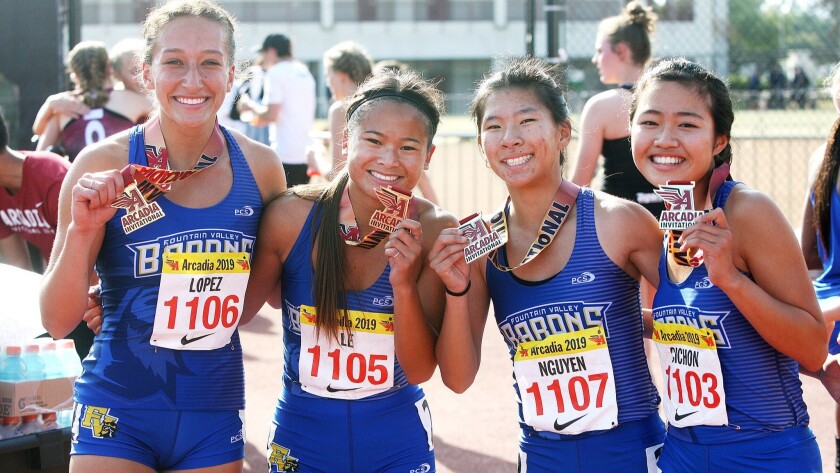 Reporting from Arcadia —
As far as the local interest was concerned at the Arcadia Invitational national track and field meet, the fireworks had begun on Friday night.
The Laguna Beach High quartet of Mateo Bianchi, Logan Brooks, Ryan Smithers and Sebastian Fisher took over the national lead in the mile relay in winning the invitational race with a time of 17 minutes 27 seconds flat.
More sizzling times on the track were around the corner, with two local distance runners walking away with medals on Saturday night at Arcadia High.
After serving as the anchor leg in the mile relay the night before, Fisher returned late on Saturday night to run in the invitational mile. He got boxed in early, but he rallied to earn his second medal of the weekend. He finished sixth with a time of 4:15.28, a new personal record.
"I was really happy about last night, but at the same time, I was sort of really looking forward to this race," Fisher said. "That kind of surreal excitement with still a little bit of nerves for today, I think overall, I'm really happy with how these two races went."
Laguna Beach High served as the stage that allowed many to qualify for the Arcadia Invitational, including Newport Harbor's Alexis Garcia, who made his mark in the Eric Hulst 3,200-meter race.
Garcia earned a spot in the seeded race, and he did not waste the opportunity to show what he was capable of in front of a capacity crowd in the Saturday night meet.
The Sailors senior placed third in a lifetime-best time of 9:05.77 in the 3,200 seeded race, moving his way up from the middle of the pack over the back half of the race.
"This one is the only one that I needed in my collection," Garcia said after receiving his medal. "I started to make my move during the sixth and seventh lap, and the last lap, I was giving more. The first 100 meters, I tried to keep my pace, and then after that, I tried to give everything that I had."
Garcia added that he ran with a chip on his shoulder because he wanted to be in the invitational heat, but he said his performance on Saturday gave him added confidence about a potential run to the state meet.
The national high school record in the girls' pole vault was broken, as West Seattle's Chloe Cunliffe cleared the bar at 14 feet, eight inches. She was already celebrating as she fell down to the pit.
"It felt like a good jump," Cunliffe, a Washington State commit, said. "I was like, 'Oh, I got it. I got it.'"
The Arcadia Invitational has seen a number of spectacular pole vaulting performances in recent years, and Cunliffe said that the atmosphere adds to the athletes' motivation to soar to new heights.
"It's really loud and it's fun," she said. "You want to impress everybody, so you've got to go for it. Give it your all. Do it in front of everybody."
The Fountain Valley girls' 1,600 relay team of Amie Le, Crystal Nguyen, Sophie Lopez and Kaho Cichon won their heat and finished third overall to close out the open day session.
Nguyen propelled the Barons into the lead on the second leg, and the Barons quartet shattered their previous personal record with a time of 3:56.93.
"It feels so amazing because when we qualified for Arcadia at [the] Laguna [Beach Trophy Invitational], we were just so excited about getting 4:02. Our set time was to get 4:03, so when we got 4:02, we were really excited.
"Just to hear how we broke four [minutes] was like an ultimate goal that we had, and the fact that we broke it at Arcadia here today was really special."
Huntington Beach senior sprinter Dylan Plantinga went under 50 seconds in the 400 for the first time in his career, winning his open section with a time of 49.47.
Making his third career appearance at Arcadia, Oilers senior Jack Wiseman medaled with a fifth-place finish in the boys' high jump invitational flight with a mark of 6-5.
"It's a hard meet to compete at, and I think that everyone notices that and sees that," said Wiseman, who has committed to UC San Diego. "I was actually seeded second lowest of all today, so I was at the very bottom of the pool.
"It takes that kind of mind frame of, 'I'm out here to do nothing else but have fun.'"
Edison's Aiden Garnett cleared the opening height of 6-3, placing 11th.
Marina's Skyler Magula no-heighted in the boys' pole vault after opting to skip the opening bar of 14-1.
Newport Harbor's Aidan Elbettar earned a sixth-place medal in boys' shotput with a mark of 59-9. In discus throw, he topped out at 177-11 (10th) and did not advance to the finals.
Twitter: @ProfessorTurner
---