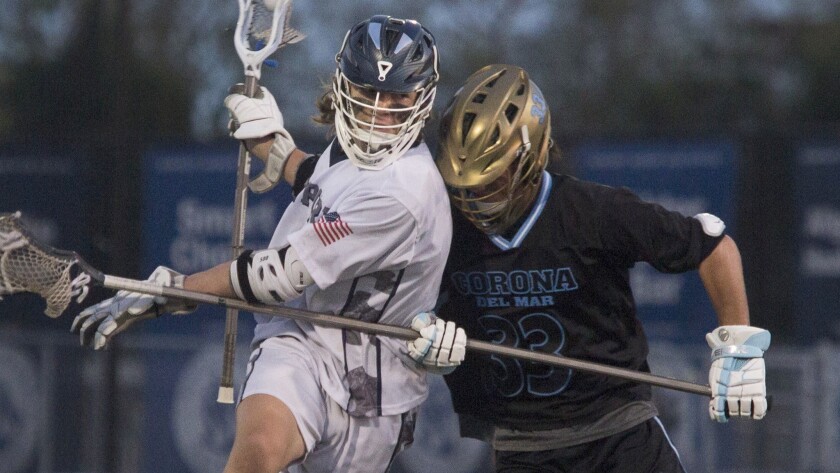 Newport Harbor boys' lacrosse coach Mark Todd has headed the program for nine years, and if he had his way, he would have started there earlier.
Todd wanted the coaching job before landing across the Back Bay for a six-year stint before coming back to the Sailors.
CdM beat Newport Harbor in Todd's final four seasons with the Sea Kings, and the streak lived on long after his departure.
On Wednesday, Newport Harbor defeated its crosstown rival for the first time since 2006, ending a prolonged losing streak in the Battle of the Bay.
What made the 5-4 win over No. 2 CdM even sweeter was the fact that the rivalry game was now a league contest. In a battle of unbeaten teams in the Sunset League, the Sailors (10-6, 6-0 in league) prevented the Sea Kings (10-2, 5-1) from celebrating a league championship on their home field.
Todd was cognizant of what was on the line, but he tried to keep his players' minds on execution with all the distractions that rivalry matchups present.
"Those things were certainly on my mind, but I tried not to give them too much [to think about]," Todd said. "I just focused on, even though those things were certainly relevant with everything that was at stake, I broke it down to more microcosmic things, little things where it's attention to the details."
Passion found its way into the Battle of the Bay regardless, and the Sailors were all-in as a group on the sideline. On defensive possessions, the Sailors simulated a crowd at a college basketball game, making noise from the sideline to make communication difficult for the offense.
"It wasn't just the players on the field," senior defender William Vasquez said. "It was everybody on the sideline, too. People on the sideline were hyping us up and getting us more motivated than usually we ever were."
Two days later, Newport Harbor wrapped up its fifth outright league title in the past six seasons. The Sailors earned a 12-9 victory at Los Alamitos to run the table in the Sunset League.
Aidan Goltz had six goals to lead the Sailors. Rhett Farmer added two goals, and Garrett Rovazzini contributed 11 saves.
In addition, Michael Morrison and Mason Williams won face-offs at an 80-percent clip for Newport Harbor against Los Alamitos.
Goltz, a wide receiver on the Newport Harbor football team, said that Wednesday marked the first time that he had beaten CdM in a varsity sport.
"I think we all just wanted to…especially win Sunset League, now that CdM was in our league," Goltz said. "I think that was a huge motivation."
Twitter: @ProfessorTurner
---