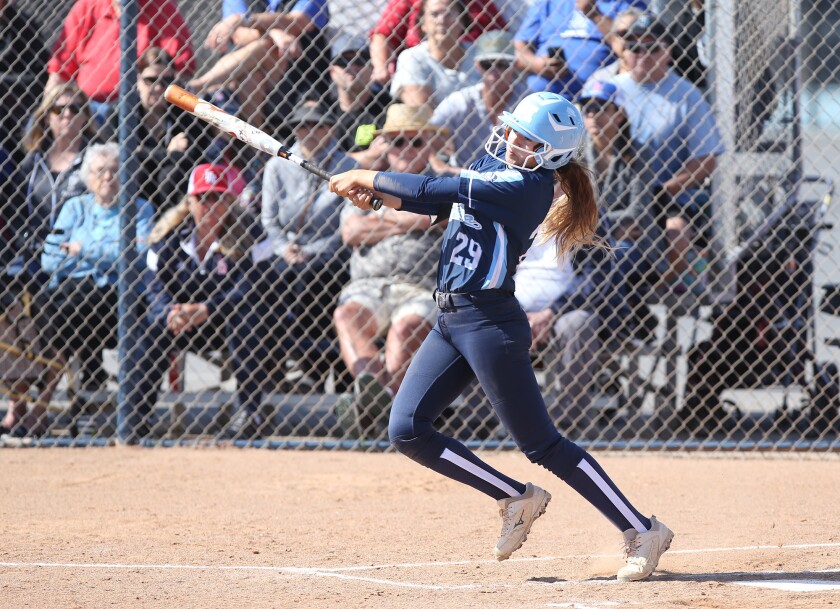 The Marina High softball team earned the top seed Monday in the CIF Southern Section Division 2 playoffs.
The Vikings, who shared the Surf League title, are in the postseason, along with locals Huntington Beach (Division 1), Fountain Valley (Division 3), Newport Harbor (Division 5), Ocean View (Division 5), Costa Mesa (Division 6) and Estancia (Division 6).
Marina (16-8) plays in the first round at home Thursday at 3:15 p.m. The Vikings will play the winner of Tuesday's wild-card game between Chino Don Lugo (12-10) and Temecula Valley (11-10).
Fellow Surf League foe Huntington Beach (14-8) will visit Sunkist League champion Grand Terrace (25-3-1) in the first round Thursday at 3:15 p.m. Grand Terrace is the No. 4 seed in Division 1.
"We've been nailed with injuries since the get-go," Oilers coach Jeff Forsberg said. "We had 15 out of 19 kids that missed games this year. I'd say perseverance is definitely a strength. It's been kind of crazy. I don't think we've played with the same lineup more than twice all year long."
The Oilers split third place in the league with Edison, which did not make the Division 2 playoffs, despite a 15-10 overall record and two wins each against Division 1 playoff teams Los Alamitos, the co-Surf League champ, and Huntington Beach. There were no at-large entries in Division 2.
Fountain Valley (10-15-1), the runner-up in the Wave League, hosts South Coast League No. 3 finisher San Juan Hills (15-7) in the first round Thursday at 3:15 p.m. The game will be the Barons' first playoff appearance since 2012.
Newport Harbor (17-8), winner of the Wave League, is at home in the first round against Ocean View (10-11), the third-place team from the Golden West League, Thursday at 3:15 p.m. The two local schools haven't met since 2015.
Sailors coach Tom Blanchfield saw his team qualify for the playoffs in only his second year in charge.
"We're delighted to be playing anybody," he said. "The girls are excited. I'm excited. We're a pretty good hitting team, [and] like a lot of teams, if we hit, we get excited and tend to relax defensively. We're just working on our offense and our mental approach."
Ocean View coach Liberty McCollum has mixed feelings about playing another team in the area.
"I'm bummed because I want our surrounding schools to go as far as they can," she said. "But it's a blessing because there's no travel. It's right in our backyard."
As far as Ocean View's key to success, McCollum she said she wants her pitchers to locate their spots.
Costa Mesa (11-12) travels to Pasadena Poly (13-4) Thursday for a 3:15 p.m. first-round game. The Mustangs won six out of their final seven games to secure second in the Orange Coast League, while Poly won the Prep League.
Estancia (7-10-1), the Orange Coast League's third-place team, will travel 128 miles to Thermal Coachella Valley (18-5), which took third in the Desert Valley League, for a wild-card game Tuesday at 3:15 p.m. If they win, the Eagles play at Majestic League champion Redlands Grove (6-4) in the first round Thursday at 3:15 p.m.
::
Support our sports coverage by becoming a digital subscriber.
For more sports stories, visit latimes.com/socal/daily-pilot/sports or follow us on Twitter @DailyPilotSport.
ANTHONY CIARDELLI is a contributor to Times Community News.
---