Reporting from Fresno —
The past couple of weeks have been such a whirlwind chain of events for Laguna Beach High's Ryan Smithers that his head had literally begun to spin.
At the end of back-to-back outstanding performances by the Breakers' ace, he had used up every ounce of energy he had remaining.
Smithers ran through the street and onto the grassy stretch leading into the finish line. With 100 meters to go, he began to wobble. His steps uneven and his rhythm gone, he willed himself to the finish line until he finally fell through it.
The junior placed eighth in 16 minutes 5.2 seconds, fulfilling his vow to try to post a top-10 time in the Division IV boys' race in the CIF State cross-country championships at Woodward Park on Saturday.
Smithers was sprawled out on the ground for some time before he was taken to an ambulance to attend to his heat exhaustion. The temperatures, though reasonable (low-to-mid 70s), were the hottest they had been all day. The Division IV boys' race was the final race of the meet.
"It was kind of scary because I saw the shadow of one guy coming behind me," Smithers said. "I didn't know if I was going to lose that top 10 in the final 100 meters. It was terrifying because I knew that I was starting to hit the wall really hard.
"I just tried to focus everything on moving forward. It was weird. I didn't know which way was forward. I don't really remember that much. I just know that I wanted it so bad. When I finished, I was just dead [tired], basically."
After the check-up, Smithers was transported to the Division IV awards ceremony, where he received a medal for his top-10 finish. In doing so, the junior was named to the Division IV all-state team in his first season as a cross-country runner.
Laguna Beach placed sixth as a team with 195 points. The Breakers were third among CIF Southern Section teams in the race, behind Division IV champion Los Angeles Cathedral and Ventura Foothill Technology.
The other local individual to garner all-state honors was Newport Harbor's Alexis Garcia in Division II. The two-time Sunset League champion finished fifth in 15:26.2.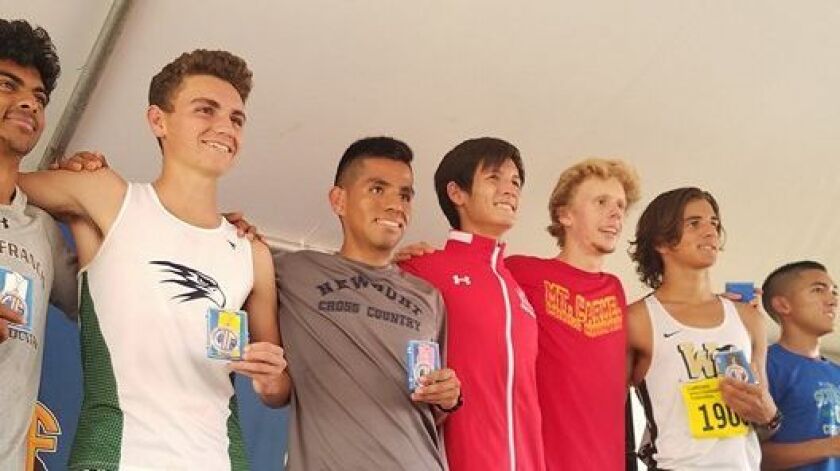 Garcia improved dramatically from a 34th-place (15:55.1) showing in the state meet as a sophomore. There was a lot of attention on Garcia at that time, as he had made his mark by finishing as the Orange County Championships boys' sweepstakes runner-up in 2016.
The bounce-back performance by the Sailors ace this year was triggered by a successful run on the state-championship course at the Clovis Invitational on Oct. 7. Garcia won his race in the regular-season meet in 15:24.4.
"When we went to the [Clovis] Invitational, I felt pretty good running the race because I knew the course better than last year," a joyful Garcia said. "My goal for this year for the state meet was just to run as I did in Clovis."
Sailors coach Nowell Kay said that Garcia was placed on the possible invitee list for the Nike Cross Nationals, although the odds are better that he might run in the Foot Locker West Regionals next Saturday at Mt. San Antonio College.
A number of individual standout performances headlined the girls' cross-country slate. Malibu's Claudia Lane set a girls' state-meet record of 16:30.3 in winning the Division IV crown, while Sonoma Academy's Rylee Bowen won her third state title in 18:17.9 in the Division V race.
Costa Mesa's Diane Molina was running as an individual in the same race as Lane. The Mustangs ace congratulated the Malibu star on the feat after running a time of 18:47.5 to finish 15th herself.
"I just wanted to thank her and congratulate her on what she has accomplished," Molina said of her post-race moment with Lane. "I really look up to her.
"She [set] a new record, and it shows that girls can really do it. I really love her and admire her because she's a really awesome athlete."
Lane also set the Mt. SAC record this year, becoming the first girl to break 16 minutes on the course with a time of 15:49. Both the Mt. SAC and state-meet records had previously belonged to Simi Valley's Sarah Baxter.
Molina, a sophomore, now owns the fastest time ran by a Costa Mesa girl at the state meet. She broke the previous mark of 18:54, set by Jamie DeNoewer when she placed third in Costa Mesa's run to the Division IV state title over Moraga Campolindo (51-80).
Laguna Beach's girls' took 11th out of 23 teams in the Division IV race. The Breakers were paced by freshman Jessie Rose, who posted a time of 19:02.2.
The up-and-coming freshman class in local girls' cross-country played a big role in Corona del Mar earning 10th in the Division III race. CdM has been led all season by Annabelle Boudreau (20th, 19:09.6).
In addition, Coco Chinnici proved serviceable after being pressed into the first varsity action of her career. The freshman alternate stepped in for sophomore Maya Buchwald, who was dealing with an ankle injury. Chinnici was the fourth Sea King to come in with a time of 20:26.5.
The school spirit of Ocean View cannot be questioned. Despite not qualifying, the girls' team turned up to support the Seahawks' boys' team, which was running in its first state meet in the history of the program.
Former running alumni and family showed up in mass, too. Custom-made shirts were worn by the supporters, displaying the team with all of their nicknames. Edwin Montes' family also had a shirt made with a picture of him running.
"They gave up their time, and they wanted to come join us as a team," Montes said in gratitude for the outpouring of support. "I was expecting everything to be faster, like the best of the best. It's a pleasure to be here, and I was going to show what I have."
Montes paced the Seahawks in 16:03.5 to place 13th. Senior David Brito took 33rd in 16:27.4. Ocean View finished 12th with 297 points in the Division III boys' race.
Sage Hill's girls placed eighth in Division V. Brooklyn Button, the senior transfer from Iowa, led all Lightning runners with a time of 19:11.4.
Returning members of last year's state team, Ashton Carroll (68th, 20:42.8), Alice Warden (73rd, 20:45.3), and Maya Jaffe (77th, 20:47.1) all finished within five seconds of each other, while Kate Miller (135th, 22:12.1) rounded out the scoring five.
"One of our best finishes ever," Lightning coach Nate Miller said. "In 2006, we were seventh.
"I want to give a shout out to both of our seniors. Ashton and Brooklyn were just awesome this year. We'll miss them a lot."
In a continued display of dominance, Temecula Great Oak doubled up as boys' and girls' champion in Division I for the fourth consecutive year.
BOYS' CROSS-COUNTRY
CIF State Cross-Country Championships
At Woodward Park, Fresno
5K course
Division I
Team Results
1. Great Oak 75; 2. Roosevelt 90; 3. Dana Hills 127; 4. Loyola 137; 5. Crescenta Valley 154; 6. Long Beach Poly 197; 7. Bellarmine 247; 8. El Toro 264; 9. Buchanan 277; 10. Los Altos 295
Individuals
1. Hazell (El Camino Real) 15:03.8; 2. Fitzgerald (Crescenta Valley) 15:10.1; 3. Spencer (Roosevelt) 15:11.8; 4. Strangio (Jesuit) 15:15.5; 5. Beaudoin-Rosseau (Bellarmine) 15:16.8; 6. Court (Mira Costa) 15:19.0; 7. Ornelas (Roosevelt) 15:19.4; 8. Carvajal (Great Oak) 15:23.0; 9. Landgraf (Dana Hills) 15:26.1; 10. Niednagel (Dan Hills) 15:26.5
Division II
Team Results
1. St. Francis/MV 57; 2. Dublin 111; 3. Saugus 141; 4. Claremont 161; 5. Mt. Carmel 165; 6. West Ranch 186; 7. Canyon/CC 216; 8. Bella Vista 253; 9. Granada 257; 10. Canyon 268
Individuals
1. Opsahl (Redlands East Valley) 15:16.9; 2. Danforth (Canyon/CC) 15:19.7; 3. Kumar (St. Francis/MV) 15:23.0; 4. Farnham (Del Norte) 15:24.5; 5. Garcia (Newport Harbor) 15:26.2; 6. Schroeder (Dublin) 15:26.8; 7. Boone (Mt. Carmel) 15:28.1; 8. Seidman (West Ranch) 15:29.8; 9. Medrano (Highland) 15:33.0; 10. King (Bella Vista) 15:37.1
Division III
Team Results
1. West Torrance 63; 2. La Costa Canyon 168; 3. Brea Olinda 170; 4. Palos Verdes 176; 5. Campolindo 180; 6. Ridgeview 214; 7. Whittier 221; 8. Moorpark 237; 9. St. John Bosco 264; 10. Maria Carrillo 271
Individuals
1. Anderson (Redwood) 15:10.3; 2. Martinez de Pinill (Cathedral Catholic) 15:11.2; 3. Ramos (Rubidoux) 15:14.9; 4. J. Stanford (La Costa Canyon) 15:31.5; 5. G. Stanford (La Costa Canyon) 15:33.0; 6. Benitez (Serra) 15:42.6; 7. Abberton (West Torrance) 15:53.0; 8. Terrill (West Torrance) 15:54.3; 9. Gaxiola (Ridgeview) 15:55.9; 10. Aufderheide (Livermore) 15:57.6; 13. Montes (Ocean View) 16:03.5; 33. Brito (Ocean View) 16:27.4; 101. Flores (Ocean View) 17:06.0; 110. Molina (Ocean View) 17:11.7; 136. J. St. Pierre (Ocean View) 17:25.6; 144. Walpole (Ocean View) 17:33.4; 176. Hernandez (Ocean View) 18:10.0
Division IV
Team Results
1. Cathedral 73; 2. Sir Francis Drake 98; 3. Foothill 117; 4. Placer 139; 5. Sage Creek 175; 6. Laguna Beach 195; 7. Crawford 256; 8. JSerra 280; 9. El Segundo 281; 10. Bishop Amat 290
Individuals
1. Grover (JSerra) 15:31.5; 2. Ullrich (Liberty Ranch) 15:39.3; 3. Miranda (Menlo) 15:53.4; 4. Herold (JSerra) 15:54.9; 5. Kuchta (Foothill Technology) 15:56.0; 6. Cantu (Cathedral) 16:00.0; 7. Pick (Foothill Technology) 16:05.0; 8. Smithers (Laguna Beach) 16:05.2; 9. Miller (Crean Lutheran) 16:07.1; 10. Winter (St. Mary's) 16:07.8; 37. L. La Montagne (Laguna Beach) 16:39.8; 52. Neilson (Laguna Beach) 16:48.5; 62. Falkowski (Laguna Beach) 16:58.0; 115. Orr (Laguna Beach) 17:42.5; 148. Looghlin (Laguna Beach) 18:20.1; 175. Russel (Laguna Beach) 18:52.0
Division V
Team Results
1. University/SF 100; 2. Thacher 120; 3. Lick Lilmerding 134; 4. Flintridge Prep 137; 5. Valley Christian 157; 6. Crystal Springs 197; 7. St. Margaret's 204; 8. Conv. And Stuart Hall 227; 9. Nueva School 237; 10. Sonoma Academy 259
Individuals
1. Pattinelli (Flintridge Prep) 15:38.7; 2. Medearis (Crystal Springs) 15:41.6; 3. Shively (Pasadena Poly) 15:45.7; 4. Williams Sonoma Academy 15:52.2; 5. Moreland (Campbell Hall) 15:52.6; 6. Domingues (St. Joseph) 15:53.1; 7. Laidlaw (Lick Wilmerding) 15:57.0; 8. Rupprecht (Valley Christian) 15:59.8; 9. Filer (Capital Christian) 16:00.4; 10. Laubach (Desert Christian) 16:01.5
GIRLS' CROSS-COUNTRY
CIF State Cross-Country Championships
At Woodward Park, Fresno
5K course
Division I
Team Results
1. Great Oak 71; 2. Buchanan 103; 3. Visa Murrieta 135; 4. Arcadia 181; 5. El Toro 214; 6. ML King 276; 7. Canyon Crest 276; 8. Mira Costa 277; 9. Homestead 280; 10. Dana Hills 290
Individuals
1. Smith (Buchanan) 17:16.7; 2. Lowe (Lowe) 17:19.8; 3. Denner (Oak Ridge) 17:27.6; 4. Cortes (Great Oak) 17:32.1; 5. Peurifoy (ML King) 17:32.5; 6. Gaitan (Great Oak) 17:35.9; 7. Virtue (Burbank Burroughs) 17:36.1; 8. C. Arriaga (Walnut) 17:40.9; 9. Pflughoft (Great Oak) 17:55.7; 10. Garrett (Oakland Tech) 17:57.2
Division II
Team Results
1. Claremont 69; 2. Saugus 100; 3. Granada 102; 4. Capistrano Valley 123; 5. Serrano 166; 6. St. Francis 225; 7. Canyon 232; 8. Ventura 248; 9. Monte Vista 258; 10. San Ramon Valley 273
Individuals
1. Herberg (Capistrano Valley) 17:00.0; 2. Castillo (Saugus) 17:15.7; 3. Leonard (Canyon) 17:34.6; 4. Bautista (Capistrano Valley) 17:45.6; 5. Hartke (Oakmont) 17:54.3; 6. Diaz (Norwalk) 18:01.4; 7. Hines (Mission Viejo) 18:04.8; 8. McCandless (Granada) 18:06.1; 9. Walker (Simi Valley) 18:11.0; 10. Hwang (Claremont) 18:12.0
Division III
Team Results
1. Campolindo 101; 2. Vista del Lago 132; 3. La Costa Canyon 142; 4. Palos Verdes 165; 5. Cathedral Catholic 188; 6. Maria Carrillo 195; 7. Aptos 215; 8. Oak Park 224; 9. University City 237; 10. Corona del Mar 267
Individuals
1. Wagner (Redwood) 17:49.3; 2. Brown (La Costa Canyon) 18:02.5; 3. Cruz-Albrecht (Oak Park) 18:14.6; 4. Steman (Palos Verdes) 18:16.3; 5. Shulze (Oak Park) 18:19.3; 6. Zlatunich (Aptos) 18:23.7; 7. Vincent (El Dorado) 18:24.8; 8. Catena (Palos Verdes) 18:31.8; 9. Hagerman (Merced) 18:32.6; 10. Rivas (Maria Carrillo) 18:41.7; 20. Boudreau (Corona del Mar) 19:09.6; 73. Lee (Corona del Mar) 20:10.0; 75. Tung (Corona del Mar) 20:12.6; 88. Chinnici (Corona del Mar) 20:26.5; 109. Montgomery (Corona del Mar) 20:39.8; 119. Griffin (Corona del Mar) 20:46.9; 145. Sharp (Corona del Mar) 21:16.8
Division IV
Team Results
1. Foothill Technology 59; 2. Sage Creek 138; 3. La Canada 147; 4. Mayfield 154; 5. Santa Cruz 160; 6. Bishop Amat 201; 7. El Segundo 218; 8. Coronado 240; 9. JSerra 260; 10. Piedmont 262
Individuals
1. Lane (Malibu) 16:30.3; 2. Friedman (Santa Cruz) 17:49.6; 3. Suarez (Mayfield) 18:04.1; 4. Dishion (Bret Harte) 18:23.6; 5. Smith (Mayfield) 18:26.9; 6. Tabrizi (JSerra) 18:29.1; 7. Bond (La Canda) 18:35.7; 8. Blakeman (Foothill Technology) 18:36.6; 9. Wallace (Sage Creek) 18:37.4; 10. Hall (University Prep) 18:39.9; 15. Molina (Costa Mesa) 18:47.5; 21. Rose (Laguna Beach) 19:02.2; 58. Cant (Laguna Beach) 20:02.1; 84. Dyrnaes (Laguna Beach) 20:29.1; 97. G. La Montagne (Laguna Beach) 20:44.3; 101. Schaefgen (Laguna Beach) 20:47.9; Read (Laguna Beach) 21:13.7; 136. Ryan (Laguna Beach) 21:38.4
Division V
Team Results
1. Flintridge Prep 74; 2. University/SF 120; 3. Lick Wilmerding 126; 4. St. Margaret's 128; 5. Nueva 214; 6. Branson 255; 7. St. Joseph/ND 265; 8. Sage Hill 266; 9. Viewpoint 285; 10. Castilleja 302
Individuals
1. Bowen (Sonoma Academy) 18:17.9; 2. Perez (St. Joseph/ND) 18:24.2; 3. Watkins (La Jolla Country Day) 18:26.9; 4. Dailey (Branson) 18:26.9; 5. Gitlin (Flintride Prep) 18:32.9; 6. Zamorano (Christian) 18:33.5; 7. Jones (Branson) 18:34.4; 8. Carnell (St. Margaret's) 18:38.5; 9. Jackson (University/SF) 18:39.7; 10. K. Bowen (Sonoma Academy) 18:49.4; 14. Button (Sage Hill) 19:11.4; 68. Carroll (Sage Hill) 20:42.8; 73. Warden (Sage Hill) 20:45.3; 77. Jaffe (Sage Hill) 20:47.1; 135. Miller (Sage Hill) 22:12.1; 160. Zeng (Sage Hill) 23:00.0; 166. Ren (Sage Hill) 23:25.1
Twitter: @ProfessorTurner
---