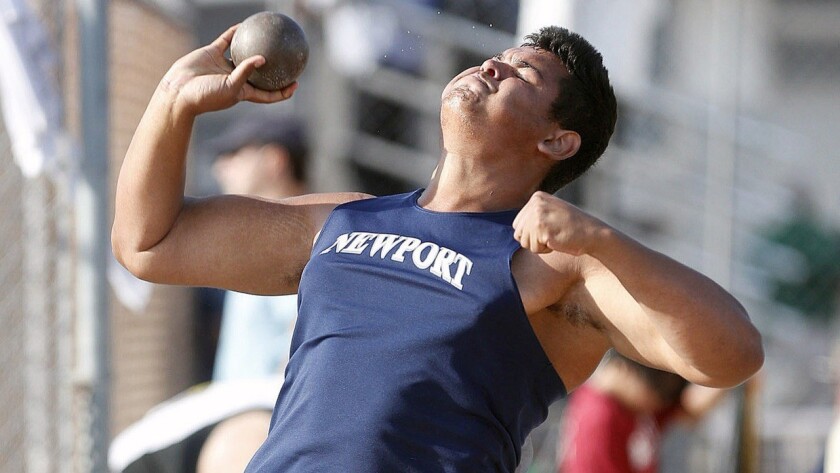 Newport Harbor High junior Aidan Elbettar took a moment to exhale and take in the scene around him after his final throw in the boys' shotput.
The Sailors' standout thrower said that he rarely notices his surroundings when he is in competition, and he was locked in for Saturday's action in the CIF State track and field championships at Clovis Buchanan High.
Elbettar placed second with a mark of 62 feet, 4¾ inches in the finals of the boys' shotput, becoming a state medalist in the event for the second year in a row.
Bakersfield Liberty senior Daniel Viveros won the event with a winning distance of 68-10½. Elbettar will be one of the favorites to win the boys' shotput title next year, along with Esperanza's Jeff Duensing and Los Alamitos' Sawyer Howard, as they head into their senior seasons.
"It feels good, being [a] top pick for state meet next year," Elbettar said. "That just puts me a little bit ahead of them at the beginning of next year, which is going to feel good."
Elbettar salvaged his state meet after he did not advance out of the state preliminaries in the discus throw on Friday. He had entered the weekend as the state leader in the event.
"Today was really satisfying coming back from yesterday because of what happened in discus," Elbettar said. "That was really just a good feeling to come back, come in second with a good margin of distance between me and third. It just felt good."
Huntington Beach senior Jack Wiseman and Edison senior Aiden Garnett found their way to the podium in the boys' high jump.
Wiseman took third place after converting his first attempts through the 6-9 bar.
"I was always thinking, 'I've got to do it in one,'" Wiseman said of his approach at each new height. "'I've got to make sure that I get this my first try and don't make any mistakes.'
"Actually, that was all that placed me so well today because fifth place was also 6-9, but it was on a second attempt with no misses at any earlier bar, which is crazy."
Garnett also had reason to celebrate. He conquered the bar at 6-7 on his third attempt for a new personal record, earning the final spot on the podium with a sixth-place finish.
"It felt great," Garnett said of sharing the medal stand with another Sunset Conference jumper in Wiseman. "We've jumped together since freshman year. We're pretty good buds, and it's nice to know that two kids from Huntington Beach are up there on the podium."
Laguna Beach senior Sebastian Fisher made up ground after beginning his race near the back of the pack, but he came up just shy of winning a medal with a seventh-place showing in the 1,600 meters. He clocked in with a time of four minutes 13.06 seconds.
After earning a medal with a fifth-place showing in his first trip to the state meet as a junior, Marina's Skyler Magula could not duplicate the performance in his return.
The Cal-bound senior finished ninth after only clearing the opening height of 14-11.
Newport Harbor senior Alexis Garcia finished 12th in the 3,200 with a time of 9:12.80.
BOYS' TRACK AND FIELD
CIF State track and field championships
At Clovis Buchanan High
(Locals only)
*Denotes state medalist
1,600 – 7. Fisher (Laguna Beach) 4:13.06
3,200 – 12. Garcia (Newport Harbor) 9:12.80
HJ – 3. Wiseman (Huntington Beach) 6-9*; 6. Garnett (Edison) 6-7*
PV – 9. Magula (Marina) 14-11
SP – 2. Elbettar (Newport Harbor) 62-4¾*
::
Support our sports coverage by becoming a digital subscriber.
For more sports stories, visit latimes.com/socal/daily-pilot/sports or follow us on Twitter @DailyPilotSport.
Twitter: @ProfessorTurner
---