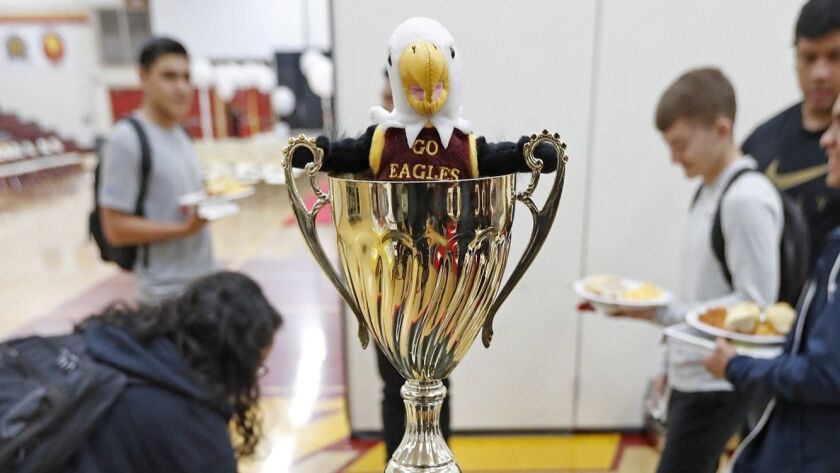 It's become a familiar and very satisfying meal for Estancia High athletes.
Early June is the time when the Eagles celebrate winning the All-Sports Cup over cross-town rival Costa Mesa, with a lunch from Newport Rib Co.
Estancia players chowed down again Wednesday afternoon in the Eagles' gymnasium. Estancia, which has had the All-Sports Cup all nine years it has been in existence, kept it after tallying 97.5 points this athletic year. Costa Mesa finished with 92.5 points. Each school gets five points for winning a Battle for the Bell game or match, with the football game worth 15 points.
The schools finished the regular season tied in points, and the Estancia and Costa Mesa baseball teams were also in a three-way tie for second place in the Orange Coast League with Calvary Chapel.
Estancia athletic director Nate Goellrich said the principals of both schools decided to let the baseball tiebreaker game between the rivals on May 11 at TeWinkle Park decide the winner of the All-Sports Cup, and Estancia came away with the 7-4 victory. Estancia's baseball team also clinched a berth into the CIF Southern Section Division 5 playoffs, and Costa Mesa failed to make the postseason.
Goellrich, who coached baseball at Estancia from 2012-17 and was an assistant baseball coach at Costa Mesa before that, has been on both sides of the rivalry.
"Obviously, you want to beat the city rival," Goellrich said. "Overall, it's a great event. It's great for our kids to be recognized for their hard work, for Newport Rib to put this on, for Costa Mesa United to sponsor it.
"Our kids know the tradition of winning it, and they want to keep that tradition going."
Estancia baseball had won the Battle for the Bell baseball series for eight straight years, but the Eagles lost the Paul Troxel Trophy this season as Costa Mesa won two of the three league games.
"I think it made it even sweeter," said Estancia sophomore pitcher Jake Covey, who earned the win in the tiebreaker game. "The baseball Bell has been at Estancia for a long time, and we lost it this year. To come back and be able to play for the All-Sports [Cup] and manage to win, I feel like that makes up for it a little bit."
Newport Rib Co. community relations manager Laura Ursini Marroquin was present at the lunch on Wednesday. She graduated from Estancia in 1987 and is admittedly a bit biased in terms of the rivalry. Her twins are freshmen at Estancia; Jessica played varsity soccer this year and Justin played junior varsity golf.
Ursini Marroquin smiled as she watched the student-athletes eat their barbecue sandwiches, macaroni and cheese, mashed potatoes and baked beans.
"This is a way to celebrate all of the athletes, not just the ones in some of the bigger, more well-known sports," she said. "I think it's great for them to all be in the same room together, celebrating each other."
Estancia senior Annie Mitchell said winning the All-Sports Cup every year was meaningful for the senior class. She helped the girls' tennis team earn 10 points, though Mitchell and the Eagles lost to the Mustangs in girls' water polo and girls' swimming, with Costa Mesa getting five points each time.
Overall, it's a great event. It's great for our kids to be recognized for their hard work, for Newport Rib to put this on, for Costa Mesa United to sponsor it.
Estancia High athletic director Nate Goellrich
Other sports in which the Eagles earned 10 points by winning two games or matches over Costa Mesa included girls' basketball, girls' soccer, boys' tennis and boys' golf. The Mustangs earned 10 points in girls' volleyball and boys' basketball.
"A few of my friends work at Newport Rib and they got the document that showed how the points stand," Mitchell said. "We all read it in our AP Government class and we were like, 'Oh my God, it's so close.' We really needed to win the last few games and win it again. To have it all four years is really great."
Twitter: @mjszabo
---