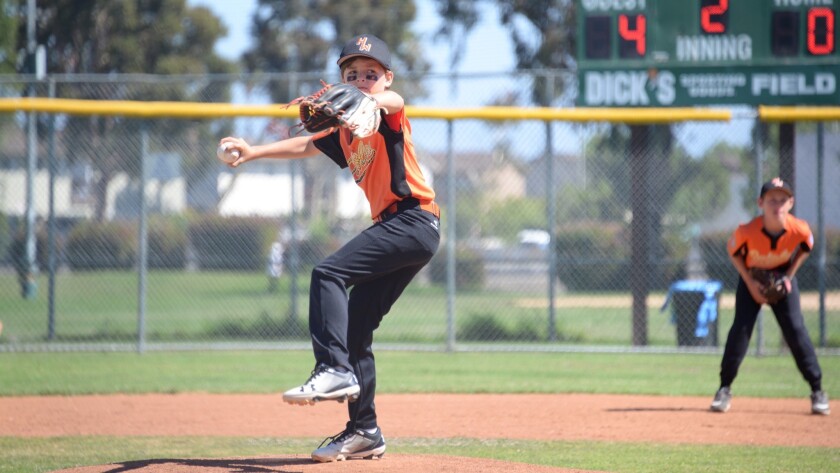 Saturday's opening day of the District 62 Tournament of Champions at Ocean View Little League saw the Orioles of Huntington West Little League battle the Angels of Costa Mesa American Little League in the Minor A Division.
Both teams crackled with energy and excitement to take the field as they exchanged pins in a pregame ceremony.
When the game started, the Orioles' bats crackled with energy and by the final out that offense propelled them to a 9-0 victory over the Angels. Larry Lloyd led the way for the Orioles — who move on to face either Costa Mesa National 1 or Huntington Valley 2 Wednesday at 5:30 p.m. — with three hits, two singles and a double and seven RBI.
Lloyd used the one-and-done format of the tournament as motivation. "I was thinking this might be our last game," he said. "We backed up our pitchers and were good at the plate."
Orioles coach Tony Menard marveled at Lloyd's hitting ability.
"He is just a beast," Menard said. "When he gets up there when he gets a belt-high fastball, he just crushes it."
Carson Hunnicutt and Nolan Neves combined on the mound for the shutout. Hunnicutt went 2 2/3 innings, allowing one hit and three walks while striking out five. Neves did the rest, pitching the final 3 1/3 innings, allowing one hit, walking none and striking out three.
Hunnicutt, whose teammates gleefully call him "Moneycutt" for his skill on the mound, complimented his catchers, Matthew Menard and Matthew Schaeffer. "They blocked a lot of balls," he said.
After getting the victory, Hunnicutt is eager for more. "Winning makes me feel happy," he said. "I want to play again."
There were bright spots for the Angels. William Elkins, Logan Pinon and Avery Moorefield all had singles, while James Lee and Pinon had gutsy performances on the mound.
Lee battled through four laborious innings allowing eight runs on eight hits, three walks and a hit batsman, striking out six. Angels coach Galel Fajardo complimented Lee's competitiveness.
"He is mentally tough," Fajardo said. "That's one of the intangibles that makes me really proud of him. At this age, that's a hard thing to teach kids.'
Huntington Beach scored quickly, crossing the plate three times in the first inning on RBIs from Neves, and Lloyd. They continued in the second inning as David Bruender scored on a two-out bloop single by Menard making it 4-0.
The Orioles broke the game open in the third inning when Lloyd hit a bases-loaded double to center field scoring Schaeffer, Neves and Brandon Spielman, but was thrown out trying to reach third. That made it 7-0.
Lloyd capped off his night in the fifth inning, hitting another single that scored Neves and Schaeffer to give the Orioles a 9-0 lead.
Neves shut the door in the sixth inning to complete the shutout.
Despite the loss, Fajardo said he was proud of his team.
"When we saw these boys first come in, there was raw talent that had to be molded and shaped," he said. "These boys put in so much work this season, we put them through the wringer at practice and working on the fundamentals, we were really able to turn them into a baseball that was able to play defense and hit the baseball."
::
Support our sports coverage by becoming a digital subscriber.
For more sports stories, visit latimes.com/socal/daily-pilot/sports or follow us on Twitter @DailyPilotSport.
ANTHONY CIARDELLI is a contributor to Times Community News.
---