Daily Pilot High School Female Athlete of the Week: Malia Tufuga brought big bat for Costa Mesa softball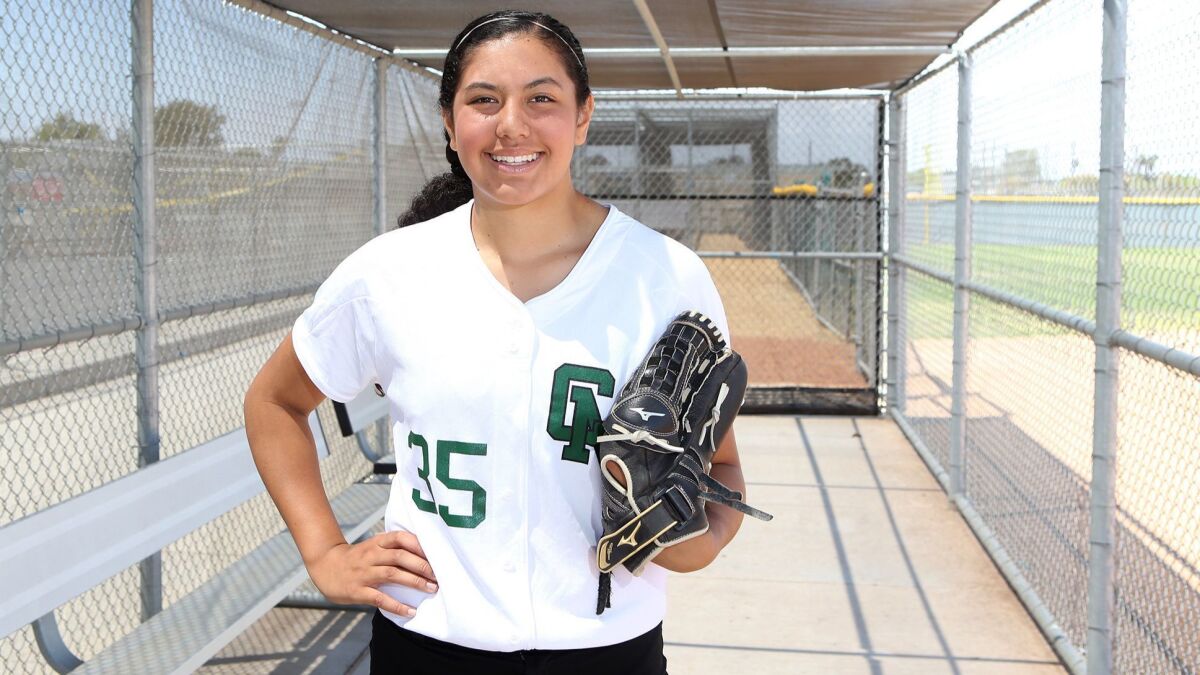 Malia Tufuga was a three-sport athlete as a freshman at Costa Mesa High, playing volleyball, basketball and softball.
Coming into her sophomore year, Tufuga thought she would become just a one-sport athlete. She wanted to focus on volleyball, her first love. That's the sport that her parents, Mai and Yvette, met while playing at an open gym in Anaheim. It's also the sport in which her brother, Mason, starred at Costa Mesa before moving on to Stanford.
Malia, a setter who plays club volleyball for Huntington Beach-based Club H, did not play basketball this past winter after helping the Mustangs girls' volleyball team advance to the second round of the CIF Southern Section Division 5 playoffs in the fall.
It was too much to juggle, with Tufuga also maintaining a 4.16 grade-point average last semester as well as being involved with ASB on-campus. Plus, there was the traveling for club volleyball.
"My schedule just didn't allow for basketball," she said. "Same with softball."
Or so she thought. Mustangs softball coach Doug Deats, in his first year in charge, did not have Tufuga in his social science classes at Costa Mesa, but he said he would see her in the hallways. He asked her to reconsider coming back the team, for which she played catcher as a freshman.
Tufuga traveled to Chicago in early April, helping Club H win a qualifier tournament for the USA Volleyball Junior Nationals. When she got back, she agreed to Deats' request to come back out for softball. She's familiar enough with a diamond, having grown up playing baseball with the boys in Costa Mesa National Little League.
She's responsible, dependable and she does all the things you want all your athletes to do. She fit in right that way.
— Costa Mesa High coach Doug Deats
She's also young for her grade, as she won't turn 16 until October. But at 6 feet tall already, she's just a good athlete.
"I thought if [Deats] was coming to me now, he probably really needed me or wanted me," Tufuga said. "It was only for about five weeks. I figured I'd stick it out, and do it for the good of the team and my friends."
The Mustangs can be glad she did. She became a reliable center fielder and middle-of-the-order bat for Costa Mesa (20-9), which had a breakthrough season. After finishing third in the Orange Coast League, the Mustangs advanced to the CIF Southern Section playoffs for the first time in seven years and made a run as the No. 3 seed in Division 7.
Their 18-6 first-round win at El Segundo Da Vinci Design Academy on May 17 was the program's first postseason victory since 1979, Orange Coast League scorekeeper Frank Aronoff said. In that year, the Mustangs beat Playa del Rey St. Bernard 13-0 in a Division 3A first-round game.
Costa Mesa then won at home against Inglewood St. Mary's Academy on May 22 by an 18-1 score, before falling 6-3 in the quarterfinals at San Gabriel Mission two days later. This is believed to be the first Costa Mesa team to advance to the quarterfinals.
Tufuga was in the middle of it all, with a combined three doubles and six runs batted in for Costa Mesa in the two playoff wins. She hit .405 for Costa Mesa in her abbreviated season, providing a big bat behind players like junior shortstop Katie Belmontes and senior catcher Haley Sheffner.
In volleyball, setter is a selfless position because you are always setting up your teammates. Tufuga brought the same attitude to softball. That's why she played catcher as a freshman. The move came out of necessity when Sheffner was forced to pitch, due to an injury to No. 1 pitcher Haley Wolf.
Teamwork has been key for Costa Mesa. Tufuga said the practice T-shirts this year had the acronym "TEAM," which stood for "Together Everyone Achieves More." Things continued running seamlessly for Costa Mesa, even with the addition of Tufuga in the middle of the season.
"We preached all year that everything was about the team and sticking together," said Deats, who played baseball at Costa Mesa before graduating in 1980 and coached the Mustangs' baseball team from 1994-97, as well as in 2003-04. "I think most of the kids got it, and understood where we were coming from. It's not like Malia was new to the program. She had been in the program last year. She's a known quantity and she's a great kid.
"She's responsible, dependable and she does all the things you want all your athletes to do. She fit in right that way. She hit the ground running and was a great teammate."
Tufuga now will return her focus to volleyball, where she'll be playing on the Club H 16-and-under team at the USA Volleyball Junior Nationals in Detroit in early July. She said she is unsure if she will again try to play softball next year as a junior.
Whatever the decision is there, she helped the Mustangs have a season to remember.
"We knew that we had the talent and we knew that we had the team connection," Tufuga said. "It was just going out there and executing. It's a great group of girls to be around."
::
Malia Tufuga
Born: Oct. 17, 2002
Hometown: Costa Mesa
Height: 6 feet
Sport: Softball
Year: Sophomore
Coach: Doug Deats
Favorite food: Pizza
Favorite movie: "Pitch Perfect"
Favorite athletic moment: Helping her club volleyball team win two qualifier tournaments for the USA Volleyball Junior Nationals.
Week in review: Tufuga was two for two with a double and three RBIs as host Costa Mesa beat Inglewood St. Mary's Academy 18-1 in five innings on May 22, in the second round of the CIF Southern Section Division 7 playoffs.
Twitter: @mjszabo
---
All the latest on Orange County from Orange County.
Get our free TimesOC newsletter.
You may occasionally receive promotional content from the Daily Pilot.