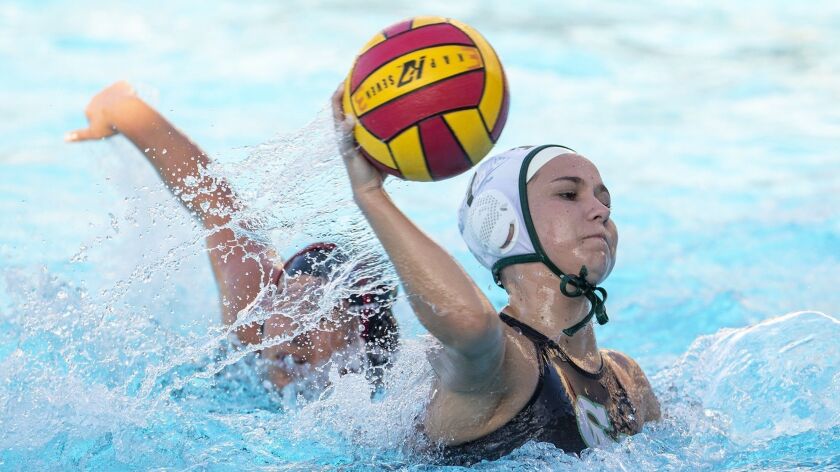 The Costa Mesa High girls' water polo team briefly ran into some adversity in the Battle for the Bell rivalry match at Estancia on Wednesday afternoon.
Estancia junior Sydni White scored the match's first goal, a six-on-five strike in the first minute. The Mustangs found themselves in an early hole.
"I think it was a good little wake-up call for the girls right away," Costa Mesa coach Dustin Serrano said. "It's a rivalry game. We knew they weren't just going to roll over."
Costa Mesa's deficit was brief. By the end of the first quarter, the Mustangs had put six goals on the scoreboard.
They were on their way to a 20-2 victory in the Orange Coast League finale. With the win, Costa Mesa (15-13, 4-0 in league) clinched the title outright, its first league title since winning the Golden West League in 2003-04.
Estancia (13-14, 2-2) finished in third place.
Senior Sofia Rice had seven goals, five assists and five steals for Costa Mesa. Junior center Taiuta Uiagalelei added six goals, and junior Sey Currie had four goals and three assists.
"We've been working on our six-man counter," Currie said. "We've been working on setting it up during the game, and we've finally almost got it down. We're working as a team, and I feel like our sophomores are really picking it up now. Michelle [Kiefer], Hannah [Reese], Kayla [Chaffins], Sadie [Beazley], they're all getting really good now and they're really fun to play with."
Kiefer scored twice and senior goalkeeper Rianne Baesman made nine saves for the winners, who extended their lead to 16-1 before White scored her second goal, assisted by Estancia junior Gidget Brestel, late in the third quarter.
Both teams concluded their regular season. Costa Mesa hopes to make a run in the CIF Southern Section Division 5 playoffs, while Estancia will vie in Division 7. The brackets will be released Saturday at 9 a.m.
"We've definitely come more together as a team," said Rice, whose best playoff run in her first three years on varsity was when the Mustangs reached the second round in Division 6 two years ago, losing 6-3 at Redlands East Valley. "I definitely think we can go far."
Estancia coach Matt Frazier saw his team quickly lose the early lead against its rival.
"It looked promising at that point, then they scored six [goals]," Frazier said. "There's no competition, with their entire team pretty much playing club [water polo] and my entire team having no club experience. It's going to take time to get to their level … Hopefully we'll get some more talent and build. You know, it's OK to come to Estancia too, instead of everyone going to Costa Mesa."
Twitter: @mjszabo
---