Mitch White steps down as Estancia aquatics coach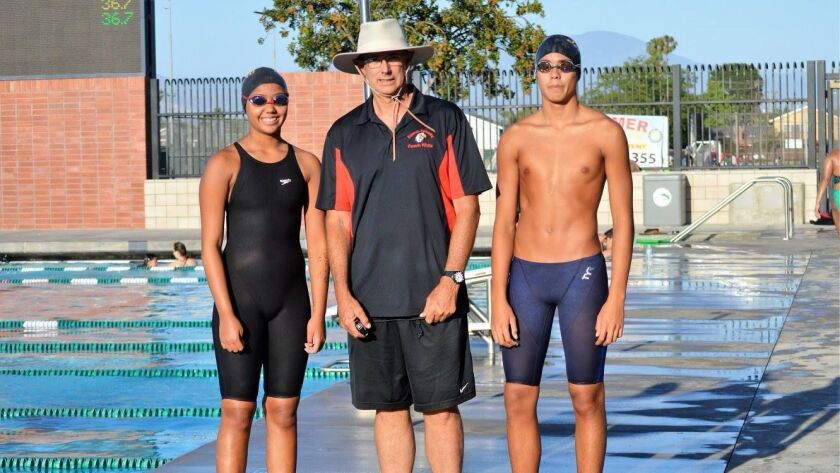 Mitch White has stepped down as boys' and girls' water polo and swimming coach at Estancia High after three seasons, he said Thursday.
White wrote an email Thursday to Estancia athletic directors Nate Goellrich and Mike Bargas announcing that he was resigning for personal reasons. When reached by phone, White declined to elaborate much, but he did say the Eagles' pool situation was part of his decision.
The Eagles' $9-million aquatics center was scheduled to open in fall of 2018 before it was delayed, and Estancia just recently began using its pool again after it was refilled. Prior to that, the Eagles were having competitions and practices at Costa Mesa High this season.
"At this time, for my personal best interests, it's best that I step down," White said. "I don't want to, I love the kids that I'm coaching … It's just been rough. It's been a lot of work to keep our team together, moving out of the pool, moving back into the pool, having parents all distraught over what's going on and everything else. There's just factors that are getting involved that I'm better off not to be here."
White said he plans to coach for the Eagles through the current swim season. After that, applications will open for a water polo and swim coach, which Goellrich said will likely be filled by two different people.
"I thought [White] did a great job of handling the stress of the pool situation and maintaining our programs," Goellrich said. "Our programs definitely have come a long way from when he took over, so we'll look to get somebody in that can build on what he's built and take us to the next level."
The Estancia boys' water polo team finished 10-8 overall this year and 2-2 in the Orange Coast League, good for third place. The Eagles lost at Lompoc Cabrillo in the first round of the CIF Southern Section Division 6 playoffs.
The Estancia girls' water polo team went 6-7 overall and 1-3 in league, which was also almost good enough to qualify for the postseason. The Eagles finished in a three-way tie for third with Saddleback and Godinez before losing 6-4 in a tiebreaker game to Godinez.
Last year, White guided the Estancia girls' water polo team to the Division 7 quarterfinals and the first two playoff wins in program history.
White, who was a walk-on coach, said he will continue to be involved in the Estancia aquatics program, but now just as a parent. His son is Cobi White, a senior at Estancia, and his daughter is Sydni White, a sophomore. Mitch White said another son, Brodi White, will be a freshman at Estancia in the fall.
"I have encouraged all my athletes to push on and be the best they can be in sport and academics, including my own children who are among the top athletes in the aquatics program," Mitch White wrote in the email. "I apologize to the parents that have supported me in these goals, but for personal reasons I must do what I believe is best at this time."
White is the second Newport-Mesa area aquatics coach to resign in recent weeks. Brian Melstrom resigned as girls' water polo coach at White's alma mater of Newport Harbor after leading the Sailors to the Division 2 title.
Twitter: @mjszabo
---
All the latest on Orange County from Orange County.
Get our free TimesOC newsletter.
You may occasionally receive promotional content from the Daily Pilot.