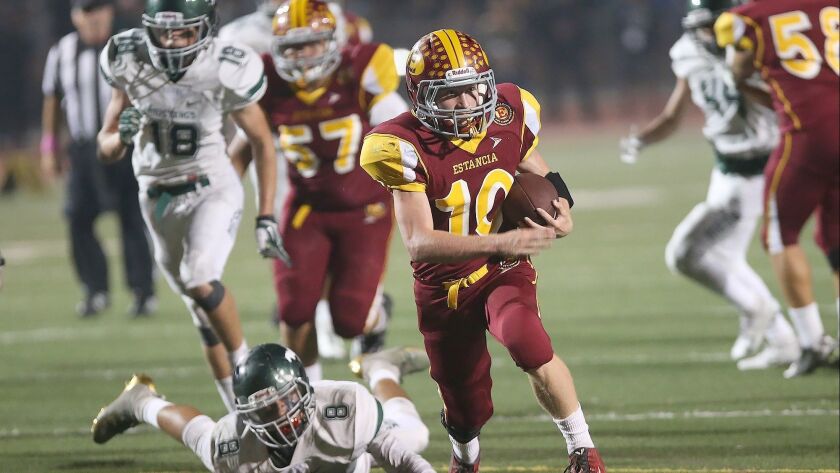 Estancia High senior Trevor Pacheco earned the Orange Coast League Special Teams MVP award in football.
The running back rushed 168 times for 1,534 yards and 19 touchdowns, and caught 12 passes for 140 yards and one touchdown. This is his second straight first-team honor.
Pacheco averaged 21.6 yards per kickoff return, returning one for a touchdown, and 9.4 yards per punt return.
Nathan Guyot, a senior wide receiver and defensive back, senior wide receiver Hayden Pearce, junior linebacker Nathan Pacheco and senior offensive lineman Raul Gonzalez made the first team for Estancia.
Costa Mesa had two first-team members in senior lineman Aruna Bijanjan and Ryan Bourbeau, a sophomore outside linebacker and H-back.
The Eagles (6-4, 3-2 in league) finished third in the six-team league and the Mustangs (0-10, 0-5) last. Both missed the CIF Southern Section Division 13 playoffs.
Guyot had 27 catches for 454 yards and three touchdowns.
Pearce, a two-time first-team selection, finished with 23 receptions for 404 yards and three touchdowns.
Pacheco had 72 tackles, 3½ sacks and five tackles for loss.
Gonzalez made 18 tackles, four tackles for loss.
Santa Ana senior Patrick McMorris, a running back and safety, was named the league MVP.
Santa Ana quarterback Julian Gomez was the Offensive MVP and Santa Ana defensive back Drew Ramirez the Defensive MVP.
Santa Ana's Nick Larriva and Orange's Anthony Garcia split the Lineman of the Year award.
Twitter: @DailyPilotSport
---