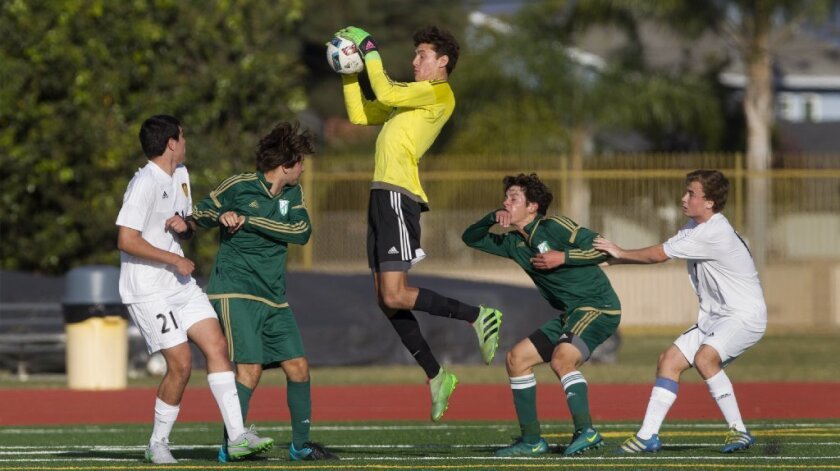 Coach Charlie Breneman's rebuild of the Edison High boys' soccer team has been slowed somewhat as he awaits the arrival of some of his best players, who are still dealing with club responsibilities. It's one of those works in progress, and the inherent difficulties were on display through at least half of the Chargers' showdown Wednesday evening against visiting Katella.
Then everything suddenly fell into place. Three goals in four minutes early in the second half broke open a tight game, and Edison stormed to a 6-0 triumph that might have provided a foundation going forward.
Dylan Zankich put away a rebound to break a scoreless draw in the 52nd minute, Dustin Voorhees followed with a strike a minute later, and Sander Booij finished a nifty half-volley two minutes after that, and so much that had been ailing the Chargers (2-1-2) evaporated.
Kieren Spradlin added two late goals and Cayden Bonner netted another just before the finish to complete a most unexpected nonleague rout of a fellow Orange County power.
"It's funny about the game and confidence and results," Breneman said. "It's important to win, but when you win big and you win playing pretty well in the second half, then we approach [the coming games] with a lot more confidence that if it had been 1-0 or 1-1 or something like that. We needed it, because we've been close so far, a couple of tie games and a couple of one-goal games."
Edison graduated 14 seniors from last season's Sunset League championship team, and three of its most important players — starting goalkeeper Mitchell Wilson and center backs Kai Peterson and Wyatt Burris — are in North Carolina, where Laguna Hills-based West Coast Futbol Club is playing in the first stage of the U.S. Youth Soccer National League. Their absence, and that of sophomore midfielder Dylan Lybarger, who is also on club duty, has affected the Chargers' early growth.
"We've got guys who are stepping up from JV level who are just now getting that varsity experience and are maybe not quite comfortable playing at that level yet," said Breneman, whose team plays host to Mission Viejo on Friday at 5 p.m. "And so we haven't quite defined who we are and what type of way we want to play. ... The speed, the way we attacked, the way we moved the ball in the second half, that's the way we want to play. I think that hopefully gives us confidence to move and do it again."
The Chargers had the better of the game throughout. They held a 25-11 shot advantage and won a dozen corner kicks, which were mostly wasted. But Edison struggled for ideas in the final third, especially when it reverted to direct play after Voorhees nearly put away a one-on-one chance after Zac Ingalls, just back from club play, chipped a ball into the Katella box midway through the first half.
The Knights (1-2-0), who are waiting on three players from the school's football team, which made the CIF State Division 5-A playoffs, and another two standouts who won't be eligible until next month, tested goalkeeper Collin Macha (four saves) at the end of the first half. Then Kevin Ruiz hit the crossbar three minutes after the break. Katella had momentum until Zankich tallied after Knights keeper Jordy Cruz parried Voorhees' blast from Jack Morrell's feed.
Morrell set up Voorhees' one-touch finish in front moments later, and then Booij, impressive all night in midfield, made it 3-0. The Chargers attacked in waves the rest of the way.
SCOTT FRENCH is a contributor to Times Community News. Follow him on Twitter: @ScottJFrench
---