Blyleven honored at First Pitch Baseball Dinner for saving lives
The third annual First Pitch Baseball Dinner is an event that kicks off the Sunset League vs. Trinity League Baseball Challenge, but it also acknowledges those who have impacted people on and off the baseball diamond.
There was no one at the Huntington Beach Elks Lodge on Saturday who did more for others during a crisis than Todd Blyleven. The son of Hall of Fame pitcher Bert Blyleven saved lives.
Todd Blyleven joined four others to the Diamond Club, which is considered the Hall of Fame of Southern California baseball. Blyleven played baseball at Villa Park High and minor league baseball with the Los Angeles Dodgers, but he will forever be known for his heroics during the Las Vegas shooting on Oct. 1, 2017, when 58 people died and hundreds were injured.
"I helped a man with a young girl who didn't make it," Blyleven said. "I just found out yesterday and that is upsetting. After helping her, you run back in and see scared and panicked people. I picked up people who were shot. Three people had died in my hands. I had … carried 12 people out to safety and I had to get out 200 people in a kill zone to safety while bullets are spraying. You just had to pray and hope to not get shot while helping as many people as you can.
"I'm being called the hero of the night tonight and all I tried to do was to help people. That is all I could try to do. In that moment in time I knew people were helpless and all you wanted to do is to go back and do whatever you can. It was a scary ordeal and it is something I have to live with for the rest of my life."
One of the inductees was CIF Southern Section commissioner Rob Wigod, who also coached baseball at Los Alamitos. Wigod acknowledged Blyleven as someone who gave back in a big way.
"It's all about giving back," Wigod said. "I think we all believe in that. Todd certainly represents that. When you are doing for others there are no more noble or higher causes than that. Obviously, I have a lot of respect for that."
Other inductees included longtime Santa Ana College coach Don Sneddon, the winningest coach in California with 1,072 wins, Bob Zamora, a six-time CIF Southern Section champion coach at Capistrano Valley, and Tony Cappuccilli, a former Edison star who shares the Orange County all-time career home run record.
Cappuccilli, who was the Sunset League MVP and hit 32 home runs before graduating from Edison in 1999, is now a minor league hitting instructor with the Dodgers.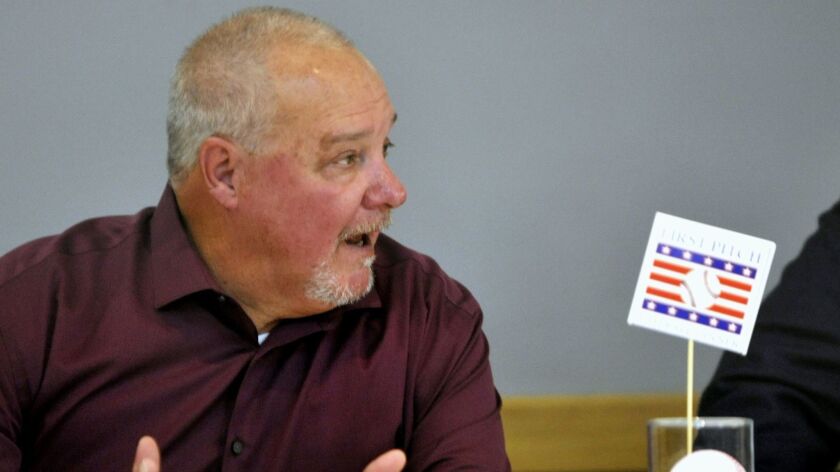 "It's a little overwhelming for me to be here," Cappuccilli said of the event, which also had University of Michigan baseball coach Erik Bakich, Long Beach State baseball coach Troy Buckley and Cal State Fullerton baseball coach Rick Vanderhook as guest speakers. "The fact that a lot of these coaches were still coaching when I was playing. I coached against these guys when I was coaching at Edison and Irvine Valley College. It's a little intimidating to get up there and talk about guys that have done a lot in this game. It's about the guys going in tonight. I have no business being here in that list with those guys. It's pretty cool."
The Sunset League vs. Trinity League Baseball Challenge features two of the top leagues in Southern California playing each other. The exhibition games start on Jan. 27, with Huntington Beach hosting Servite at 10 a.m., and Los Alamitos playing at Bellflower St. John Bosco at 10 a.m.
The rest of the schedule is as follows:
Jan. 30: Newport Harbor at JSerra, 5 p.m.
Jan. 31: Fountain Valley at Mater Dei, 7 p.m.
Feb. 2: Marina vs. Orange Lutheran at Hart Park, 6 p.m.
Feb. 3: Santa Margarita at Edison, 9:30 a.m.
MANNY ALVAREZ is a contributor to Times Community News. Follow him on Twitter: @MAlvarez02
---
All the latest on Orange County from Orange County.
Get our free TimesOC newsletter.
You may occasionally receive promotional content from the Daily Pilot.