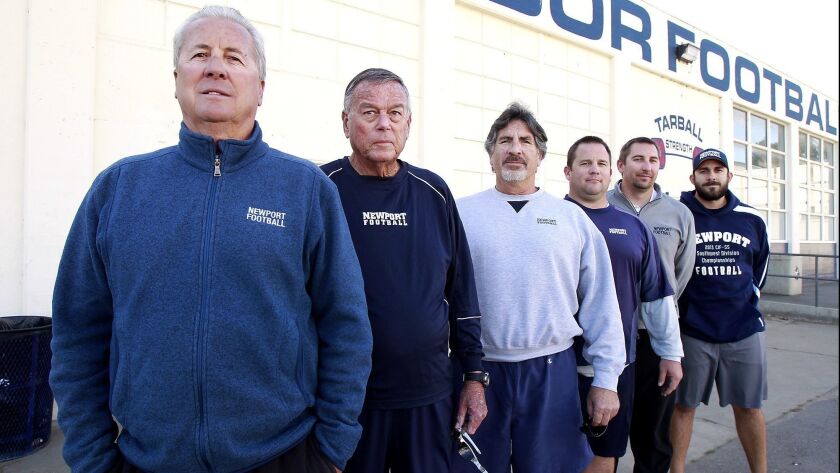 Fountain Valley High has hired former Newport Harbor and Corona del Mar offensive line coach Chris Anderson as its head football coach, Barons athletic director Roger Holmes said Wednesday.
This will be the first high school head coaching position for Anderson, 32. He played as an offensive lineman at Whittier College before coaching there for two years. He became Newport Harbor's offensive line coach in 2010, staying there through Jeff Brinkley's final season in 2017.
This past year, Anderson held the same job at CdM.
"I made that decision that I wanted to take that next step, start applying for some jobs," said Anderson, who was a finalist for the Costa Mesa coaching job last March. "I think Fountain Valley is one of those destination-type jobs that when it opens up, it's a great opportunity. It's a program with a lot of tradition and tremendous community support. After meeting with the panel and the administration, it just feels like a really good fit."
Anderson said he will be a physical education teacher at Fountain Valley High. He's currently a P.E. teacher at Ensign Middle School in Newport Beach.
He takes over for Jimmy Nolan, who resigned in December following three seasons. In Nolan's final year, Fountain Valley went 5-6 overall, placed fifth in the Sunset League at 1-4 and reached the first round of the CIF Southern Section Division 8 playoffs.
"He did a great job in the interview," Holmes said. "He's come from learning the game from one of the all-time best coaches in Orange County, coaching eight years with Brinkley over at Newport. He's young and really excited to get things going … Everyone's got to start somewhere. I think he'll do fine. It's always a learning curve, but he's had some good people to learn from."
Twitter: @mjszabo
---