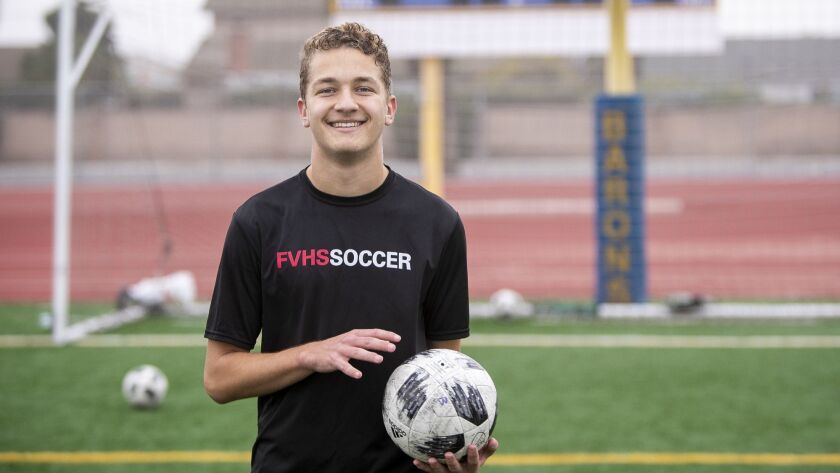 Fountain Valley High sophomore Sebastian Rus is a second-generation American.
His parents, Petre and Daniela, emigrated from Romania. Rus was born in Chicago, and he spent the better part of his youth there.
Rus said that his family remains firmly in touch with Romanian culture, and two of the biggest components have been food and soccer.
Lately, there has not been much wrong with either. The holidays just passed, and Rus rattled off a long list of items that were included on the Christmas dinner table. Chicken noodle soup, pork stew with mashed potatoes, and cabbage rolls were among the main course dishes.
When it came time to choose his electives, Rus said it was kind of a no-brainer when he noticed that the culinary arts were among the classes offered.
"I thought it would be a good start to learn some basic things in culinary arts," Rus said. "I have the perfect role models to learn from in my grandparents, my mom, my dad and just anyone else in my family.
"I've always loved food. Around Easter time, we make lamb, and it's the only time of the year that we have it. It's very, very good. Now that Christmas is done with, that's kind of what I'm waiting for."
Rus follows the English Premier League closely. He noted that he enjoyed the long-ball system of Manchester United. Few were better at distributing through balls than former Manchester United star David Beckham, who was one of Rus' favorite soccer players growing up.
When he got to high school, Rus made the varsity team as a freshman. He received Beckham's No. 23, and he also scored 13 goals last season.
"I've always admired David Beckham for his long passing, and especially last year, with the No. 23, I tried to play like him a little bit with the long balls, the through balls in between, breaking the lines and stuff like that.
"As a center forward, I've always been attracted to Wayne Rooney. He's been there since day one. He's the reason I'm in love with [Manchester United] now."
Rus has taken his game to another level in the attacking third this season. He has 10 goals and five assists in just 11 games played. He had two goals and two assists to lead Fountain Valley (10-2) to a pair of Sunset Conference crossover wins against Newport Harbor and Los Alamitos last week.
"The biggest thing with Sebastian is his vision," Barons coach Jason Smith said. "He knows the game really well, so he's already thinking one or two plays ahead. That's what makes him so tough. He knows where to be. He knows the weaknesses, and he's going to make you pay.
"He's very composed in front of the net, and that's why he has 10 goals. He doesn't try to do too much."
In the days following Christmas, Rus continued to find the scoring touch in leading his team to the semifinals of the Hawks Invitational at Lake Forest Sports Park this week.
"He's definitely stepped up as more of a leader," Smith said of Rus. "He's had more of a voice for us. He's very competitive, but he likes to coach a lot out on the field. He's been working on that. I've been helping him a little bit because it's not easy getting instructions sometimes from a sophomore when you're a senior.
"His play backs up what he says, so the guys listen. He's lucky where he's at in terms of his ability where he's able to get guys to listen to him, even if he gets on them a little bit. Not many sophomores can do that."
Rus thinks that playing above his age group back in Chicago also helped him connect more to his upperclassman teammates.
"I always grew up playing with older kids," Rus said. "From the age of 5 to 12 or even later on, until I moved here, I was always playing with older kids, playing one or two years up. I was always playing up for competition, so I was never the biggest, fastest or strongest."
::
Sebastian Rus
Born: Sept. 23, 2002
Hometown: Chicago, Ill.
Height: 5 feet 10
Weight: 160 pounds
Sport: Soccer
Year: Sophomore
Coach: Jason Smith
Favorite food: Chicken fettucine alfredo
Favorite movie: "Remember the Titans"
Favorite athletic moment: Rus scored a hat-trick in one of his first games after moving to California as a member of the Irvine Strikers 13-and-under club team.
Week in review: The sophomore center forward had two goals and two assists to lead Fountain Valley to wins over Newport Harbor and Los Alamitos in Sunset Conference crossover games last week.
Twitter: @ProfessorTurner
---