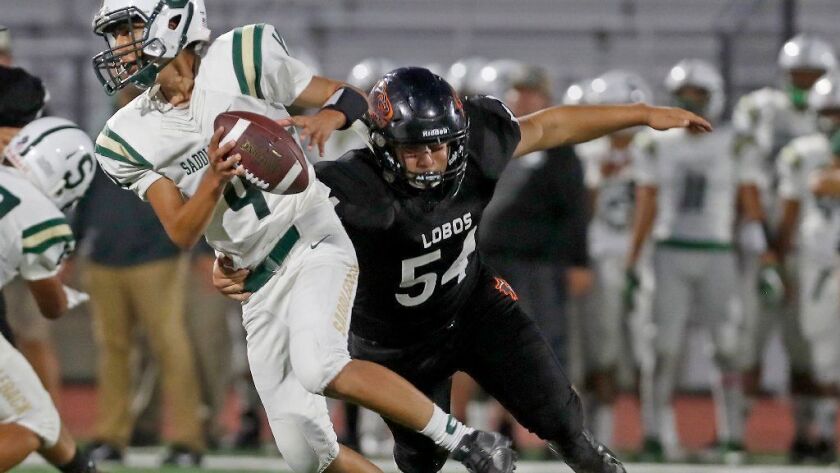 Los Amigos High football coach Harold McDowell died in mid-April, Lobos athletic director Chris Sandro said.
McDowell was 61. He had recently been named the next head coach of the Lobos football program in February.
A celebration of life was held for McDowell on April 26 at the Los Amigos football field, which Sandro said was attended by hundreds of people.
Sandro called the Los Amigos football field McDowell's domain, adding that it was the appropriate setting for the remembrance ceremony. McDowell served on the Los Amigos football coaching staff for 21 years, spending the last five as the team's defensive coordinator.
"He told me that, over the years, he had offers to go other places, but there was just something about the kids at Los Amigos," Sandro said of McDowell, calling him the heart and soul of the Los Amigos football program. "They needed him, and he needed them."
In addition, McDowell had also been the head coach of the Los Amigos boys' and girls' track and field programs since 2015.
Maopu Tuato, 32, who played for the Lobos and was a Los Amigos graduate in 2004, has been named as the next head football coach of the program. He was the quarterbacks coach for the Lobos last season.
"He has a long history with Coach Harold," Sandro said of Tuato. "He spoke last at the remembrance. It was really heartfelt. Coach McDowell meant a lot to him, and we're going to kind of keep Coach Harold's memory going and try to make him proud."
::
Support our sports coverage by becoming a digital subscriber.
For more sports stories, visit latimes.com/socal/daily-pilot/sports or follow us on Twitter @DailyPilotSport.
Twitter: @ProfessorTurner
---