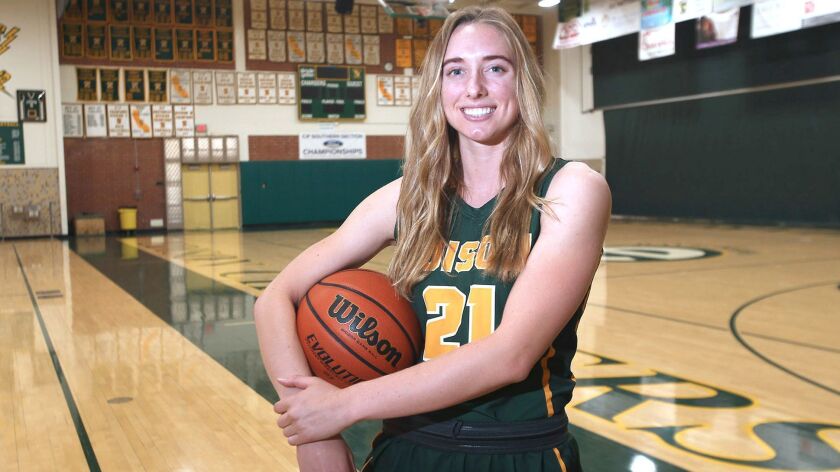 Edison High girls' basketball coach Sara Brown did not know what to expect when Finley Garnett showed up at a Chargers practice for the first time as a junior.
Garnett had just transferred from Estancia following her sophomore year, a move that was motivated by the opportunity to play against upper-tier competition.
Almost instantaneously, Garnett made an impression on her new coach that made Brown extremely thankful to have her in the program. Brown said she had come in contact with the "consummate student-athlete," one that was giving of herself, that worked hard, and who could handle constructive criticism.
"She is so mentally tough on the court," Brown said. "I was probably the toughest on her out of anybody, but she can take it. She understands what it is for."
At the time of the transfer, Brown knew that she was getting a multisport athlete. Garnett played volleyball and also competed in the high jump, the long jump, and the hurdles for track and field.
Before she took the court for Edison's girls' basketball team, Garnett had contributed to the Chargers' CIF State Division I title during the 2016 girls' volleyball season.
Garnett endorses the notion that playing more than one sport makes the individual a better all-around athlete.
"Volleyball has so much jumping, so that totally transferred to the game of basketball," she said. "[Playing volleyball helped with] getting off my feet faster from landing, and then track with running [form]."
Garnett parlayed her talents into a spectacular senior season. She played at all five positions, displaying tremendous energy and effectiveness. The 6-foot-2 power forward posted averages of 17.7 points, 14.2 rebounds, 3.7 assists and 2.1 steals per game.
"Her motor is unmatchable," Brown said. "She's a workhorse. She's like the female Dennis Rodman that can actually look to score.
"In high school, I think if basketball were her main focus, I think that she would be even better than she is now. Personally, I think she will be a better college player than she was a high school player."
Brown, who played for both Colorado State and Loyola Marymount, projects Garnett as a small forward or a stretch four (power forward) in college. Improvement in her outside shooting and ball-handling abilities will serve her well as she prepares for the next level.
Originally from Spearman, Texas, Garnett knew she wanted to play her college basketball out of state. She is verbally committed to the College of Southern Idaho.
Edison thrived this season with the senior combination of Garnett and Ashley Niemand in the post. The Chargers wore teams down with both players on the floor.
In the 2017-18 campaign, Edison was 17-11 overall, earning the second seed out of the Sunset League with a record of 8-2. The Chargers posted a first-round win in the Division 2A playoffs over Tustin.
Once she spoke up, Garnett hardly left the court.
"When I first started coaching her last year, I would take her out and give her rest because I thought she was tired," Brown said. "She finally had a talk with me. She goes, 'Coach, leave me in the game because I actually get stronger as the game goes on.'
"That was the kind of player I was. I would get stronger as the game goes on. Most kids aren't going to tell you that."
Garnett admitted that she would get tired early in games, but it was something she had to play through. Her second wind was better than most.
"After I get past that little point of tiredness, after I get over that, then I'm off to the races for the rest of the game," Garnett said. "I have so much energy.
"I recover really fast, really quickly from being tired. When I'm running, I'm tired for a few seconds, but then I feel ready to go again. I regenerate really fast."
While some transfers struggle to connect with their new teammates, it was a seamless transition for Garnett. Brown said that she was always willing to lend a helping hand.
Given how much time a team spends around each other, Garnett considered it essential that teammates enjoy each other's company.
"Behind the scenes, a lot of people go through some tough things," Garnett said. "I think being close to your teammates will help your game on and off the court. It's just a family feeling."
Brown appreciated the completeness of Garnett as a student-athlete, from the work ethic to the ability to build relationships.
"She's going to be a kid that does not come along very often," Brown said. "She is a kid that I feel extremely blessed to have coached, and I am going to continue to follow her career in college.
"She will continue to blossom and do very well. I was very thankful."
::
COACH OF THE YEAR
Brason Alexander
Corona del Mar
In his second season as the head coach of CdM's girls' basketball program, Alexander's squad saw an eight-win improvement. The Sea Kings dropped their first seven games of the 2017-18 campaign, but they learned to incorporate others into the fold. CdM recovered from an early-season injury to Malia Halafuka with an infusion of youth. Freshman guards Meghan Jordan and Trasara Alexander harassed opposing wing players, and sophomore forward Sophie Beador complemented junior center Tatiana Bruening nicely in the post. CdM finished 12-15 overall, but it returned to the playoffs after a one-year absence. The Sea Kings were the third seed from the Pacific Coast League, and they pulled off a first-round upset at Trabuco Hills, 51-48, to open the Division 3AA playoffs.
FIRST TEAM
Hosanna Walker
G | Ocean View | Fr.
Ocean View coach Kim Morris loves defense, and she knew she was going to get it on a nightly basis from Walker. The freshman guard played a physical brand of basketball, often picking up the most athletic scoring threat on the other team. Highlights for Walker included scoring the game-tying basket for the Seahawks at the end of regulation in a Golden West League home game against Segerstrom on Jan. 9. Ocean View went on to win the game 66-63 in overtime. During league play, Walker produced 18.2 points, 8.4 rebounds, and three steals per contest. The Seahawks went 18-9 overall, placing third in league with a record of 7-3. Ocean View lost to San Clemente 57-52 in its Division 3AA first-round playoff game.
Katie Nguyen
G | Marina | Jr.
The Vikings were left in a tough position after graduating 10 seniors last season. Marina went 4-22 overall this winter, but as the Vikings rebuild, they found their leader. Nguyen threw herself into the middle of the action every night despite Marina's struggles. She scored an area-best 20.4 points per game, adding 10.9 rebounds, 4.1 steals and 1.8 assists. Nguyen notched a new career-high of 34 points in a game at Fountain Valley on Jan. 18.
Emily Elliott
F | Sage Hill | Fr.
When Sage Hill saw its two-time Dream Team shooting guard Heather Park transfer to Orange Lutheran, there was less panic around the team than seemed warranted. Elliott was just what the doctor ordered for the Lightning, giving the team another marquee player to play through. As a freshman, Elliott impacted the game in just about every way, grabbing defensive rebounds and taking the ball end-to-end for layups. She picked up defense the length of the floor, guarding inbounds passes and creating deflections without fouling. For the season, Elliott averaged 12.2 points, 10.4 rebounds, 2.7 blocks and 2.1 steals. Sage Hill (17-10, 9-3), the second seed out of the Academy League, defeated Laguna Hills 45-43 in the first round of the CIF Southern Section Division 4AA playoffs.
Ashley Niemand
F | Edison | Sr.
The Chargers senior makes her second Daily Pilot Dream Team appearance in as many seasons. Edison remained an effective offensive team despite lacking a true point guard on the roster. The combination of Finley Garnett and Niemand worked well together in the post, terrorizing the opposition on the offensive boards. In two games against Sunset League champion Los Alamitos, Niemand put up 20 points, 16 rebounds and four blocks per game. The Southern Oregon University signee also averaged a double-double this season, scoring 12.5 points with 10.5 rebounds and 2.7 blocks. Edison (17-11, 8-2) finished second in league. The Chargers won their first-round matchup against Tustin 48-33 in the Division 2A playoffs.
Tatiana Bruening
C | Corona del Mar | Jr.
Bruening improved by leaps and bounds as a junior. Better free-throw shooting made her a credible scoring threat in the low post. As teams double-teamed her to take away the layups, it opened more space for outside shooters like junior guard Samantha Uehara. Bruening's signature moment came at Beckman, where she hit a game-winning shot with 2.1 seconds left in overtime to give the Sea Kings a 47-46 Pacific Coast League victory. The first-team all-league center averaged 17 points while shooting 48 percent from the field. She added 13 rebounds and two blocks per game this season.
::
SECOND TEAM
Position, Name, School, Year
G Lexi Alvarez, Newport Harbor, Jr.
G Marisa Tanga, Huntington Beach, So.
G Samantha Uehara, Corona del Mar, Jr.
F Katie Belmontes, Costa Mesa, Jr.
F Kenna Knollenberg, Sage Hill, Sr.
C Monet Oncu, Fountain Valley, Sr.
C Helen Reynolds, Ocean View, Jr.
Twitter: @ProfessorTurner
---