Edison High running back Kobe Lopez carried the ball with determination, ensuring his football team didn't experience a letdown against Newport Harbor.
The 5-foot-8, 170-pound senior rushed 20 times for 165 yards and three touchdowns, helping the host Chargers defeat the Sailors 40-10 in a Sunset League game Thursday night at Huntington Beach High.
With the win, the Chargers (4-4, 2-1 in league) remain in the hunt for a berth into the CIF Southern Section Division 2 playoffs. They're a game back in the loss column behind Corona del Mar and Los Alamitos, which share first place at 2-0. The Sea Kings play the Griffins at Cerritos College on Friday.
Edison has turned things around, and a lot of that is because of Lopez. He has rushed for 329 yards in his past two games, both Edison wins.
Edison coach Jeff Grady praised his force out of the backfield.
"He was very good tonight," Grady said of Lopez. "He just runs hard every week, but the group in front of him has gotten progressively better each week, which has really helped."
Lopez was quick to credit his offensive linemen, who created holes for him.
"I was just taking it," Lopez said.
Edison dominated both sides of the ball, outgaining Newport Harbor by 236 yards and holding the Sailors (3-4-1, 0-3) to just one rushing yard.
"We kept getting in the backfield a lot," Grady said of his team's defensive effort. "The guys did a nice job when they got their opportunity."
Lopez did most of his damage in the first half, scoring both of the Chargers' touchdowns, both from two yards out. He had nine carries for 111 yards by halftime.
He just runs hard every week, but the group in front of him has gotten progressively better each week, which has really helped.
Jeff Grady, Edison High coach
Edison benefited from a short field to set up its first score of the game. Punter Isaiah Palmer pinned Newport Harbor on its one, resulting in a quick three-and-out by the Sailors.
Palmer, who is also the punt returner, took the ball at the Sailors' 26 and dodged his way for a 12-yard return. The Chargers handed the ball to Lopez, and he gained 12 yards to set up his first touchdown.
Lopez again helped himself out on his second score. He broke off runs of 42 and 31 yards to set up his second touchdown run at the 3:24 mark of the first quarter.
Newport Harbor struggled to move the sticks, punting on its first five possessions. The Sailors finally got on the board on a 37-yard field goal by Jack Starnes with 1:42 left in the second quarter.
Edison held the Sailors to minus-seven yards rushing in the first half and took a 14-3 lead into the break.
The Chargers gained some more separation early in the third quarter. Sophomore quarterback Braeden Boyles connected with Cole Koffler for a 12-yard touchdown, giving the Chargers a 21-3 lead with 9:11 remaining in the quarter.
But Newport Harbor bounced back, scoring its first and only touchdown of the game. Cole Lavin hit Aidan Goltz for a seven-yard touchdown with 3:42 left in the third quarter. Goltz finished with seven catches for 62 yards.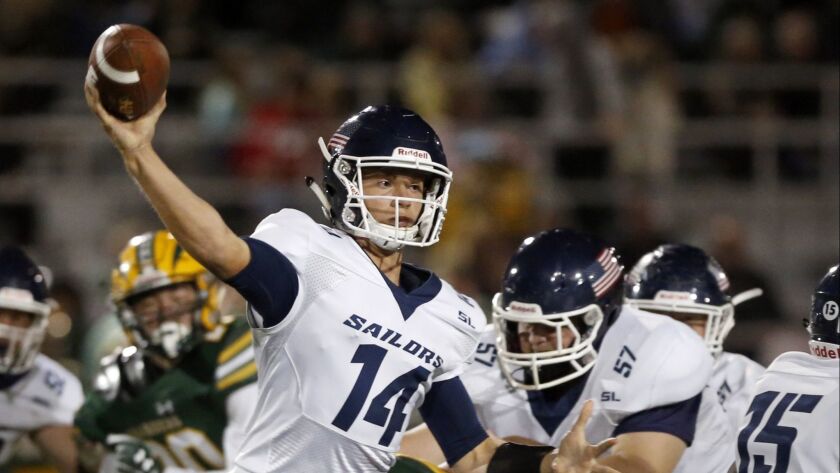 Edison used the fourth quarter to bury the Sailors for good. The Chargers scored three touchdowns in the final 6:31, the first on a seven-yard pass from Mike Walters to Cameron Eden, then on an eight-yard run by Lopez, and the final one on an 11-yard run by Walters.
The Chargers, winners of two straight, head into the 51st edition of the Battle for the Bell rivalry against Fountain Valley at Orange Coast College on Oct. 19 with momentum. Edison has beaten the Barons 13 consecutive times.
Despite the loss, Newport Harbor coach Peter Lofthouse found some positives in his young team's performance.
"I think Cole Lavin [is] making a lot of progress in taking the reins of the offense," Lofthouse said. "Our offensive line is getting in a better rhythm. The biggest thing we preach to them is [that] it's a process and we're going through the toughest part, which is learning how to win."
The Sailors will try to end their three-game skid on Oct. 19, when they face CdM in the 57th Battle of the Bay rivalry game at Davidson Field. The Sea Kings have won the last five meetings against Newport Harbor.
::
Edison 40, Newport Harbor 10
SCORE BY QUARTERS
Newport Harbor 0 – 3 – 7 – 0 — 10
Edison 14 – 0 – 7 – 19 — 40
FIRST QUARTER
E – Lopez 2 run (Spradlin kick), 8:50.
E – Lopez 2 run (Spradlin kick), 3:24.
SECOND QUARTER
NH – Starnes 37 FG, 1:42.
THIRD QUARTER
E – Koffler 12 pass from Boyles (Spradlin kick), 9:11.
NH – Goltz 7 pass from Lavin (Starnes kick), 3:42.
FOURTH QUARTER
E – Eden 7 pass from Walters (Spradlin kick), 11:52.
E – Lopez 8 run (kick failed), 9:34.
E – Walters 11 run (kick failed), 5:29.
INDIVIDUAL RUSHING
NH – McCoy, 9-13.
E – Lopez, 20-165, 3 TDs.
INDIVIDUAL PASSING
NH – Lavin, 14-27-0, 112, 1 TD.
E – Boyles, 5-14-1, 127, 1 TD.
INDIVIDUAL RECEIVING
NH – Goltz, 7-62, 1 TD.
E – Koffler, 4-59, 1 TD.
DEVIN UGLAND is a contributor to Times Community News. Follow him on Twitter: @Devin_Ugland
---