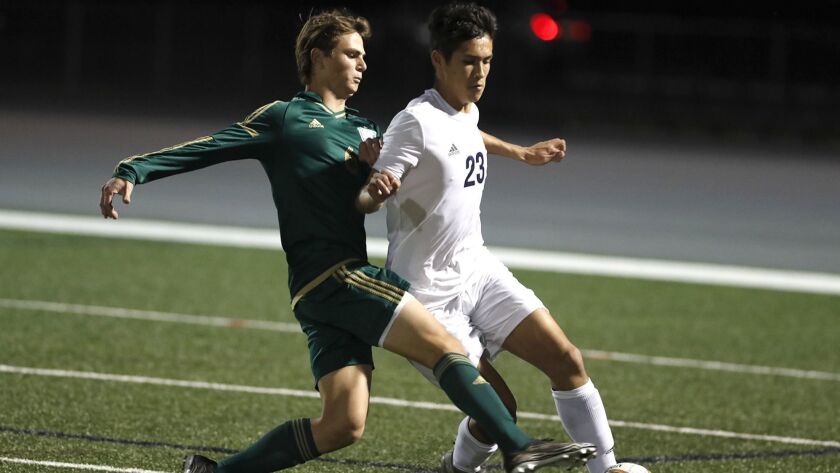 Reporting from San Clemente —
The Edison High boys' soccer team had hoped to continue its role as giant-killer in the CIF Southern Division 1 semifinals at San Clemente Saturday night.
The dream almost came true but the host Tritons, who had not been scored upon in the first three playoff games, held on for a 3-2 victory with a golden goal by Quinn Richards four minutes into the second overtime period.
Richards, a senior, suffered a bloody lip in the raucous scrum by his teammates after calmly putting the ball in the net for his 10th score of the season after a short pass from Liam Linas, who recorded his 16th assist.
"I am really happy," Richards said. "This is unbelievable. We have been working for this all year."
The payoff comes next Saturday when San Clemente (22-2-4) faces No. 2-seeded Los Angeles Cathedral (21-2-2) in the title game, which will be played at Warren High in Downey on Feb. 23. Cathedral defeated Mater Dei 1-0 in the other semifinal.
"This will be our fourth championship game in the last nine years," San Clemente coach Michael Pronier said. "We look forward to playing Cathedral because they beat us in the semifinals last year."
Pronier had praise for the winning combination. "Quinn is a hard-nosed player, both in the game and during our practices. And we don't give out many assists and Linas getting his 16th [assist] shows what kind of player he is."
The Triton coach also had praise for Edison. "Our team is very fit and we generally can wear down our opponent, but they stayed with us to the very end. They are a good team with some excellent players."
Edison coach Charlie Breneman said, "They are an excellent team from an outstanding program and I take my hat off to them. But we made a couple of mistakes that cost us the game.
"On their second goal, we had some miscommunication that allowed them to score. In the overtime, we had a silly penalty against us that allowed them to set up and score the winning goal," he said.
"This game will motivate us as we go back to practice for the upcoming [CIF Southern California] Regional championship tournament," he added. The Chargers qualify as one of the top four teams in the Southern Section and will take a 16-6-5 record into the regional.
Jake Whitcomb got Edison on the board in the 23rd minute on a throw-in to the front of the goal. That lead lasted 10 minutes before Daniel Tuscano pounded the ball past Edison sophomore goalkeeper Benet Flory.
Junior Kai Peterson put Edison ahead 2-1 when he scored on a throw-in with four minutes left in the half, but Nelson Tabarez tied it when he slipped the ball into the Edison goal.
DAVE DANIEL is a contributor to Times Community News.
---