Reporting from Westminster —
The Ocean View High girls' basketball team has come a long way from where it was at the start of the season.
Senior center Helen Reynolds was the lone returner to be a key contributor on the offensive end, and the Seahawks had made a point of playing almost exclusively through her as they navigated their tournament schedule.
The Seahawks that showed up to Westminster showed greater poise and better ball-handling ability, and despite a low-scoring game from Reynolds, they found themselves in the game.
Sophomore shooting guard Bella Caiazzo had a team-high 15 points, but the Seahawks fell to the Lions 37-33 in a Golden West League game on Wednesday night.
Caiazzo made three shots from beyond the arc, and she made both of her free-throw attempts. Sophomore guard Emma Beard added six points, all via mid-range jumpers.
Asked about the increased confidence that Caiazzo displayed in looking for and taking her shots, Seahawks coach Kim Morris said, "We all have, but absolutely, she has."
Ocean View (11-12, 2-3 in league) kept the game within two possessions for the duration. Westminster (11-10, 4-1) established its biggest lead of 35-29 on a basket by Thanh Danh with 4:48 remaining.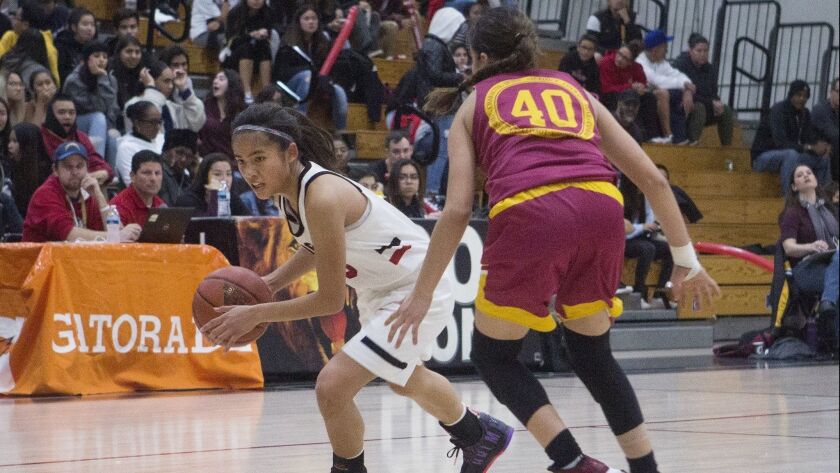 Danh, a junior guard, scored all of the Lions' seven points in the first quarter. By the end of the game, she had the crowd giving her an "MVP" chant when she went to the free-throw line.
"I needed to have confidence in myself," Danh said. "Some of us might not be doing well, so we had to pull the rope and pick each other up."
Reynolds, who has matched her career high of 31 points on three separate occasions this season, struggled to finish at the rim. It was in part due to the defense of senior center Kianna Garcia, who had five points and five rebounds.
"I had to have confidence in myself because [Reynolds is] good all-around," Garcia said. "She tries to carry the team, but I knew that it was my job, as a post, and coming back from my [right knee] injury, I needed to step up my game."
Westminster held two five-point leads in the first half, but Reynolds turned distributor on back-to-back Seahawks field goals, by Caiazzo and Beard, to cut the Ocean View deficit to 16-15.
Caiazzo followed with her second three-pointer of the second quarter to give the Seahawks an 18-15 lead with 1:46 left in the half.
Westminster would close the period on a 5-0 run, capped by a deep three-pointer from Sheridan Bivens as the clock expired.
Reynolds made her greatest impact in rebounding. She finished with 10 points, 16 rebounds, four assists and a blocked shot. She had just one field goal after halftime.
"Helen is tired," Morris said. "There's a lot on her shoulders, and she has to finish in the second half. She played a full game, and it's tough to do that.
"Now, she has a team that can actually help her out. She's not sure [what play to make]. 'When do I dish it? When do I take them on myself?' We're kind of working on that right now. That's the transition we're in."
Caiazzo had nine points in the second half as the Seahawks attempted to stay with the Lions. A Reynolds free throw cut the Westminster lead to 30-29 with 5:42 remaining, but Ocean View was unable to draw even.
The Lions missed the front end of all three of their one-and-one opportunities in the bonus, but the Seahawks scored on just one of the following possessions.
When Brianna Green missed the front end of the final one-and-one opportunity, the Seahawks were unable to grab the rebound. Green went back to the line and made both of her free throws, extending the Westminster lead to 37-33 with 15 seconds left.
Sophomore center Iris Garibay drew the start and made an impact in limited minutes, providing a basket off an offensive rebound and a block.
"Iris Garibay makes Helen's job easier," Morris said. "Iris gets rebounds. She gets putbacks. She can finish at the rim."
::
Golden West League
Westminster 37, Ocean View 33
SCORE BY QUARTERS
Ocean View 8 – 10 – 8 – 7 — 33
Westminster 7 – 14 – 9 – 7 — 37
OV – Caiazzo 15, Reynolds 10, Beard 6, Garibay 2.
3-pt. goals – Caiazzo 3.
Fouled out – None.
Technicals – None.
W – Danh 16, Green 6, Bivens 5, Garcia 5, Ton 3, Tran 2.
3-pt. goals – Bivens 1, Danh 1, Ton 1.
Fouled out – None.
Technicals – None.
Twitter: @ProfessorTurner
---