Surfer Ethan Hurst saves woman from drowning off Huntington Beach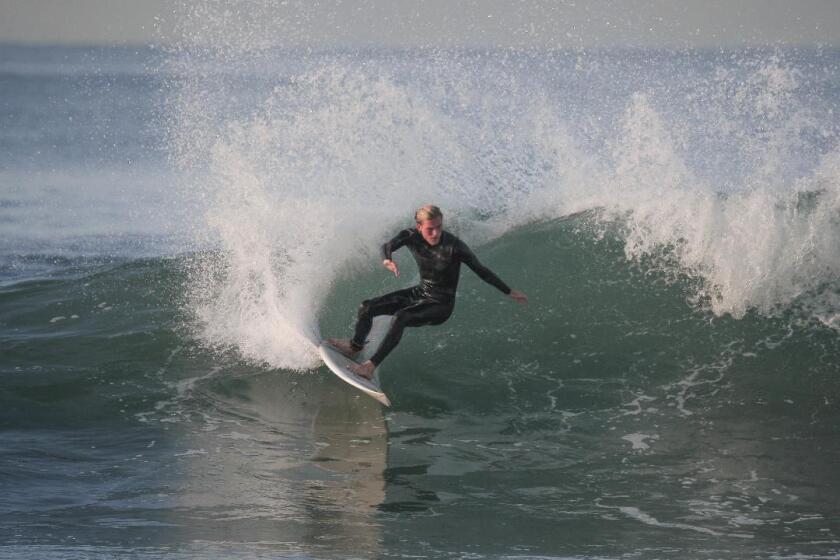 It's something every surfer can relate to.
It's getting late, you're a little tired and you know it's time to paddle in. But the waves are pretty good and you want to catch just one more wave to finish your session.
Normally, there are no serious consequences for being a little wave greedy, but for Huntington Beach High surfer Ethan Hurst, his decision to stay in the water a little longer saved someone's life.
It was about 7:45 p.m. Monday and Hurst was in the water on the south side of the Huntington Beach Pier by himself. Hurst's friend, fellow Huntington Beach High surfer Sage Guinaldo, had paddled in about five minutes earlier.
It was dark, as Hurst was in the water near Tower 3, a little too far from the pier to get the effects of its lights.
"I was just sitting out there and I heard someone screaming," said Hurst, 18. "So I paddle over, but it sounded really far away. It was really hard to see, so I just went by her voice. And when I got close, I said, 'Relax, I'm going to give you my board and you can get on top of it.' So I pushed my board over to her and she got on it. She was kind of panicking so I got her to relax and lay on the board.
"After I got her on, I said 'I'm going to kick you in to the shore and everything's going to be OK.'"
The 25-year-old woman's identity was not made public because of privacy laws, but Hurst said she was extremely grateful. Once on the beach, Huntington Beach lifeguards were on scene and took it from there.
He's an incredible young man, and of course he's going to come to the aid of others. He's always helping others.
Andy Verdone, Huntington Beach High surf coach
The woman apparently was pulled out by a strong rip current, and her companion remained on the beach looking for help.
Hurst credits his actions to a program provided by the Huntington Beach Surf Lifesaving Assn. and the Huntington Beach lifeguards called S.A.L.T. (Surfers Awareness in Lifesaving Techniques). The purpose of the program is to provide awareness training for surfers to recognize, react and respond to aquatic emergencies during times when lifeguards may have a delayed response or are off-duty.
Last November, the Huntington Beach High surf team underwent S.A.L.T. training provided by the lifeguards, and it is something that Hurst relied on.
"That helped a lot," he said. "I'm not sure if I would [have] known to give her my board and have her lay on it. I don't know what I would've done. It gave me a basis of what to do, then I kicked her in and it was all good."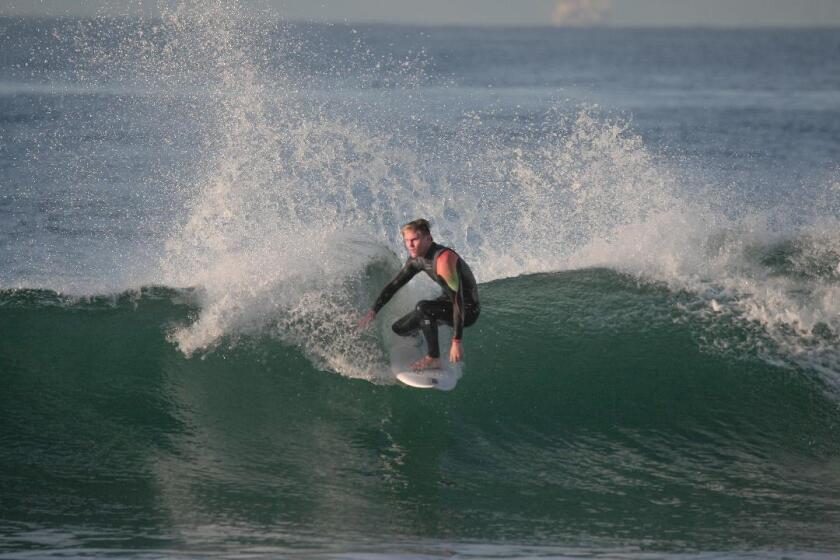 Huntington Beach High surf team coach Andy Verdone said Hurst's actions came as no surprise to him.
"He's an incredible young man, and of course he's going to come to the aid of others," Verdone said. "He's always helping others. We'd just gone through this S.A.L.T. training with the lifeguards. It's a fantastic program and it turned out to be quite opportunistic."
Verdone also was quick to point out that Hurst has had an eventful senior year.
"This has been the greatest and worst year of Ethan's life," Verdone said.
Hurst could not surf for a month at the start of the school year after having surgery on his stomach to take care of a severe acid reflux condition. Then in December, Hurst's dad, Larry, nearly died after having a heart attack.
"It was a couple of days after our dog died, too," Hurst said.
Hurst and his mother, Connie, and father were in Oceanside for a contest Hurst competed in. After the contest, Larry paddled out to catch a few waves. When they got to the car to go home, Larry started complaining of heart attack symptoms.
"We got him to sit down and he thought we should call an ambulance, so we did," Hurst said. "We got him there, luckily, to the hospital in time. If it had been a couple minutes later, he wouldn't have made it."
But things are looking up for Hurst now.
In March, on his 18th birthday, he reached the final heat of the National Scholastic Surfing Assn. Interscholastic State Championships at Seaside Reef and placed fifth. His final contest surfing for Huntington Beach High comes at Salt Creek in June for the NSSA National Championships, and then he'll take a crack at a professional surfing career.
"It's been a pretty wild year," Hurst said. "But I don't know … I'm doing good."
JOE HAAKENSON is a contributor to Times Community News.
---
All the latest on Orange County from Orange County.
Get our free TimesOC newsletter.
You may occasionally receive promotional content from the Daily Pilot.