Daily Pilot High School Female Athlete of the Week: Huntington Beach has big-game pitcher in Grace Uribe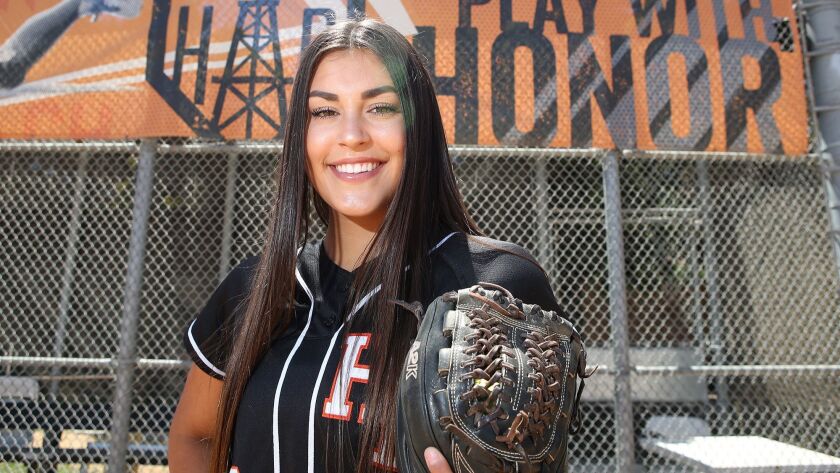 The Huntington Beach High softball team has established itself as a competitive group.
Over the years, the Oilers have not dodged anyone, making regular appearances at high-caliber tournaments like the Michelle Carew Classic.
It would be unwise to do anything else, as the Oilers reside in a league with one of softball's perennial powerhouses.
Los Alamitos won the CIF Southern Section Division 1 championship last year, and the Griffins opened the season as the top-ranked team this year.
Huntington Beach's schedule is loaded with challenges that by the time his team reaches the CIF postseason, Oilers coach Jeff Forsberg believes that his team should be ready for anything.
"When we started this season, we kind of broke the season into four quarters," Forsberg said. "We had the preseason in the first quarter. We had the tournaments in the second quarter. We had league, and now we're kind of in the fourth quarter [the CIF Southern Section Division 1 playoffs].
"I told them, 'Hey, you're playing really tough teams, so when we get to the fourth quarter, nobody should be surprised.'"
If the objective is to come through every stage with a passing grade, give the Oilers (20-7) full marks. Huntington Beach feels ready to conquer mountains after beating the Griffins (24-2) on the road to claim a share of the Sunset League title.
Sophomore pitcher Grace Uribe has developed into an incredible asset for the Oilers. Twice she has taken on the Griffins' potent lineup and given up a total of five runs, only two of which were earned.
Huntington Beach defeated then top-ranked Los Alamitos 5-2 in the regular season's penultimate game on May 3. Uribe allowed two runs on two hits in a complete-game performance.
"That's been one of my goals ever since I was a freshman," Uribe said. "I've pitched against them the last four times we've played them, and I felt like I really needed to get it this time."
So how did Uribe traverse one of the most powerful lineups in the sport?
"[Assistant] coach Johnny Martinez always tells me, 'You've got to be a sniper,'" Uribe said. "You're always trying to hit your spots, and you're kind of laying low. You don't need to be only worrying about speed because [the Griffins] can outhit you easily.
"As long as I'm hitting my spots and doing what I need to do myself, I know that I have my defense behind me to help me."
Although she says she has the strikeout in her arsenal, punching out hitters has not been her method of choice. Uribe said that she resorted to the dropball often against the Griffins, while also throwing a number of riseballs and inside-screwballs.
Even if the pitches did not miss bats, they induced weak contact. The variety might remind those in the baseball and softball instruction industry of a pitching machine called "Mr. Nasty."
Its name was well-warranted. Far different from an ordinary batting cage, "Mr. Nasty" could fire a diverse repertoire of pitches at a batter. Without true arm action to read apart from a virtual simulator depicting a real-life pitcher, it would make its challengers look foolish.
"Missouri softball has those," Uribe, a Missouri commit, said. "When I went on a visit to one of their camps, they had those at their field. That's scary. You never know what's coming."
Uribe disclosed that she used to have issues with tipping her pitches, but she made an adjustment last year.
"I hold it until I lunge so that no one can see what my hand is doing, really," Uribe explained. "I don't dig in my glove. I do it behind it, so you can't see me digging. If I am digging, I'm digging into myself."
By beating the Griffins, Huntington Beach claimed a share of the Sunset League crown for the first time since 2014.
"Honestly, I've never been so excited after a game," Oilers catcher Katelyn Mangrello said. "It was just like a really good day. On the bus ride home, we're all like super-hyped about it. I'm still to this day really happy about it."
Mangrello and Forsberg are quick to point out that Uribe is supremely confident as a sophomore. Her desire to do well in the circle has always been there, but Forsberg said Uribe has come a long way in terms of her maturity.
In the league-clinching game against Edison, Forsberg said that Uribe had to wait through a 20-pitch at-bat by Kelli Kufta to go back out to pitch. She showed her growth by taking the initiative to keep herself warm.
"After about the 15th ball that was hit, we looked down, and she went down to the bullpen and started throwing on her own," Forsberg said. "She's starting to get it. The inning was long. She needed to stay loose. She went down and threw on her own. To see where she was and where she's at now, it just tells us that she is going to be even better next year and better the following year."
Huntington Beach has won six games in a row overall. Uribe threw a one-hit shutout against Edison to close out the regular season, and she pitched five innings to earn the win in the Oilers' 16-4 romp of Riverside Poly to open the Division 1 playoffs on Thursday.
::
Grace Uribe
Born: Aug. 31, 2002
Hometown: Huntington Beach
Height: 5 feet 11
Weight: 155 pounds
Sport: Softball
Year: Sophomore
Coach: Jeff Forsberg
Favorite food: Flautas
Favorite movie: "Grease"
Favorite athletic moment: Uribe accomplished one of her foremost goals by earning a complete-game victory over Los Alamitos on May 3. The win came over a top-ranked Griffins squad, and it paved the way for the Oilers to become co-Sunset League champions.
Week in review: The sophomore starter twirled a one-hit gem in the Oilers' 10-0 win over Edison, clinching a share of the Sunset League title in the regular season finale. Uribe also picked up the win in her team's 16-4 victory at Riverside Poly to open the CIF Southern Section Division 1 playoffs on Thursday.
Twitter: @ProfessorTurner
---
All the latest on Orange County from Orange County.
Get our free TimesOC newsletter.
You may occasionally receive promotional content from the Daily Pilot.