Daily Pilot High School Female Athlete of the Week: Natalie Crocker is Huntington Beach's record-breaker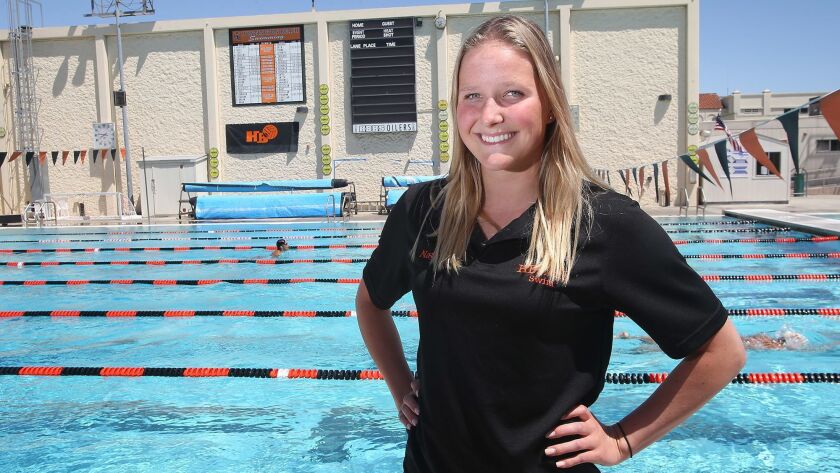 Natalie Crocker swam different events in each of her first three years in the Huntington Beach High swimming program.
As a freshman, she focused on the 200-yard freestyle, before moving on to the 50 and 100 as a sophomore. Last year, she started swimming the 500, mainly just to challenge herself.
"I didn't really know what else to swim," said Crocker, who's now a senior. "I wanted a little change, and I had never really swam it."
The fact that Crocker broke the school record in all four events speaks to her talent. She now holds the record in the 50 (23.73 seconds), 100 (53.19), 200 (1:52.42) and the 500 (4:58.65). She was also a member of the record-setting 200 medley and 200 freestyle relay teams as a freshman.
Crocker will get her name on the record board that sits above the Oilers pool deck at least one more time. She swam the anchor leg on Huntington Beach's 400 freestyle relay team that set the school record in a Sunset League dual meet at Fountain Valley on April 10.
Freshman Madelyn Harris, sophomore Caitlin Richter, freshman Summer West and Crocker touched in 3:41.24 seconds. That topped the previous mark, a 3:45.78 from 1997, by more than four seconds.
Crocker, a team co-captain, said breaking that record was a goal. She wasn't necessarily expecting to do it that day as she was battling sickness — as well as the Fountain Valley pool.
"It's like three feet deep on the turn," Crocker said. "I was like, 'OK, I don't really think it's going to happen at this pool.' I mean, we were about to hit our heads on the bottom. So we weren't really as hyped up as we could have been. I feel like we definitely could have gone even faster than we did."
Setting the school record was big, but Crocker said just winning the race against the defending league champion Barons also meant a lot.
We have a lot of young swimmers right now, and they're looking up to her as a leader. [Her success] is definitely a motivational factor for them as freshmen.
Huntington Beach High coach Candice Mason
Now, the Daily Pilot High School Female Athlete of the Week is hoping to break her own record in both of the other relays. Crocker, senior co-captain Joslynn Young, West and Harris swim the medley, while the 200 free team consists of Crocker, West, Harris and Richter. Huntington Beach coach Candice Mason said both relays are currently within a second of the school record.
As much as the clock, Crocker is battling to make the Oilers closer as a team. There was a team meeting before practice Thursday, aiming at improving team cohesiveness. Often when it's not meet day, Crocker can be off training with Golden West Swim Club, but she takes her role as a captain seriously.
"It's fun, but it's a lot of work," said Crocker, who is signed to swim with the University of Idaho next year. "Really, the only two varsity seniors are me and Joslynn, and we've both been swimming together since we were freshmen. We know how each other works, but it's pretty much a whole new program that moved up. A lot of our girls are freshmen, and most of our water polo girls drop out of swim. It's hard to get everyone together and motivated."
The Oilers aren't blessed with the depth that other league programs have. They have struggled in league, where Crocker said the girls' team has not won a dual meet in her four years in the program. Huntington Beach dropped to 0-4 in league with Tuesday's 115-51 loss at Los Alamitos.
"I don't care if we lose, we all need to swim the best that we can and have fun with it," she said. "We don't need to be all negative."
The fact that the Oilers are young means there is hope for the future. That's something that Mason, in her fifth year with the program and second as girls' head coach, recognizes. And that's another reason why Crocker is so valuable.
"She wants to involve all of the girls on the team, encompass even the youngest swimmers," Mason said. "She's definitely a huge asset to our team as a leader. We have a lot of young swimmers right now, and they're looking up to her as a leader. [Her success] is definitely a motivational factor for them as freshmen."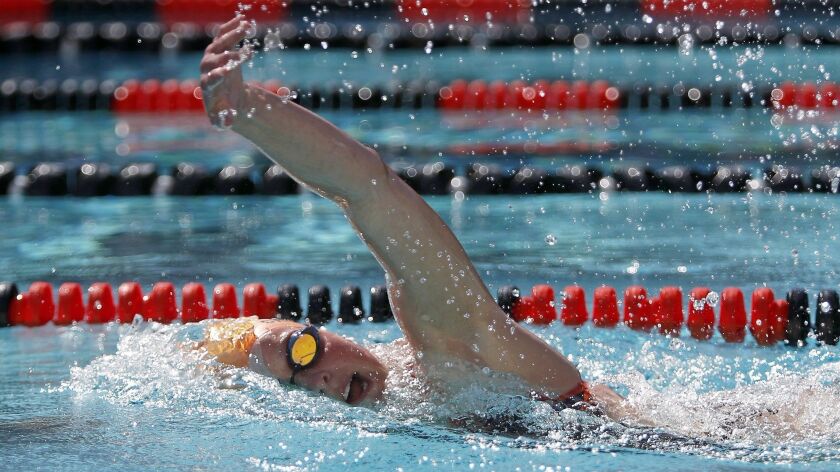 The season is quickly winding down. The Oilers host Edison in their final league dual meet on Tuesday, and league finals are the following week, followed by the CIF Southern Section Division 1 meet at Riverside City College. That's where Crocker won the consolation final of the 500 last year. She said her brother, Peter Crocker, who graduated from Huntington Beach in 2016 and holds three boys' swimming school records of his own, surprised her by flying in from Boston to be at that meet.
Natalie Crocker is planning to swim the 50 and 100 this year at league finals. She set the school record in the 50 last year at league finals with her 23.73 time in a race narrowly won by then-Marina senior Jacqueline Harris, who is Madelyn Harris' older sister.
Crocker said she wants to end up going a 23.50 in the 50 this season, and below 53 seconds in the 100.
"I've gone a 52 once at a club meet," she said. "I want to try to get that record, beat my own time."
The race against herself continues for Crocker.
*
Natalie Crocker
Born: Dec. 17, 1999
Hometown: Des Peres, Mo.
Height: 5 feet 7
Sport: Swimming
Year: Senior
Coach: Candice Mason
Favorite food: Toasted ravioli
Favorite movie: "The Benchwarmers"
Favorite athletic moment: Having her older brother, Peter, counting laps for her 500-yard freestyle race at last year's CIF Southern Section Division 1 finals at Riverside City College.
Week in review: Crocker swam the anchor leg as Madelyn Harris, Caitlin Richter, Summer West and Crocker set a school record in the 400-yard freestyle relay, touching in a time of 3 minutes 41.24 seconds in a Sunset League dual meet at Fountain Valley on April 10.
Twitter: @mjszabo
---
All the latest on Orange County from Orange County.
Get our free TimesOC newsletter.
You may occasionally receive promotional content from the Daily Pilot.