Huntington Beach boys' volleyball comes back for CIF Division 1 first-round win at Servite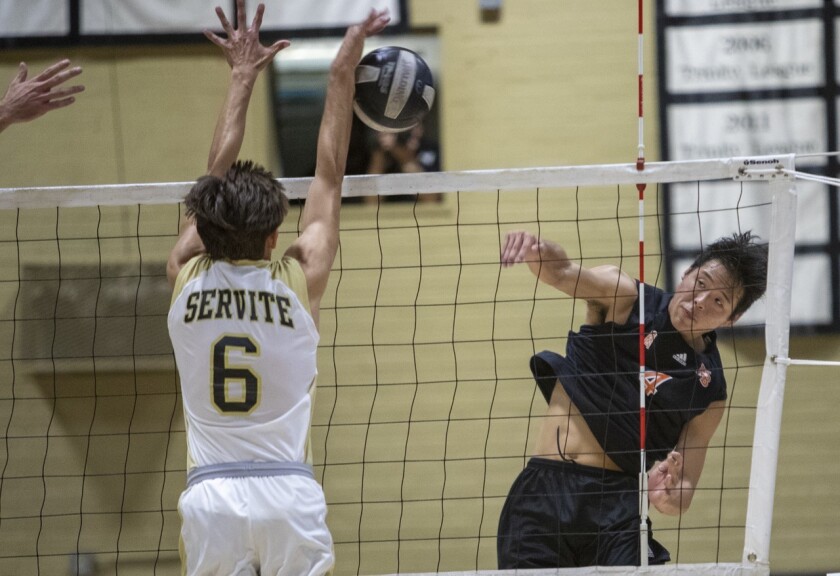 Reporting from Anaheim —
The CIF Southern Section lowered the number of teams in the Division 1 bracket for the boys' volleyball playoffs to 16 this season.
Huntington Beach High and Laguna Beach were consistently in the top 16 of the rankings, but that provided little comfort with the Surf League only being guaranteed two bids.
When top-seeded Newport Harbor and No. 3-seeded Corona del Mar clinched the automatic berths, the Oilers and the Breakers had to sweat out the committee's decision on at-large berths.
All four Surf League teams made the bracket, with Oilers coach Craig Pazanti expressing the opinion that "the CIF got it right by trying to put the best teams in the top division."
Despite finishing the season ranked No. 7 in Division 1, Huntington Beach was assigned to go on the road to square off with Trinity League champion Servite. The Oilers received a staunch test, but prevailed in the end.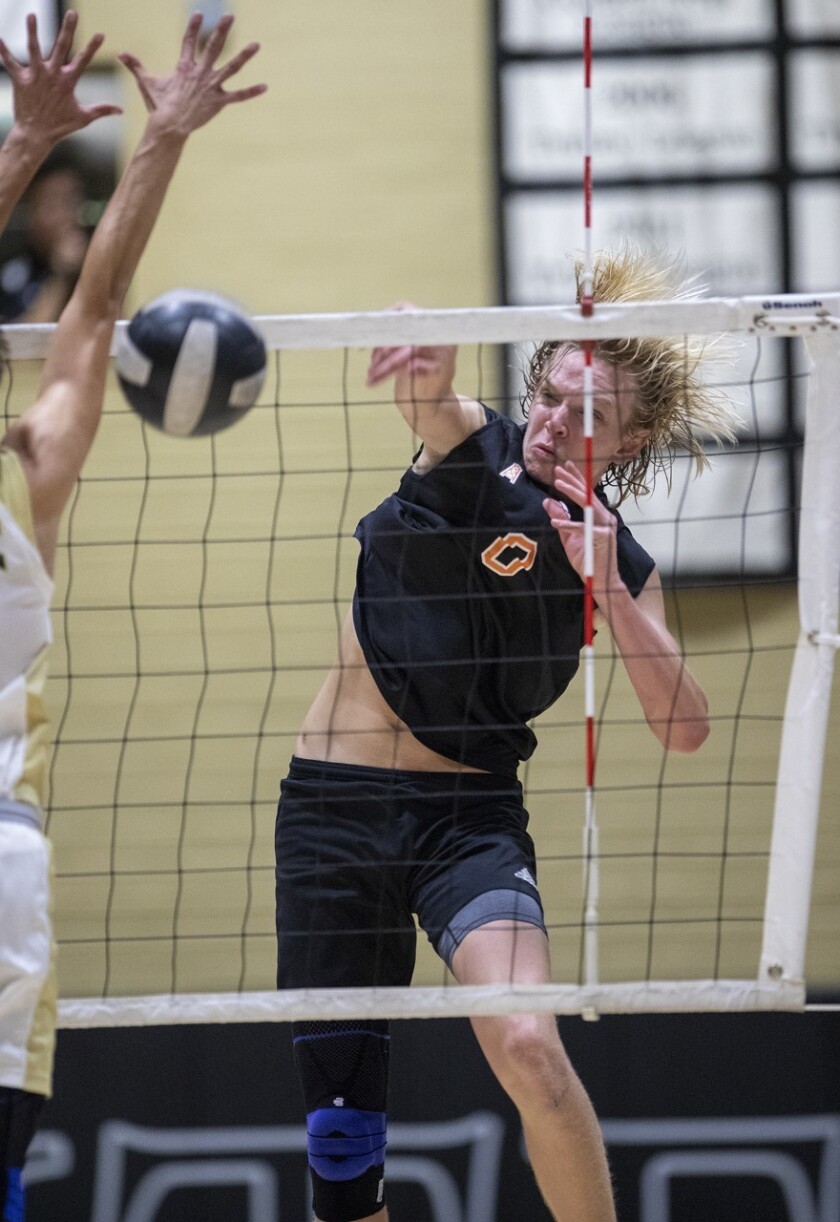 Niko Colburn had a match-high 25 kills, and the Oilers rallied for a 25-21, 20-25, 18-25, 25-19, 15-12 victory on Tuesday night in the first round of the Division 1 playoffs.
Aidan Knipe handed out 57 assists to go with three service aces and three blocks for the Oilers (25-8). Sinjin Choi added 15 kills, Drake Goering had 10 kills and 1½ blocks and Cayman LaFontaine also had eight kills.
Huntington Beach had previously beaten Servite (19-12) in a nonleague match on March 5. The Oilers won that match 24-26, 26-24, 25-22, 25-17.
"I think that I tried to screw it up by changing the way that we started the first three sets from where we were the last time that we played them," Pazanti said. "Luckily, we snuck back and got that first set, or else we could have been out of here real quick.
"I switched the lineup back in [Game 4] and kind of got the matchups that we had that we kind of prepared for. The guys just came through. It was a great match. Both teams just played their butts off."
Chris Morikawa and Gil Herold each had 14 kills for Servite. Cole Rasic had 13 kills, Tetairoa McMillan added 11 kills and four blocks, and Christian Oviedo distributed 46 assists.
Huntington Beach trailed 9-6 in the fifth set, but Choi gave the Oilers match point with a solo block of Morikawa, who was swinging away from the right side.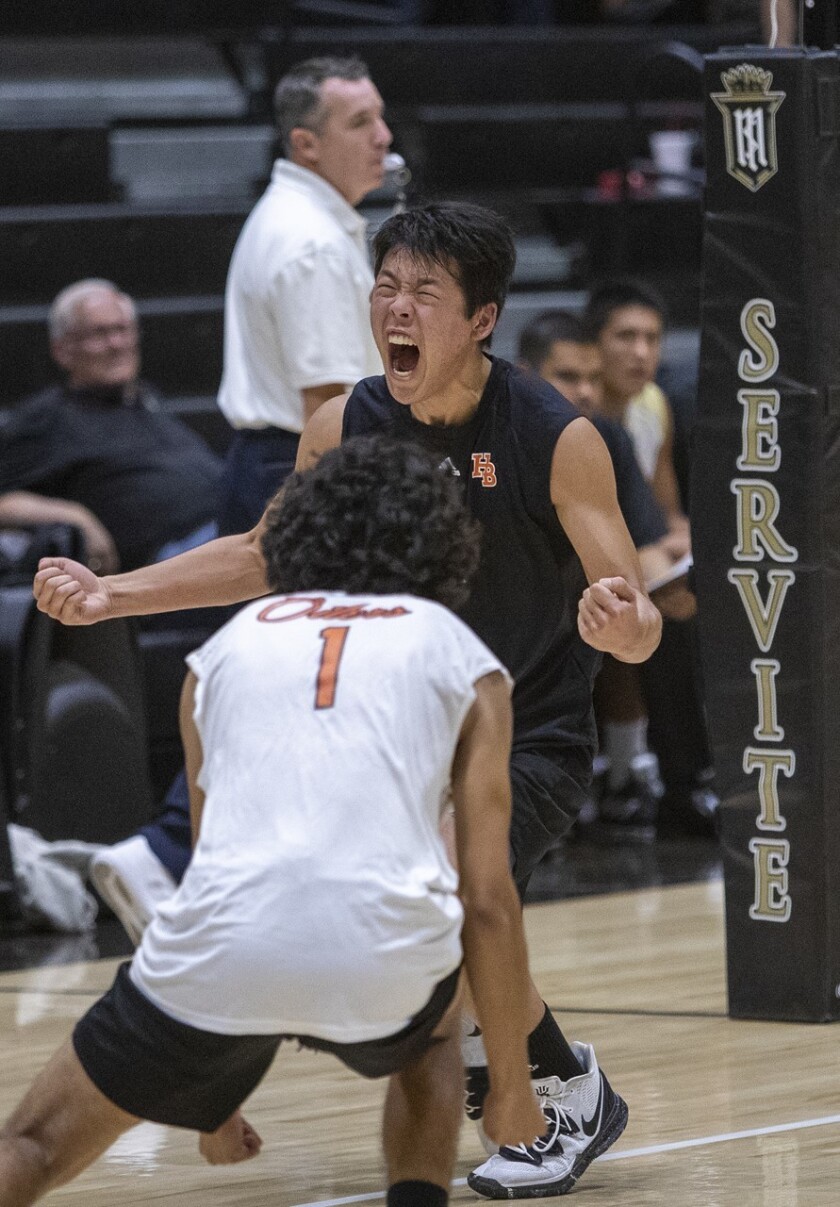 "It was just, [the match] being so close, a big adrenaline rush," Choi said. "I went up to block, [and] it felt like I could hang up there forever.
"Coach told me to take his angle. I think I got a good angle on him, and I just pressed over him. I got the block."
Choi added that it is nice to play in front of fans, and he had a big supporter for this road match.
"It was great having great fans," Choi said. "That was my uncle who was super loud. He's a one-man wrecking crew out there, but he's such a good supporter. I love him so much."
The Friars started sets fast, but the Oilers were able to rally from a 16-9 deficit in Game 1 to take the early lead.
Servite largely controlled the second and third sets, vaulting itself into a 2-1 sets lead with an emphatic swing from Morikawa.
Colburn did not give himself a plus-rating for Tuesday's first-round match, saying that he missed too many serves. All the same, he said it was big for the team to advance and extend the careers of the seniors.
"I think I came in a little overconfident because we beat them pretty easily the first time," Colburn said. "This meant a lot to us because this could have been the last game for a lot of our seniors on our team."
Huntington Beach will host No. 2-seeded Manhattan Beach Mira Costa in the quarterfinals on Saturday. The Mustangs defeated Los Alamitos 25-22, 25-18, 25-23 in another first-round match on Tuesday.
::
Support our sports coverage by becoming a digital subscriber.
For more sports stories, visit latimes.com/socal/daily-pilot/sports or follow us on Twitter @DailyPilotSport.
Twitter: @ProfessorTurner
---
All the latest on Orange County from Orange County.
Get our free TimesOC newsletter.
You may occasionally receive promotional content from the Daily Pilot.