Daily Pilot Softball Dream Team: Unexpected year from Kelli Kufta kept Huntington Beach strong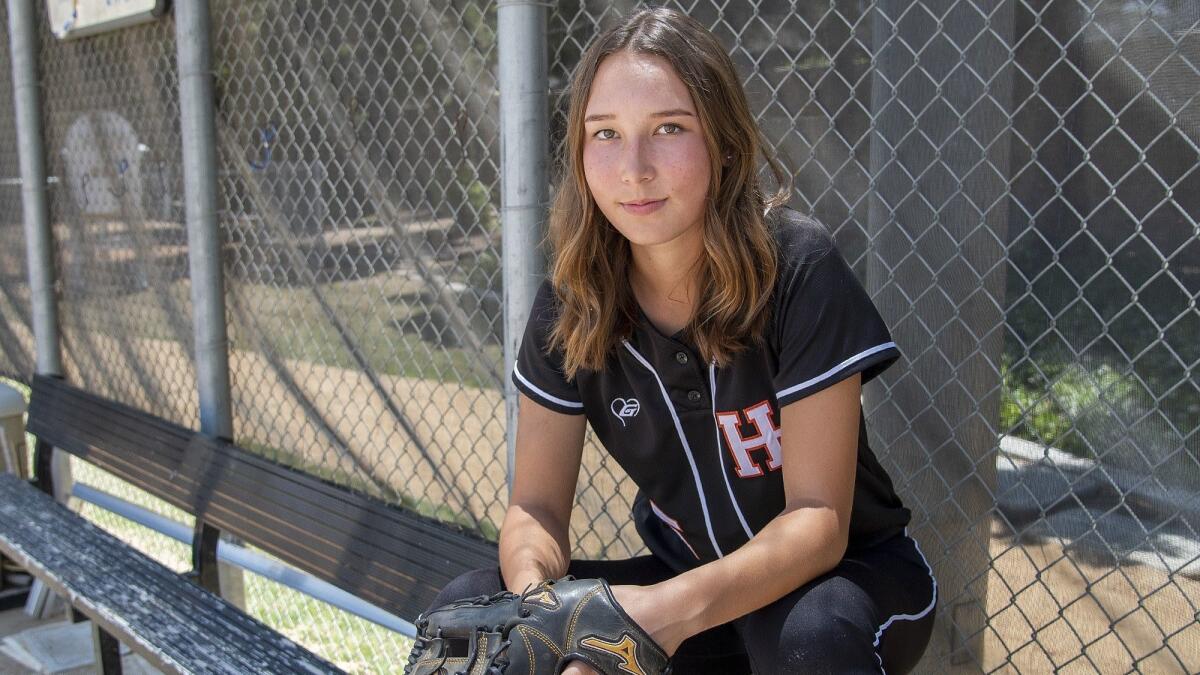 Even before her first day of high school, Kelli Kufta had been a part of the Huntington Beach High softball family.
She joined the Oilers as the younger sister of an already established face in the softball program. Anna Kufta, now a sophomore infielder at the University of Maryland, had been on the team since her freshman year.
The Huntington Beach coaching staff saw the makings of another Kufta that would excel at the varsity level, as Kelli Kufta became just one of two freshmen to make the varsity roster in 2015.
The work ethic was always there, but hitting did not come as naturally for Kufta as it did for others. She hit .250 her junior year, and she was a candidate to be pinch-hit for in critical, late-game situations.
Allee Bunker, an Oregon commit who came up with Kufta their freshman year, said that the potential was always there for her fellow four-year varsity teammate to put together a good year with the bat.
In her senior year, Kufta had the sort of season that everyone had been hoping for, earning her the Daily Pilot Softball Dream Team Player of the Year honor.
I've never had a kid who had a turnaround like she had. Never, and it came from nowhere really.
— Jeff Forsberg, Huntington Beach High's coach
Kufta hit .382, matching Jadelyn Allchin for the team lead in home runs (seven) and doubles (13). Kufta was the team's leading run producer, driving in 28 runs. She also scored 19 runs and drew a team-high nine walks.
"Kelli's always been really hard-working," Bunker said. "She'd always be doing really well in practice, and the coaches saw that and would want to give her a lot of opportunities.
"This year, something just clicked, and she did amazing. She was a huge part of this team."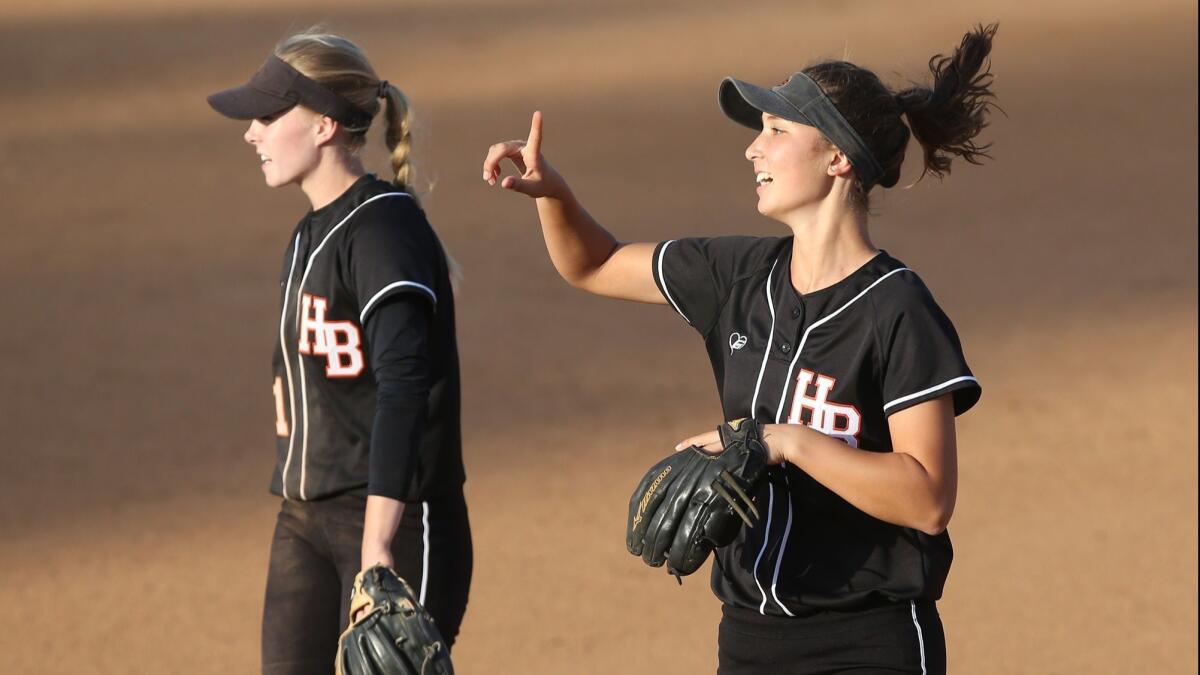 Oilers coach Jeff Forsberg reckons that he has been coaching either baseball or softball for 30 years, the last 14 as the head of the Huntington Beach softball program. At no point in his career does he recall a player improving as much as Kufta did.
"I've never had a kid who had a turnaround like she had," Forsberg said of Kufta, who played first and third base. "Never, and it came from nowhere really.
"She just continued to be clutch the whole year, and in every league game, she came up and did something to win the game."
Kufta earned that reputation as a clutch performer. In the second half of Sunset League play, Kufta had a two-run home run as part of a five-run sixth inning to propel the Oilers to a 5-2 win at Los Alamitos, which was then ranked No. 1 in the CIF Southern Section Division 1 poll.
Like a good teammate, Kufta recalled every contribution that led up to her moment. Shelbi Ortiz reached base. Devyn Greer wound up at third base on a squeeze bunt. Bunker got a hit right in front of her.
"I just remember Johnny [Martinez], our other coach, just kept saying, 'Hit it on the ground. No one is going to hit home runs over here. The wind is blowing in,'" Kufta said.
Then the ball went over the fence in left-center field.
"It was probably the most memorable moment of my high school career," Kufta added.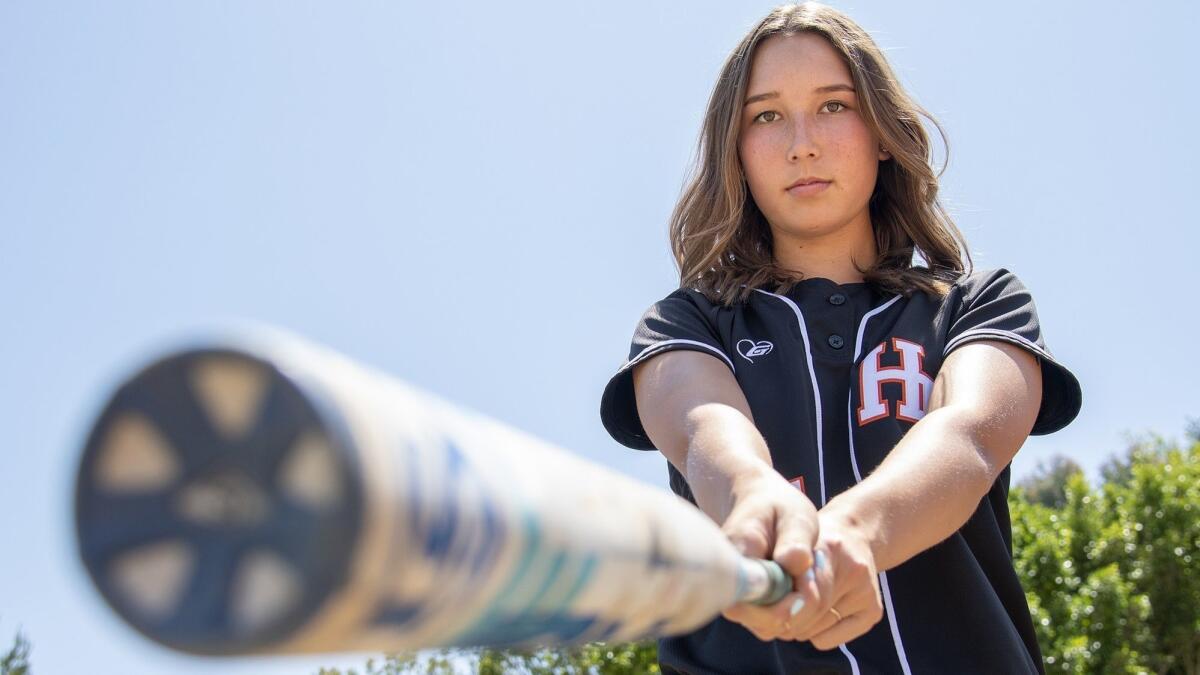 Huntington Beach earned a share of the Sunset League title for the first time since 2014. For her part, Kufta walked away with Sunset League MVP honors, a fact that still mystifies her to this day.
"I can't believe it still," Kufta said. "It's an honor. I don't think I could have gotten that chance unless it hadn't been for some of the other girls to get on and start that rally. 'Hitting's contagious,' as Johnny Martinez always says."
Kufta continued to perform in the CIF Southern Section Division 1 playoffs. She homered in the first-round win at Riverside Poly. In the quarterfinals, she sent the game to extra innings with a run-scoring single to tie the score with two outs in the seventh inning against top-seeded Norco.
Although the Oilers (21-8) fell to the Cougars 6-5 in nine innings, it was the first quarterfinals appearance in the history of the Huntington Beach softball program.
The fact that Kufta had yet to secure a college commitment heading into her senior year would seem to add to the legend of her outstanding final season as an Oiler. Many travel ball players commit early, but in Kufta's case, she did not give her verbal commitment to the University of San Diego until November.
"It was definitely tough seeing everyone else getting committed before I was, even though they were younger than me," Kufta said. "Once I finally made my verbal commitment in November and then signing later, it was like holding my breath for five years and then finally being able to breathe again.
"It just felt like a big relief. Even though people tell you not to worry about not being committed to a college, it's definitely something in the back of your mind that bugs you all the time."
Allchin, the junior center fielder who has committed to the University of Washington, said that it was easy to respect an upperclassman who was still working to prove herself.
"I think there is a great amount of respect for someone who hasn't committed their senior year," Allchin said. "Some people just give up and don't work harder for what they do, but I know Kelli did. She worked hard to get to where she is and commit to USD.
"You can tell that Kelli has worked hard for what she's earned."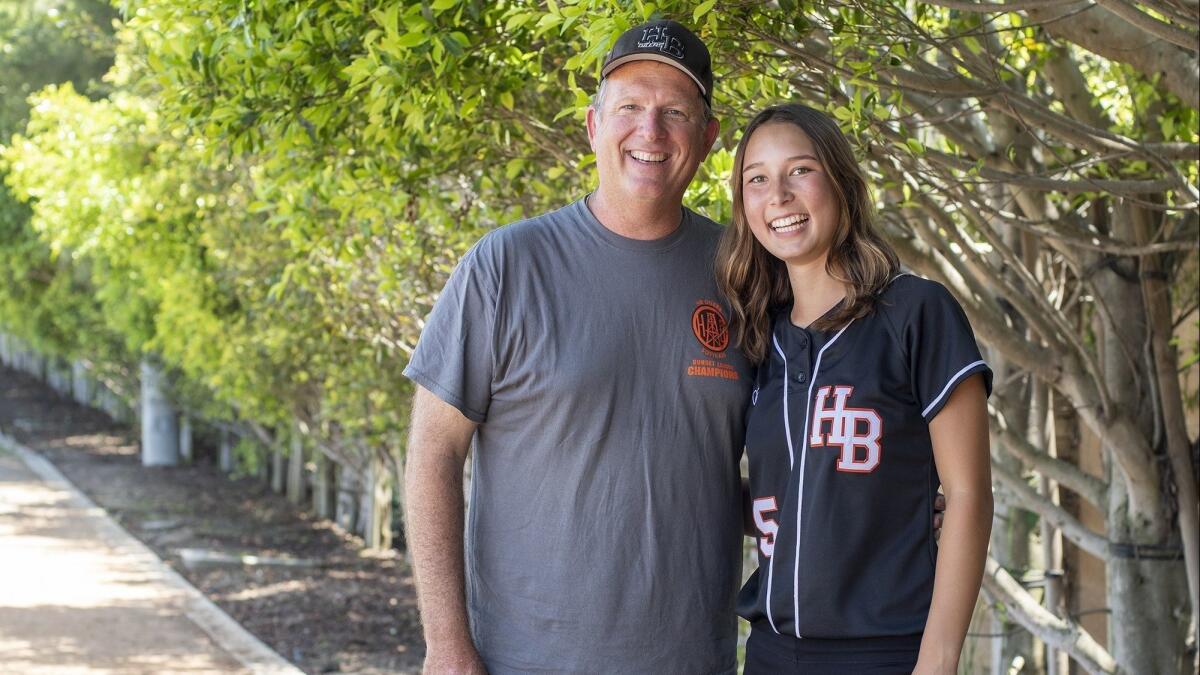 COACH OF THE YEAR
Jeff Forsberg
Huntington Beach
Huntington Beach put together a historic season. The Oilers went 21-8 overall and 9-1 in the Sunset League, matching the most wins in school history on the way to their first CIF Southern Section quarterfinals appearance as a program. In the Division 1 quarterfinal, Huntington Beach took top-seeded Norco to extra innings before the Cougars got a walk-off hit in the ninth. The Oilers split their meetings with Los Alamitos, and the two teams shared the Sunset League title. "This was not necessarily the most talented team that we've had, but it was the best team we had," Forsberg said. "They made this year the best year I've ever had, and it had nothing to do with winning. We could have gone 0-30, and it would have been the best year, and it's all because of those kids and the guys that I coach with." After completing his 14th season as head coach of the Oilers, Forsberg is closing in on 200 career wins. He currently boasts a record of 181-126-2.
FIRST TEAM
Grace Uribe
P | Huntington Beach | So.
Uribe has drawn the big-game assignments in each of her first two seasons with the Oilers. As a sophomore, she appeared better equipped to handle those games, keeping her team within striking distance against top competition. She allowed just five runs (none earned) in two Sunset League games against a Los Alamitos team that was ranked No. 1 in the CIF Southern Section's Division 1 poll at the time of the teams' meetings. Uribe went 11-5 with a 1.33 earned run average. The Missouri commit struck out 70 against 18 walks. She shared Sunset League Pitcher of the Year honors with Los Alamitos' Sarah Ladd.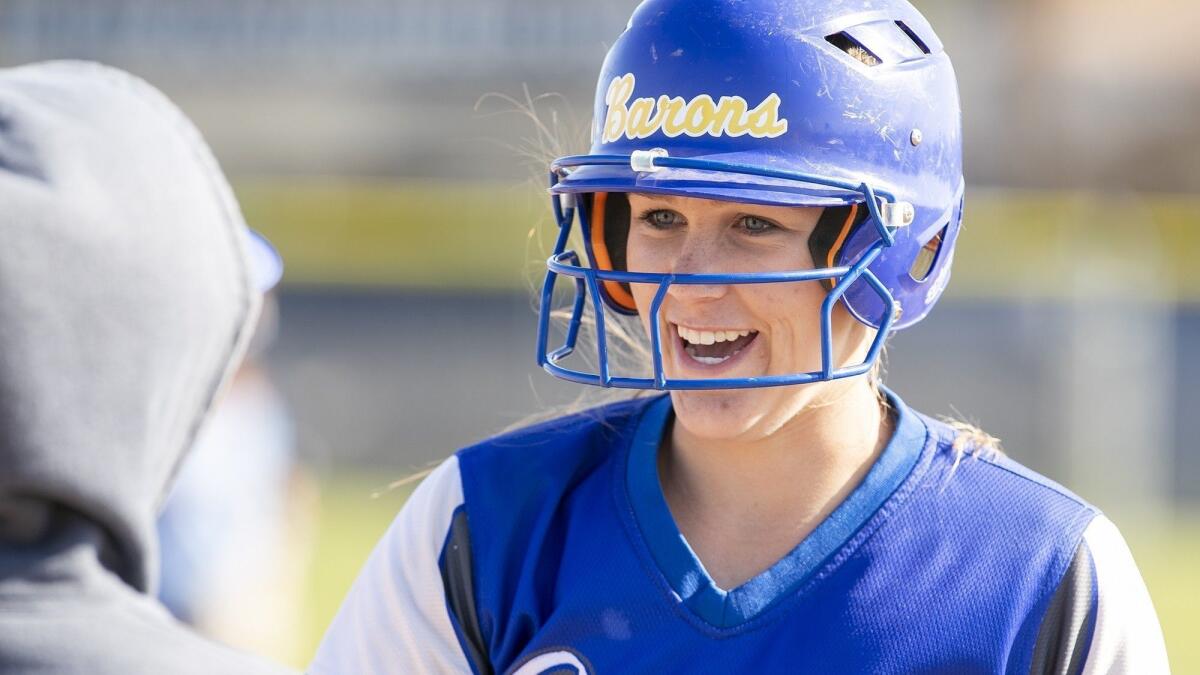 DeLaney Sheppard
C | Fountain Valley | Sr.
The senior catcher led the Barons' attack. The first-team All-Sunset League member paced Fountain Valley in nearly all offensive categories, hitting .413 with 30 runs batted in, seven home runs and 11 doubles. Behind the plate, she posted a fielding percentage of .910. Her twin sister, JacLynn, led the team in fielding percentage among regular starters at .981. The Sheppard twins will continue their softball careers in college at Metropolitan State University in Denver.
Hailie Benko
1B | Edison | So.
For the third consecutive season, Edison had to face Marina in a play-in game for the Sunset League's third and final automatic CIF Southern Section playoff berth. The Chargers (15-11, 5-5 in league) improved to 2-1 in those games, thanks to some help from their sophomore first baseman, who made the All-Sunset League first team. Benko went three for four in the contest with three RBIs, helping the Chargers secure third place in league with a 9-1 win in the teams' neutral site game at Fountain Valley High on May 9. Chargers coach Melissa Roth said that Benko supplied the power for her team, as she led Edison in extra-base hits.
Rhys Campbell
2B | Laguna Beach | Fr.
The Laguna Beach program continues to take steps forward. This season, the Breakers went 11-11-1 overall, notching the team's first record of .500-or-better softball since it went 15-8 in 2012. Campbell added to the good things that have happened at Laguna Beach since James Crawford took over as coach two years ago. The freshman hit .521 with six doubles and three home runs. She also scored 27 runs. Laguna Beach finished fourth in the Orange Coast League with a record of 4-6, earning sweeps of Estancia and Saddleback.
Allee Bunker
3B/SS | Huntington Beach | Sr.
Huntington Beach did not have a large senior class, but two of those three players were on the varsity roster as freshmen. Bunker and Kufta came up together, and they gave the Oilers a solid foundation on the left side of the infield. An Oregon signee, Bunker hit .406 with 11 doubles and four home runs. She scored 25 runs, had 21 RBIs and stole eight bases. As a team, the Oilers agree that their biggest win came at Los Alamitos. The second-half win netted the Oilers a share of the league title. She garnered All-CIF Southern Section Division 1 and first-team All-Sunset League accolades.
Serena Starks
SS/CF | Edison | Jr.
Starks was the epitome of a utility player for the Chargers. The Princeton commit played in positions of leadership on the field, often serving as the captain of the infield at shortstop or the outfield at center field. Starks, a first-team All-Sunset League selection, hit at the top of the lineup, posting a .439 batting average and a .492 on-base percentage during the regular season. In two games during the Division 2 playoffs, Starks went six for seven with five stolen bases.
Jadelyn Allchin
CF | Huntington Beach | Jr.
Allchin might be the most exciting player in local high school softball. Her speed turns most adventures on the bases into round-trippers. The Washington-committed center fielder hit .457, scoring 34 runs and stealing 18 bases. The Oilers' leadoff hitter had 13 doubles, seven home runs and four triples. In the Division 1 playoffs, Allchin homered twice at Riverside Poly to help the Oilers to a 16-4 first-round win. The first-team All-Sunset League pick did not commit an error in 32 possible chances as an outfielder.
Katie Belmontes
SS/CF | Costa Mesa | Jr.
Belmontes is a two-time Dream Team selection. She led all locals with a .658 batting average, driving in 43 runs and scoring 41 runs, earning her All-CIF Southern Section Division 7 and second-team All-Orange Coast League honors. The junior added 12 doubles and five home runs, helping the Mustangs go 20-9 overall and 5-5 in Orange Coast League, earning third place in an improved league. From there, Costa Mesa advanced to the Division 7 quarterfinals. Longtime Orange Coast League scorekeeper Frank Aronoff said that the Mustangs' two wins leading up to the quarterfinals were the program's first playoff victories since 1979.
Devyn Greer
RF/P | Huntington Beach | Fr.
If a player is only as good as their first impression, then Greer is in good shape. The Oilers' freshman was named the Sunset League Rookie of the Year. Greer appeared in 14 games as a pitcher, including eight starts. She produced a 6-2 record with 60 strikeouts in 54 innings. At the plate, Greer hit .352 with six doubles and five home runs. She committed to North Carolina State in February.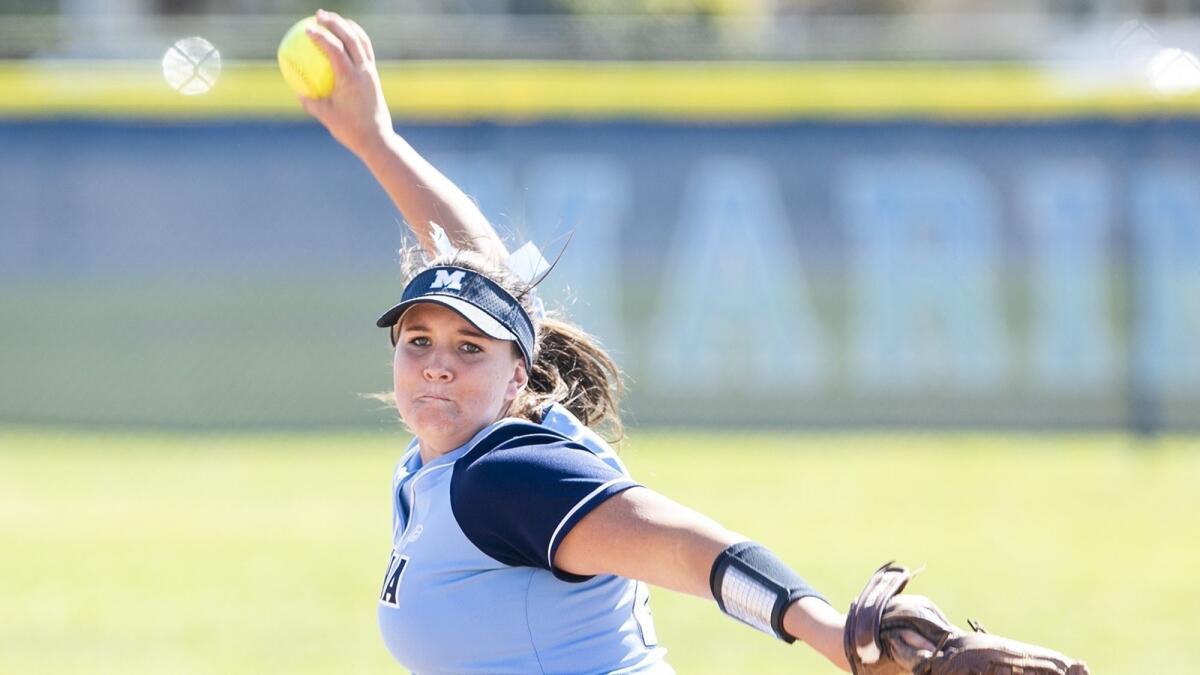 Emily Rush
P/DP | Marina | So.
Rush handles the bat so well that even if she did not pitch most of the innings for her team, the Vikings would have to find a spot for her in the lineup. Rush, an All-CIF Southern Section Division 2 and first-team All-Sunset League pick, brought an impact bat for Marina (14-13, 6-5 in Sunset League) that performed against the top opponents. In the second half of league, she had three extra-base hits (two doubles and a home run) at Huntington Beach. She also homered and had three RBIs in a 9-8 win over Fountain Valley, which allowed Marina to force a third-place tiebreaker game against Edison. In the Woodbridge Tournament, Rush had three home runs and 10 RBIs to lead the Vikings to the Gold Bracket semifinals.
::
SECOND TEAM
Position, Name, School, Year
2B/RF Samantha Araiza, Fountain Valley, Jr.
P Jenna Bloom, Edison, Jr.
1B Eliana Gottlieb, Newport Harbor, Fr.
SS Emily Kubisty, Estancia, Sr.
P/DP Alyssa Ledezma, Los Amigos, Jr.
CF Kim MacPherson, Ocean View, Sr.
C Po Russ, Ocean View, Sr.
1B Kelly Ryono, Huntington Beach, Jr.
C/OF Haley Sheffner, Costa Mesa, Sr.
P/DP Haley Wolf, Costa Mesa, Jr.
SS Cienna Wunder, Laguna Beach, Jr.
Twitter: @ProfessorTurner
All the latest on Orange County from Orange County.
Get our free TimesOC newsletter.
You may occasionally receive promotional content from the Daily Pilot.