Huntington Beach's Lawee Sherif advances to USTA SoCal Junior Sectional semifinals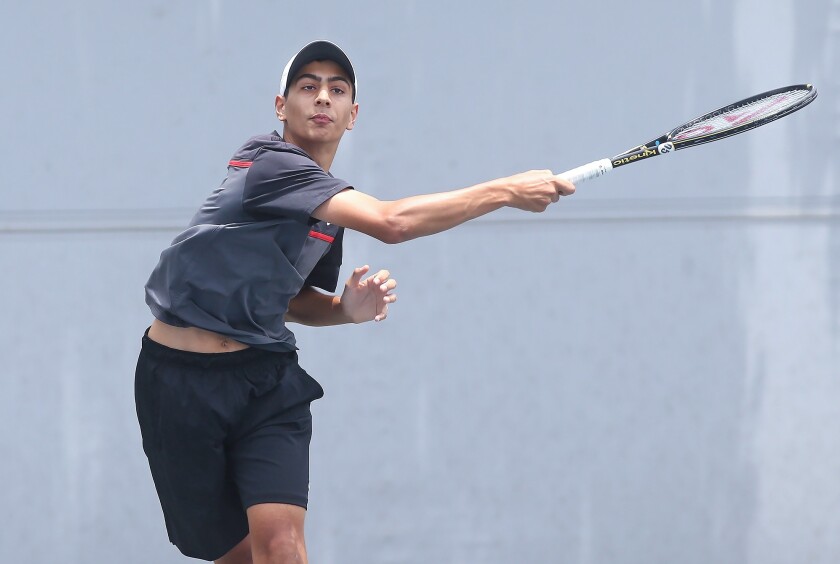 Lawee Sherif knows how to close a tennis match.
The 15-year-old phenom from Huntington Beach had captured the final eight games — including all six in the third set — to upset his quadrant's top seed Thursday at the USTA Southern California Junior Sectional Championships.
On Friday, he again came up clutch at the finish to reach the 16-and-under boys' singles semifinals at Los Caballeros Sports Village in Fountain Valley.
Sherif, a No. 9 seed, pulled out a tight first set, then rallied from a 4-0 deficit in the second, taking the final six games against fifth-seeded Andy Hernandez of Fullerton to win 7-5, 6-4 and advance to the final four for the second time in the most prestigious event on the SoCal tennis calendar.
"In the last few years, I've done so well in the main draw in this tournament," said Sherif, a junior-to-be at California Connections Academy, an online school. "So being in the semifinals, it's a great feeling, especially taking down the No. 1 seed and the No. 5 seed. It's a great feeling."
Sherif, who reached the 10s final five years ago, the 12s consolation final in 2016 and the 14s round of 16 last year, on Saturday morning will face Irvine's A.J. Moore, who advanced on a walkover against Tristan Messerli of Rolling Hills Estates, a No. 4 seed who chose to play in another event. Sherif beat Moore in straight sets at the 2017 USTA National event in Lakewood.
The other semifinal will pit Masato Perera, a No. 5 seed from Santa Barbara, against Sebastian Gorzny, a No. 2 seed from Irvine. Sherif beat Perera in a 10s event six years ago and is 2-4 against Gorzny, who beat him in straight sets in January and May.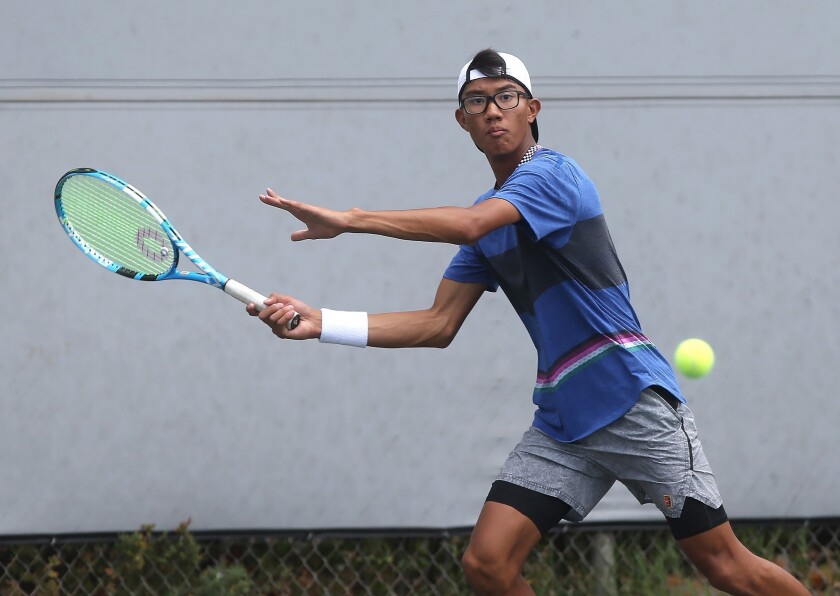 Hernandez, 16, made seven errors as Sherif won the first nine points while taking a 2-0 lead in the first set, rallied from two two-game deficits to take a 5-4 lead. Sherif won the next three games, breaking Hernandez's serve for a 6-5 edge, then coaxing two long returns to claim the opening set.
Sherif, who battled severe leg cramps in his 2-6, 7-5, 6-0 triumph over top-seeded Griffin Daehnke of San Clemente, took a quick 40-15 lead to start the second set. Hernandez won five of the next six points, with a winner down the near sideline, and sailed to a 4-0 lead and 30-love advantage in the fifth game. A third set was on the horizon.
"That's what I was thinking, but if I could just get close," Sherif said. "Just play and see what happens."
Sherif took charge at that point, rallying to break Hernandez for the fourth time — of six in all — then holding using a solid baseline game augmented by success at the net to pull out three more tight wins, the last after facing two game points for Hernandez.
He broke Hernandez again, taking a 5-4 lead on successive double-faults, then held serve, closing the match when Hernandez hit long returning Sherif's serve. Sherif won eight of the final nine points.
"I don't know, I just wasn't there," said Hernandez, who is known for his serve but put just 41% of his first serves into play. "I just didn't fight hard enough for it, and he clearly wanted it way more than I did, and he clearly played way better."
Sherif, who has pro aspirations, saw much to like and much to work on in his game.
"I thought I played pretty well, but there's a lot of highs and lows," he said. "The consistency is kind of inconsistent, but when I was going aggressive and rushing the net, I was winning more points.
"I just want to play my game [the rest of this tournament]. I want to play good and find ways to win the match."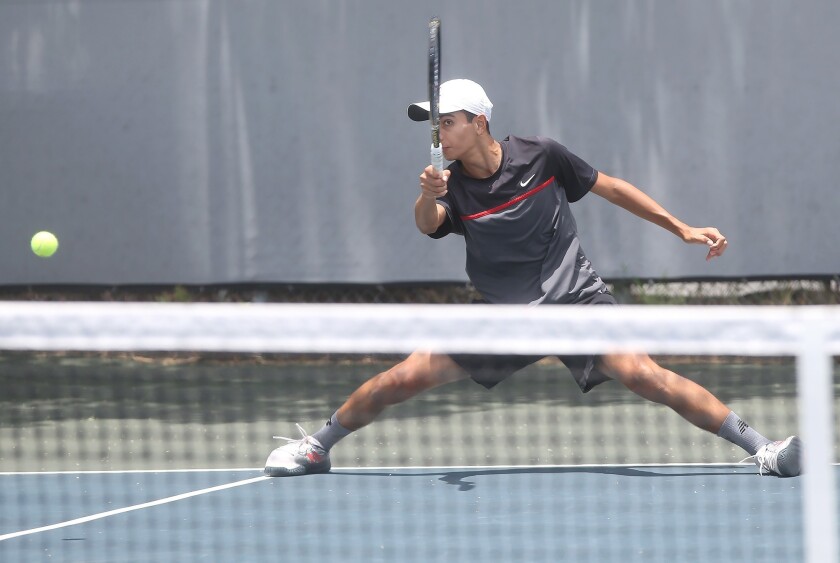 Support our sports coverage by becoming a digital subscriber.
For more sports stories, visit latimes.com/socal/daily-pilot/sports or follow us on Twitter @DailyPilotSport.
SCOTT FRENCH is a contributor to Times Community News.
---
All the latest on Orange County from Orange County.
Get our free TimesOC newsletter.
You may occasionally receive promotional content from the Daily Pilot.