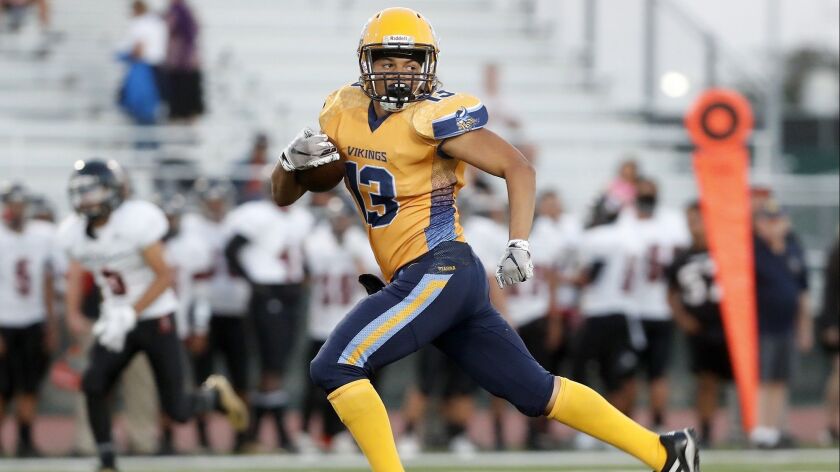 Reporting from Westminster —
Marina High came close to pulling off the upset against Katella, ranked No. 1 in the CIF Southern Section Division 8 poll.
The Knights dug deep against the host Vikings to stay undefeated on the football season with a 33-28 win at Westminster High on Friday.
With less than a minute remaining, Marina (2-2) had a chance to stun Katella, which won the Division 11 title last year. But Jack Miller's fourth-down pass in the end zone to Ian Cook fell incomplete.
Quarterback Riley Flenniken and running back Miles Poland led the way for Katella (4-0). Flenniken threw for two touchdowns and Poland rushed for two scores.
Although Katella scored first, Flenniken connecting with Alexus Malvaes for a 42-yard touchdown four minutes into the game, Marina (2-2) scored on its next three possessions to take a 21-7 lead in the first quarter.
The Vikings only needed one play to tie the game. Miller found an open Richard Rojes, who took it 77 yards to the end zone. Miller completed 19 of 29 passes for 312 yards and three touchdowns.
Marina took advantage of a few three-and-outs. Miller threw his second and third touchdowns of the night to Nathan Pendelton, one for 10 yards and the other for 16 yards. Pendleton finished with 12 catches for 96 yards.
Despite the big push by Marina in the first quarter, mistakes in the second quarter allowed Katella to cut the deficit to 21-19. The Vikings fumbled on their first two possessions of the second quarter, leading directly to consecutive touchdowns by the Knights.
After the first turnover, Katella used a short field to get back in the game. Andrew Pisani scored on a one-yard touchdown 2½ minutes into the second quarter.
After one play on the next drive, Marina coughed up the ball again. Flenniken found Sam Rosario in the corner of the end zone to get within two, but the Knights missed the two-point conversion.
After a scoreless third quarter, both teams picked up the pace. Poland had a big fourth quarter which was highlighted by a one-yard touchdown run with 9:32 left. He followed that with a two-point conversion to give Katella a 27-21 lead.
Marina responded after giving up the lead for the first time since the first quarter. Running back Brantt Riederich rushed for a 48-yard touchdown, giving the Vikings a 28-27 lead with 8:08 remaining.
Katella fired back in 70 seconds. Seth Randall came up with a 78-yard kickoff return, setting up the offense at the 12. That led to Poland getting his second touchdown, a two-yard run, which proved to be the game-winning score, ending Marina's two-game winning streak.
Nonleague
Katella 33, Marina 28
SCORE BY QUARTERS
Katella 7 – 12 – 0 – 14 — 33
Marina 21 – 0 – 0 – 7 — 28
FIRST QUARTER
K – Malvaes 42 pass from Flenniken (Sifuentes kick), 8:47.
M – Rojes 77 pass from Miller (Stitt kick), 8:30.
M – Pendleton 10 from Miller (Stitt kick), 4:23.
M – Pendleton 16 from Miller (Stitt kick), 2:01.
SECOND QUARTER
K – Pisani 1 run (kick failed), 9:30.
K – Rosario 10 pass from Flenniken (pass failed), 8:25.
FOURTH QUARTER
K – Poland 1 run (Sifuentes kick), 9:32.
M – Riederich 48 run (Stitt kick), 8:08.
K – Poland 2 run (Poland pass from Miller), 6:58.
INDIVIDUAL RUSHING
K – Pisani, 8-39, 2 TDs.
M – Rush, 17-51.
INDIVIDUAL PASSING
K – Flenniken, 11-25-0, 167, 2 TDs.
M – Miller, 19-29-2, 312, 3 TDs.
INDIVIDUAL RECEIVING
K – Malvaes, 2-85, 1 TD.
M – Pendleton, 12-96, 2 TDs.
MIKE REGALADO is a contributor to Times Community News. Follow him on Twitter: @TheBigDisco
---