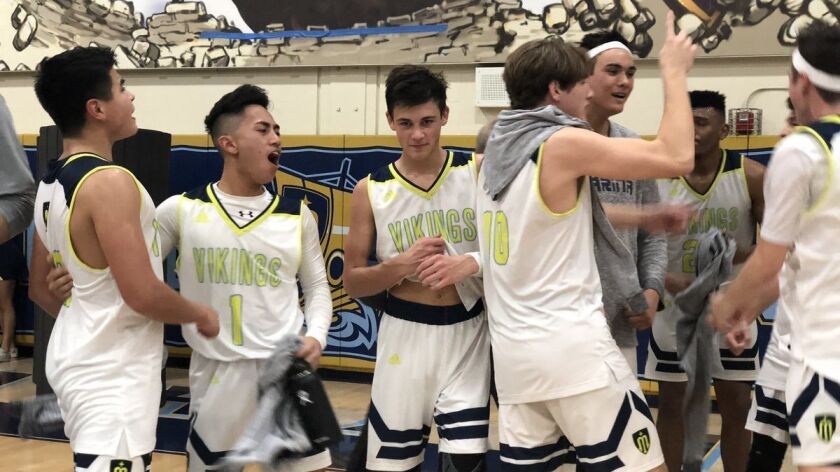 This senior night carried extra meaning for the Marina High boys' basketball team.
It wasn't only the final home game of the regular season for seven of its seniors, including Lehigh University signee Jakob Alamudun. The Vikings entered Wednesday tied with Laguna Beach for first place in the Wave League.
Marina coach Nick Racklin's program sustained a 3-23 overall record just two years ago. He relied on his defense to complete the turnaround.
The Vikings forced 14 turnovers and center Dean Keeler blocked five shots on Wednesday, and Marina clinched its first league title since the 2002-03 season with a 45-30 victory over the Breakers.
Marina finishes the regular season 16-12 overall and 5-1, and the Breakers fell to 12-15 and 4-2. Both teams will learn Sunday who they will open the CIF Southern Section playoffs with next week.
Alamudun led all scorers with 22 points, while Keeler filled up the stat sheet with seven points, 10 rebounds and two steals to go with his blocks.
The 6-foot-9 senior frequently affected shots and led a defense that ceded just 10 second-half points, and just two in the final quarter.
"Everyone showed up today," said Keeler, praising his teammates for their lockdown second half. "We just played really well on defense and played together."
The worst-to-first turnaround in league play was not lost on him nor his fellow upperclassmen.
"Everyone's put in the work, and it shows," said Keeler, adding that he has received interest from UC Irvine and Chico State, as well as an offer from Cal State East Bay. "Everyone's in the gym putting up shots whenever they can. It just shows."
Keeler paused for a beat, then said, "We won the league!" with a smile.
It's the same guys. They all improved. They all bought in. They all got older and more mature and learned how to play the game the right way.
Nick Racklin, Marina High coach
Both offenses scuffled in the first quarter, which ended with Marina taking a 10-7 lead. But then they exchanged runs.
First, a pair of three-pointers by Vikings junior guard Ethan Barnella sandwiched an Alamudun three to spark a 9-3 spurt. Next, Laguna Beach surged into halftime with six straight points to trail 25-20.
Laguna Beach guards Nolan Naess and Lucas Kravitz both buried step-in jumpers to tie the game at 28-28 with a minute left in the third quarter. Naess led the Breakers with 11 points, while Kravitz totaled eight.
The Marina defense would allow just two points the rest of the way.
"Kids these days need tangible motivational techniques," said Racklin, who is in his eighth season at the helm of Marina. "They saw a league title and decided they were going to defend."
Racklin stressed that he wants to see that defensive dominance more consistently, especially in the playoffs.
"Can you get in that stance every day?" he asked his team. "Have great communication every time you get down the floor? That's the challenge for any high school team."
An Alamudun three put the Vikings up 37-30 at the 5:50 mark. Next, Jack Webster scrapped for a steal, and then slashed inside for two straight running layups.
From there, Marina iced the game with four free throws for the final margin. It set off a raucous celebration from a packed student section, which stormed the court after the game ended.
Racklin credited a close-knit group of seniors that pushed through the struggles from the 2016-17 season, when the Vikings went 1-9 in the league.
"It's the same guys," Racklin said. "They all improved. They all bought in. They all got older and more mature and learned how to play the game the right way. Their togetherness tonight shows you how've they've been together for three or four years.
"That's just something you can't teach."
::
Wave League
Marina 45, Laguna Beach 30
SCORE BY QUARTERS
Laguna Beach 7 – 13 – 8 – 2 — 30
Marina 10 – 15 – 7 – 13 — 45
LB – Naess 11, Kravitz 8, Rounaghi 5, Hogenauer 4, Hall 2.
3-pt. goals – Naess 1, Rounaghi 1.
Fouled out – None.
Technicals – None.
M – Alamudun 22, Barnella 10, Keeler 7, Webster 6.
3-pt. goals – Barnella 2, Alamudun 2.
Fouled out – None.
Technicals – None.
SAM DODGE is a contributor to Times Community News. Follow him on Twitter: @samgododge
---