Daily Pilot High School Male Athlete of the Week: Skyler Magula hoping to add to family history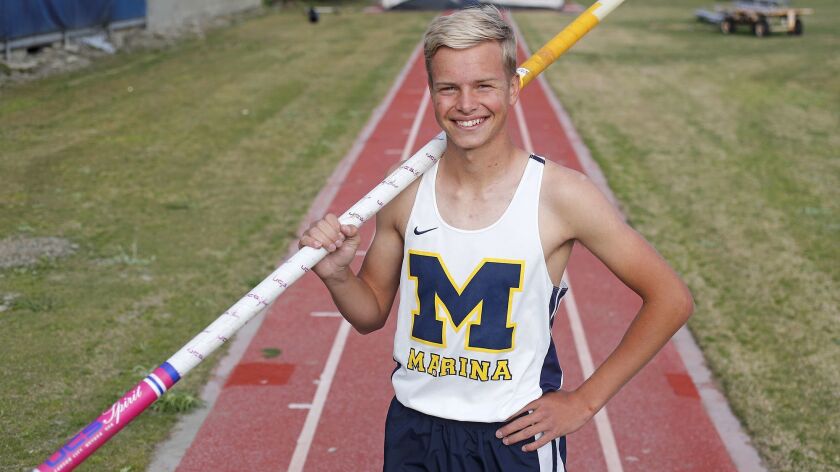 For over three decades, the Magula family has been a staple of the Huntington Beach pole vault community.
Kevin Magula once held the Marina High School record when he cleared 14 feet, 6½ inches in 1988. Then in 1999, he started the Higher Flyers pole vault club.
His kids have grown up with the sport, hanging out around the pit when Magula was working with his students. The club was born out of passion, but there was one incident that made Magula consider giving it all up for good.
In 2009, Magula's former student Leon Roach suffered a fatal head injury when he fell onto the concrete during a rope drill at a UC San Diego practice.
"It kind of makes you look at it and not want to coach anymore, but then again, you look at it and say that he probably would want you to coach," Magula said. "He probably doesn't want you not to coach.
"At that time, I hadn't really felt loss. It was a difficult time, for sure. In his memory, of course, we continue to move on and just try to make things better for everybody."
Marina pole vaulters have flourished in recent years. Jett Gordon was the state runner-up in the boys' pole vault competition in 2015. He came back his senior year to set the new school record at 17-2 and win the state meet in 2016.
In 2017, Magula's first-born son, Michael, had a breakout year. He jumped at least 15 feet in 12 of his 16 starts last season. He is now competing collegiately at Long Beach State.
Skyler Magula is the latest in the family to have his day in the sun. He has come on strong in his junior season.
His emergence started in January, when he attended the National Pole Vault Summit in Reno, NV. He posted a win in clearing a personal-best bar of 15-4.
"I actually third-attempted a couple of bars prior to it," Skyler Magula said. "I was like, 'Oh, I'm not going to jump so well. I'm probably going to get out a little early.'
"I said if I wanted to win it, I was pretty tired, so I just passed on to the next height. I made it on my first try, and [my opponent] missed it and got out. It was really exciting."
Skyler Magula comes complete with a "nothing is impossible" attitude that could qualify as a youthful cockiness. He wants to jump 16 feet before he turns 17 years old. He added that if he meets that goal, there is no reason that he should not believe he can break the 17-foot plateau.
In talking about those heights, it became clear that the junior is intent on taking the school record for himself. Logan Odden, the uncle of Michael and Skyler, previously set the Vikings' record at 16-7 in 2000, before Gordon's remarkable feat of 17-2 at the CIF Southern Section Division 2 finals in 2016.
Gordon has been known to take pride in his meet records, so Skyler Magula had a tongue-in-cheek response when asked how Gordon might react if his meet record fell.
"I want to see it happen just because I'm so curious," he said. "I want to know what he would do and what he would look like. It's possible. I'm going to make that happen. That's the plan. Bringing it back in the family."
Skyler Magula has made a believer out of his father.
"Jett, as he saw Skyler as a freshman, he never really looked at Skyler like, 'This kid could possibly break my record,'" Kevin Magula said. "Then Skyler just skyrocketed. He shot up and he has grown so much since freshman year that he has just become a physical specimen that has a possibility of making that happen."
Entering his appearance in the Saturday night session of the Arcadia Invitational, Skyler Magula ranked fourth in the section and ninth in the state in the boys' pole vault. Even he had to admit that the event seems a bit watered-down, especially locally.
Last year, four locals achieved at least a height of 16 feet – Newport Harbor's Ryan Fegan, Sage Hill's Alex Escalera, Edison's Michael Chadwick and Marina's Michael Magula.
Skyler Magula became the area's top boys' pole vaulter through a combination of graduations and commitment to training. He knows his body, and he has been working to build more stamina.
"A lot of it is core strength and having the endurance enough to take 10 to 20 jumps at a meet," Skyler Magula said. "You never know how many jumps you are going to take until you get there and you start jumping.
"I've gone to meets and taken two jumps. I've gone to meets and taken 15."
One thing that makes Skyler Magula unique from his peers is that he does not use tape on his poles. It has resulted in the junior forming the rough hands of a carpenter.
"They're pretty worn in general," he said of his hands. "I've actually just trimmed these down with sandpaper, so they look a little nicer. They get pretty bad sometimes, and sometimes, a little bloody, but I have pretty good grip strength."
Despite the firm grip, Skyler Magula says he has lost his fair share of arm wrestling matches. That has certainly not been the case during this track and field season.
SKYLER MAGULA
Born: Aug. 7, 2001
Hometown: Huntington Beach
Height: 6 feet 3
Weight: 150 pounds
Sport: Track and field (pole vault)
Year: Junior
Coach: Kevin Magula (pole vault) and Carlos Castellanos (head coach)
Favorite food: Filet mignon
Favorite movie: "The Wolf of Wall Street"
Favorite athletic moment: Magula produced a lifetime best of 15-4 at the National Pole Vault Summit in Reno, NV, while competing for the Higher Flyers club in January. The junior had been behind on attempts, and he passed on to the next height. He made it on his first attempt to record an improbable victory.
Week in review: Magula achieved his best mark in a high school meet, clearing the height of 15-3 at the Trabuco Hills Invitational on Saturday. He matched the winning height, finishing as the runner-up on total misses.
Twitter: @ProfessorTurner
---
All the latest on Orange County from Orange County.
Get our free TimesOC newsletter.
You may occasionally receive promotional content from the Daily Pilot.