Daily Pilot High School Male Athlete of the Week: Dominic Falcon a dominant presence for Ocean View swimming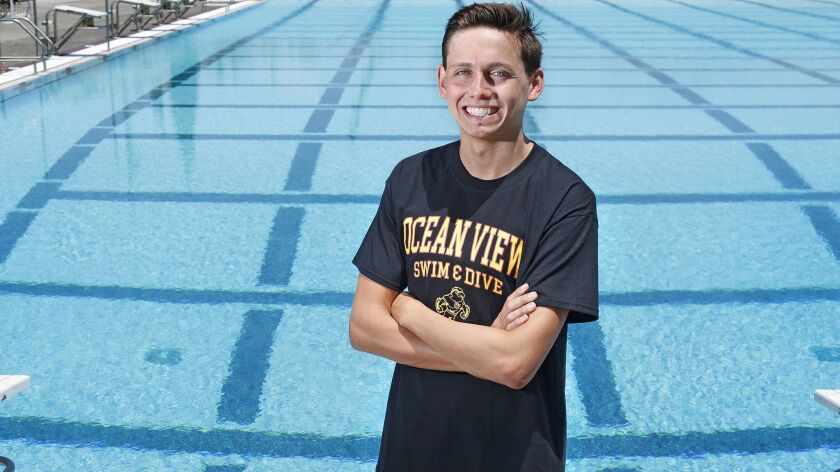 Ocean View High junior Dominic Falcon got a new nickname last year at the CIF Southern Section Division 4 swimming finals.
The announcer called him "Dominating Dominic" after he won the 200- and 500-yard freestyle events by a large margin.
Praise like this doesn't go to the head of Falcon, who just smiles when the nickname is brought up.
"I'm not going to go around calling myself that, talking in the third person," he said. "It's flattering, but I don't want to become that person, I guess."
Falcon said that a different announcer was working this year's Division 4 finals, which took place May 12 at Riverside City College. Falcon was no less dominant, even if one doesn't use that word.
Just call him fast after he repeated as champion in both events. Falcon won the 200 free in 1 minute 41.21 seconds, a full three seconds ahead of second-place finisher Ethan Smith of Vistamar. He then won the 500 free in 4:32.83, which was nearly 18 seconds ahead of the second-place finisher, Jonathan Villa of Warren.
"He had a great performance, and it's not even really against the other competitors," Seahawks coach Alec Raley said. "It's against himself."
Falcon was satisfied with his individual times at finals, though neither was a personal-best for the Daily Pilot High School Male Athlete of the Week. Falcon, who swims club for Irvine Novaquatics, is rarely pushed down in Division 4. He was second in both the 200 and the 500 as a freshman at CIF finals, but the first-place finisher in both events, Evan Munaretto of Fairmont Prep, was a senior and graduated that year.
Falcon has owned the two events since.
"Sometimes I would like to have someone to race," he said. "I wish I had that push a little bit. It's nice to win by a lot, but sometimes I'd rather just have someone right next to me that's close to beating me. I'm pretty confident I could have gone faster if I had that push."
Falcon did enjoy competing in his two relays at CIF finals. He said he swam a personal-best split of 45.64 in the 400 freestyle relay, in which Brent Nishioka, Nico Falcon, Peter Carlson and Dominic Falcon touched third in 3:20.73.
The same four swimmers placed third in the 200 medley relay in 1:41.64.
Dominic Falcon expressed satisfaction at the relay times. For Nishioka and Carlson, who are both seniors, it was their last CIF finals.
"We're losing Peter and Brent, so I think this year was the year that we had to do really well [in the relays]," Dominic Falcon said.
He has been a key part of the Ocean View boys' swim team for the last three years, helping the Seahawks win three Golden West League titles in that span. Raley said the streak is impressive considering that the team does not have the numbers of other programs in the league. He said Ocean View had just 42 combined swimmers on its boys' and girls' teams this year.
"We're losing a lot of points in the third-, fourth- and fifth-place slots where I don't even have swimmers," Raley said. "That makes it really tough, but with all of the points that Dom and the rest of our top swimmers are bringing in, we're able to keep it going. Our No. 1 goal for next year is to get more bodies in the pool."
With the low numbers, performances like Falcon's are even more critical. He won the league title in both of his events this year as Ocean View held off Segerstrom for the title.
"All of the kids, when they're working out with him or swimming with him, really rise to the occasion and try to give their best," Raley said. "It's really kind of infectious, the way that he is serious about his training. And he always goes about it with a great attitude. He's working hard, but always with a smile."
Falcon went a different direction than his twin brother Nico and his older brother Mario, who graduated from Ocean View in 2017. Both of his brothers also have been involved in aquatics, but have focused more on water polo. Nico Falcon is the starting goalkeeper for the Seahawks boys' water polo team, yet still a talented swimmer in his own right.
Nico Falcon was seventh in Division 4 this year in the 100 butterfly, touching in 1:04.04.
"Mario and Nico kind of lost interest [in swimming] when they were like 10 or 11, and they started playing water polo at that age," Dominic Falcon said. "I just stuck to swim. I never played water polo."
The Seahawks can appreciate his dedication.
"Dominating Dominic" has one more year to do just that, dominate.
::
Dominic Falcon
Born: Nov. 22, 2000
Hometown: Huntington Beach
Height: 6 feet 1
Weight: 160 pounds
Sport: Swimming
Year: Junior
Coach: Alec Raley
Favorite food: Steak
Favorite movie: "Spider-Man: Homecoming"
Favorite athletic moment: Going a personal-best split of 45.64 seconds in the 400 freestyle relay at CIF finals this year, helping Ocean View place third in the race.
Week in review: Falcon repeated as 200- and 500-yard freestyle champion at the CIF Southern Section Division 4 finals on May 11 at Riverside City College, and was also on the Seahawks' third-place 200 medley and 400 freestyle relays.
Twitter: @mjszabo
---
All the latest on Orange County from Orange County.
Get our free TimesOC newsletter.
You may occasionally receive promotional content from the Daily Pilot.