Ocean View defense clamps down on Estancia
For the second time this season, the Ocean View High football team faced a standout running back with the last name of Pacheco.
The Seahawks were able to limit Los Amigos running back Brian Pacheco in their season-opening victory over the Lobos on Aug. 23. Three weeks later, Ocean View had to try to stop Estancia senior running back Trevor Pacheco on Friday night in a battle of undefeated teams.
Pacheco came into the game with an Orange County-best 704 rushing yards. But he and the Eagles left Ocean View with their winning record no longer intact.
The host Seahawks shined on both sides of the ball. Senior quarterback Noah Hickman ran for two scores and added passing touchdowns to Brandon Alcaraz and Will Earthman as Ocean View posted a 35-7 victory, adding to coach Luis Nuñez's best start in his seven-year tenure as head coach.
Ocean View (4-0), ranked No. 4 in CIF Southern Section Division 11, is allowing just seven points per game so far this season. The Seahawks continued the trend against Estancia (3-1), ranked No. 8 in Division 13.
Ocean View sacked Estancia quarterback Jaycen Cash three times, with Lucio Silva and Dillon Grunbaum combining on one, and Josh Roberts and Kevin Blackmore also dropping him behind the line of scrimmage. And Ocean View senior safety Naeco Logan had a fourth-quarter interception at the Estancia one-yard line, snuffing out an Estancia drive as the visitors tried to narrow their deficit to two scores.
I know our offense gets a lot of attention, but the defensive side of the ball has been lights out.
Luis Nuñez, Ocean View High coach
Though Nuñez was not happy about his team committing 10 penalties for 95 yards, the end result was pleasing.
"I know our offense gets a lot of attention, but the defensive side of the ball has been lights out," Nuñez said. "Most of the touchdowns we've given up have been because of penalties … Our back seven is fast. It's a fast group and they love to hit. They're a wild bunch, man. They really are. I like the aggression, but in big games, we've got to limit those penalties."
Pacheco was held to 57 yards rushing on 15 carries. Cash added 14 rushes, mostly scrambles, for 72 yards for the Eagles. But Estancia trailed 21-0 at halftime and struggled to sustain drives besides the Eagles' first one of the game, which ended when a 45-yard field goal attempt came up short.
"We made a lot of mistakes," Estancia coach Mike Bargas said. "Hat's off to Ocean View, they have some speed. We just came out flat and we got outplayed, that's all there is to it. I mean, we knew going into this thing that they were going to target on Pacheco, so I needed the other guys to step up. We just couldn't quite get it done tonight."
Ocean View's defense wasn't even at full strength. Senior middle linebacker Alex Nieves, the Seahawks' leading tackler the last two years and again so far this season, exited in the third quarter after Nuñez said he aggravated a right hamstring injury.
Ocean View also was missing sophomore starting cornerback Raelen Bruce, who Nuñez said was serving a one-game suspension as a result of a helmet-to-helmet hit during last week's victory over Calvary Chapel.
Nieves tried to come back into the game in the fourth quarter but had to exit again. But others, like senior linebacker Jesus Ramirez and junior linebacker Eric Balbuena, stepped up to the challenge.
"We just studied film, made sure we did our jobs individually as players," Ramirez said. "We just got the job done. We just had a long week of film, film, film."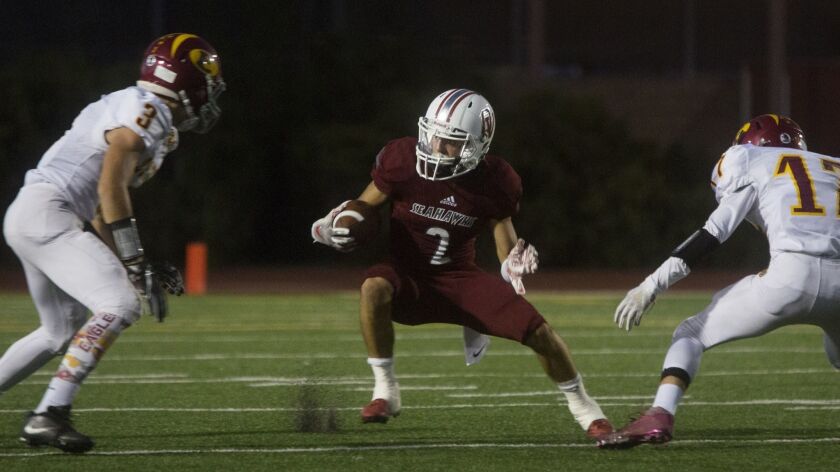 Earthman again showcased his dynamic playmaking ability. In addition to his 10-yard touchdown reception, the Edison transfer had five carries for 110 yards, including runs of 40 and 60 yards.
Estancia hosts Laguna Beach (3-1) on Sept. 21, while Ocean View looks to keep its undefeated season going at Dana Hills (2-3).
The score notwithstanding, Ocean View knows it played well against Estancia in its toughest test of the season so far.
"We faced a little resistance, which we needed," Nuñez said. "I liked the way our kids responded."
Hickman said he was proud of both the offense and defense's effort.
"We shut down top rushers every single week," he said.
The Seahawks proved they could do it against two different Pachecos.
Nonleague
Ocean View 35, Estancia 7
SCORE BY QUARTERS
Estancia 0 – 0 – 7 – 0 — 7
Ocean View 0 – 21 – 0 – 14 — 35
SECOND QUARTER
OV – Alcaraz 45 pass from Hickman (Stead kick), 11:54.
OV – Adame 2 run (Stead kick), 6:40.
OV – Hickman 10 run (Stead kick), 0:14.
THIRD QUARTER
E – Cash 2 run (Perez kick), 2:04.
FOURTH QUARTER
OV – Hickman 2 run (Stead kick), 11:57.
OV – Earthman 10 pass from Hickman (Stead kick), 3:24.
INDIVIDUAL RUSHING
E – Cash, 14-72, 1 TD.
OV – Earthman, 5-110.
INDIVIDUAL PASSING
E –Cash, 9-20-1, 82.
OV – Hickman, 12-18-0, 126, 2 TDs.
INDIVIDUAL RECEIVING
E – Guyot, 3-37.
OV – Alcaraz, 1-45, 1 TD.
Twitter: @mjszabo
---
All the latest on Orange County from Orange County.
Get our free TimesOC newsletter.
You may occasionally receive promotional content from the Daily Pilot.