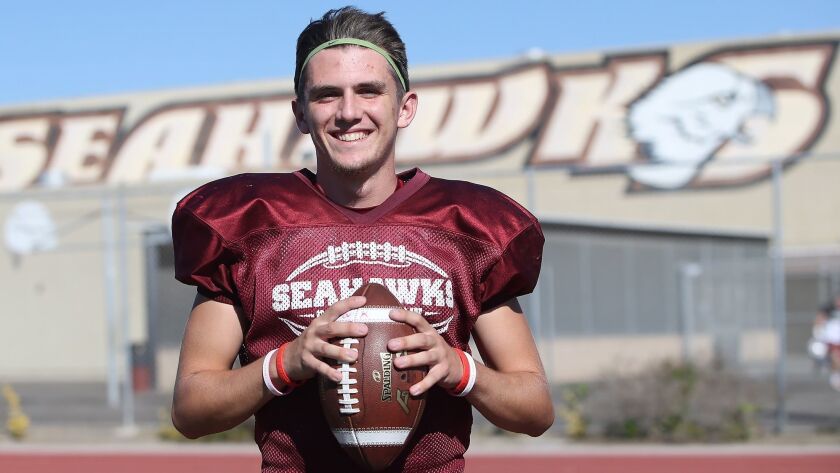 Ocean View High quarterback Noah Hickman hobbled to the finish line last season. His ankle hung on by a thread after he dislocated it in a Golden West League opener at Segerstrom.
After that Week 6 loss, Hickman lost the ability to make plays with his legs, one of the most potent parts of his game, and an aspect of his skill set that was crucial to making Ocean View's run-pass option offense go.
But Hickman, being the ultimate competitor that he is, refused to come off the football field.
"It hurt to play," Hickman said. "I kept playing because I thought my team needed me."
His ankle would pop out of place a couple more times over the last four games. Teammates lent their shoulders to help him off the field and to the training table on the sideline, where it was snapped back in to place.
As soon as he was physically able to walk, Hickman was back in the huddle, showing his teammates the depth of his dedication to them.
"He could have easily told me he wanted to sit out, but he wouldn't let us pull him off the field," Ocean View coach Luis Nuñez said. "He's that kind of kid. He has to be completely broken to be taken off the field."
Hickman continued to press forward, but his inability to effectively run the ball was a big factor in what halted the Seahawks' promising start last year.
Ocean View's impressive 4-1 mark through its first five games took a dramatic turn in the opposite direction. The Seahawks lost four of their last five and missed the CIF Southern Section Division 13 playoffs.
This season started out much the same for the Seahawks. They won their first five games and everything was pointing in the direction of this year being one for the history books.
There was something different come Week 6, though, and it's probably the biggest reason why Ocean View remains the midst of its historic run.
Instead of his body failing him, Hickman was on the field, healthy, strong, and using his legs to make dynamic plays in a 42-7 win over rival Westminster. The win marked Ocean View's first over the Lions since 2011.
The Seahawks are now 8-0 overall as they head into Friday's Pac 4 League showdown at Laguna Beach. This is a big game for Ocean View, which is ranked No. 2 in the CIF Southern Section Division 11 poll, behind Western (7-1, 1-0 in league).
There's no secret to Ocean View football. Noah makes it go.
Luis Nuñez, Ocean View High coach
If Ocean View beats the Breakers (6-2, 0-1), it will most likely play for the league title at Western on Oct. 25. Western faces Godinez at Segerstrom High on Friday.
Ocean View is coming off a 49-7 victory over Godinez in last week's league opener, giving the Seahawks their most wins in any season. Hickman passed for three touchdowns and rushed for two more, totaling 345 yards (287 passing and 58 rushing).
In an effort to avoid a similar fate to last season, Hickman made it a point to hit the weight room hard in the offseason. The results have made him more durable as a senior.
"I've gained a lot of weight and that's helped," he said. "I was around 140 pounds last season and now I'm around 165. It doesn't hurt as much when I get hit."
Nuñez said the weight room has helped Hickman.
"We're in Week 9, [and] he has the normal bumps and bruises that any football player would have," Nuñez said, "but he's in a lot better shape going into the last two games than he was last year."
With Hickman in better shape, Ocean View is, too.
For the season, Hickman has thrown for 1,231 yards and 19 touchdowns, with only one interception. He has also rushed for 494 yards and 14 touchdowns.
Perhaps the most impressive stat on the season for Hickman is that he's completing passes at a 70.6% clip.
"I've just been studying the game more," said Hickman, who only completed 59% of his passes last season. "I go in and watch film at lunch every day during the week, after practice, and then go home and watch film."
Aside from what Hickman brings from a statistical standpoint, maybe the most important impact he has comes in the form of leadership for a team that coach Nuñez describes as "very emotional."
One of the most impassioned guys on the team, who also happens to be Hickman's favorite target, is receiver Will Earthman.
Earthman is a self-described hothead and said Hickman is the first person to bring him back down to earth when he gets carried away during the heat of competition.
"No matter what's happening, he's the guy that puts me in check," Earthman said of Hickman. "He has that cool, calm, collected swagger. He's able to handle pressure."
Hickman's composure has trickled down through the rest of Ocean View's roster.
The Seahawks' coaching staff has seen a decrease in mental mistakes, costly personal foul penalties and unnecessary extracurricular physicality in contrast to last season.
Hickman thinks that the team, from top to bottom, has become more mature and rid itself of any and all egos.
"Our attitude and effort have improved," Hickman said. "All of the selfishness has gone away and it's just been a team effort and a team game since then. We put the 'I' mindset behind and focused on us."
Earthman said Hickman's command of the offense and the sideline is the reason why this year's team has grown so close.
"He does everything that a coach would do," Earthman said. "He watches film with the coaches on weekends and puts in a lot of extra work. I think that's why his football IQ is so high."
Hickman's intelligence translates to the classroom. He said he holds a 4.1 grade-point average and plans to major in criminal justice or criminology with hopes of joining the police force after college.
His impact on the Ocean View football team extends far beyond the field, too. Hickman not only produces on the stat sheet, but he holds teammates accountable, drives them to give their best efforts on and off the field, and his team-first approach has been contagious.
"There's no secret to Ocean View football," Nuñez said. "Noah makes it go."
Noah Hickman
Born: Dec. 18, 2000
Hometown: Huntington Beach
Height: 5 feet 11
Weight: 165 pounds
Sport: Football
Year: Senior
Coach: Luis Nuñez
Favorite food: BBQ ribs
Favorite movie: "Friday Night Lights"
Favorite athletic moment: Becoming the starting quarterback at Ocean View.
Week in review: Hickman was responsible for five touchdowns in Ocean View's 49-7 win over Godinez in a Pac 4 League opener on Oct. 13. He completed 18 of 24 passes for 287 yards and three touchdowns, and rushed 10 times for 58 yards and two scores.
DEVIN UGLAND is a contributor to Times Community News. Follow him on Twitter: @Devin_Ugland
---