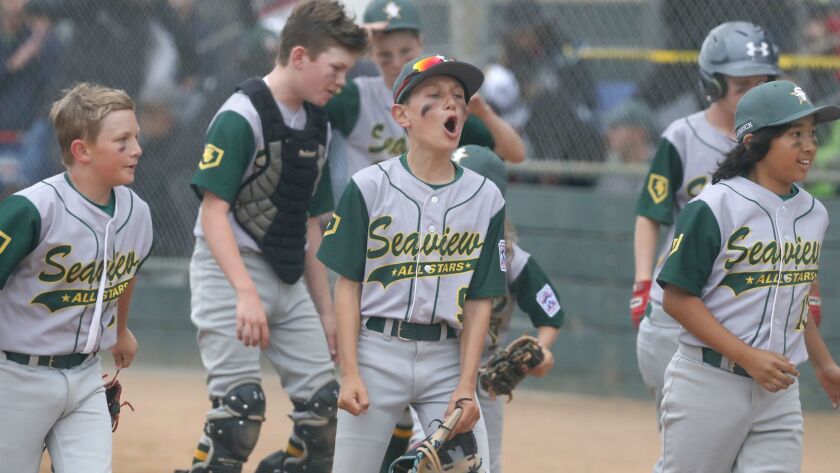 The Seaview Little League 10- and 11-year-old All-Stars broke through Tuesday night at the District 62 All-Stars Tournament.
Seaview secured a 3-1 victory over Costa Mesa American in an elimination game at Fountain Valley Sports Park. For this group of 11-year-olds, it was their first All-Stars victory in three years of competition, Seaview coach Todd Hunter said.
"It's definitely meaningful," Hunter said. "I mean, they've been together for multiple years. It's exciting. The team is working hard."
Hunter's son, Noah Hunter, definitely worked hard on the mound. He went the complete game, throwing 86 pitches. Noah Hunter allowed one earned run on seven hits, walking one and striking out seven.
He pitched out of a bases-loaded jam in the second inning, struck out the side in the fifth and took a shutout into the sixth.
By then, Seaview had a 3-0 lead. Gage Bernard led off the bottom off the third with a double. An out later, Ashton Godley struck out but reached as the ball in the dirt got away. Both Bernard and Godley would score on a throwing error on Kai Stolark's grounder to shortstop.
Seaview's Will Stanley, who went two for two and was also hit by a pitch, singled in the fifth and scored on Hunter's two-out single. But Costa Mesa American tried to rally in the sixth.
Grady Jackson roped a one-out double to right and scored on Tristan Ramos' single to center. Jackson and Ramos both finished two for three.
"It was really stressful," Noah Hunter said. "People were on base, and I was struggling with my pitch count. My defense had my back."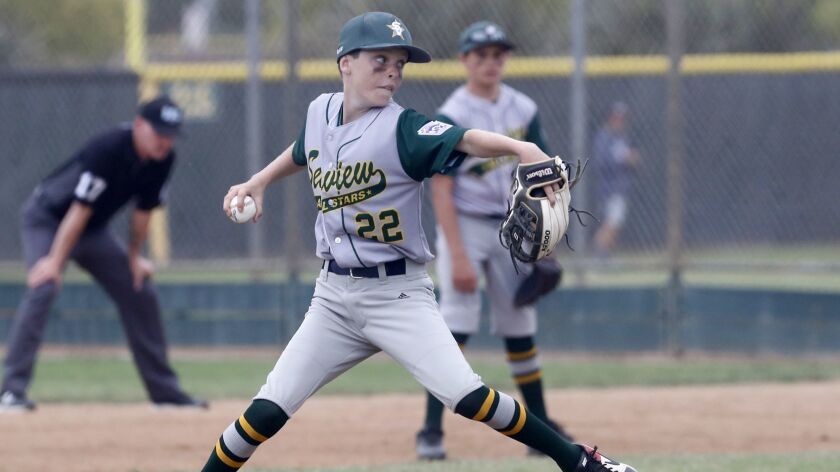 Hunter earned a strikeout for the second out, before Felix Tiquia blooped a single to left. Costa Mesa American coach Ben Lower, at third base, decided to send Ramos to third.
But the throw from Seaview left fielder Logan Hampton went to third baseman Aiden Snyder, who applied the tag on Ramos.
"He kept it low and applied the tag," Todd Hunter said. "The call could have gone both ways, to be honest."
Ramos was ruled out by the home-plate umpire, and the bang-bang play ended the game.
"I thought my guy would make it to third no problem," Lower said. "Obviously, it was a closer play than we wanted. You never want to make the last out at third, and that's what we did because of me. I sent him. I was hoping I could have second and third, and one base hit ties it up, but it didn't pan out that way."
Todd Hunter saw his son, at his pitch limit, get to finish things up. Hunter said he would have brought in Stanley to close if the game had continued.
Hunter highlighted the defensive performance of his second baseman, Bernard. He said that catcher Ben Wilson, who was one for two and also hit by a pitch, called all of his own pitches for Seaview.
Seaview, which lost 9-2 to Huntington Valley on Saturday in its tournament opener, lives to play another day. Seaview faces the winner of Tuesday's late game between Huntington West and Costa Mesa National in another elimination game Thursday at 5 p.m.
::
Support our sports coverage by becoming a digital subscriber.
For more sports stories, visit latimes.com/socal/daily-pilot/sports or follow us on Twitter @DailyPilotSport.
Twitter: @mjszabo
---