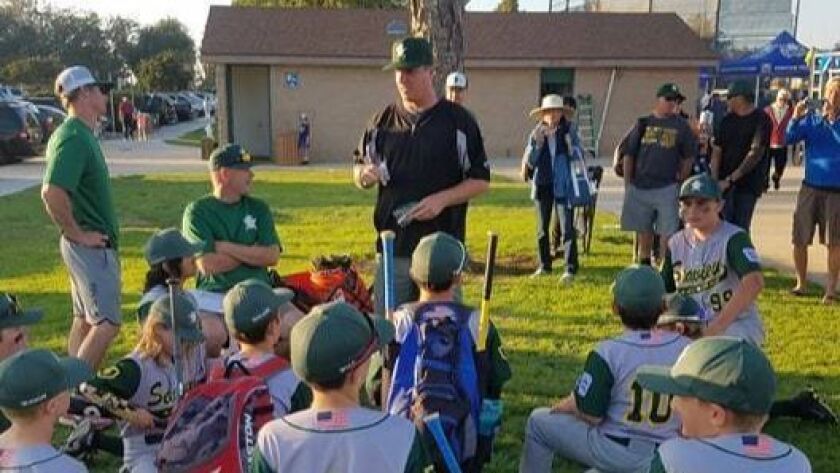 The Seaview Little League 9-, 10- and 11-year-old All-Stars had their backs put against the wall almost instantly in losing their opener in the District 62 tournament.
Huntington Valley dealt Seaview that loss, but three consecutive wins have allowed the latter to fight back through the loser's bracket to earn a second chance.
Seaview beat Ocean View 7-4 on Friday evening at Fountain Valley Sports Park. The win sets up a rematch with Huntington Valley, the last unbeaten team in the double-elimination tournament, at 10 a.m. on Saturday.
Seaview scored four runs in the top of the first inning, highlighted by a two-run double by Will Stanley. After his hit scored Kalani Chun and Kai Stolaruk, Stanley pointed to his own dugout before drawing attention to the name across the front of his jersey.
"It's a team sport," Stanley said, adding that he wanted to break out of a recent slump for Seaview Little League.
Ben Wilson added a run-scoring single in the inning, and Seaview sent Cole Charlier to the mound with a four-run lead.
Seaview coach Todd Hunter said that Charlier wanted the ball in the elimination game, and he went as far as the 11-year-old 85-pitch limit would allow.
Charlier went 4 1/3 innings, allowing two runs (one earned) on three hits. He struck out nine and walked two.
"We've got some great pitchers," Hunter said. "Cole comes in and steps up. He's done phenomenal. He wanted it. We started him, and he did exactly what we wanted him to do, and that's go 85 pitches."
The Seaview starting pitcher has begun to experiment with secondary pitches to mix in with his fastball. He said he has worked on a slider, as well as a far less common offering in the forkball.
Asked if he knew anyone in baseball today that threw the forkball, Charlier said he learned how to throw the pitch elsewhere.
"I learned it on YouTube," Charlier said. "I just looked it up, and I thought, 'This is interesting. I'll try it.' "
Aiden Snyder came on in relief, recording two of the final five outs by strikeout.
Ocean View managed to stay loose as a group, despite falling behind 7-2 after the top of the third inning. When a rules dispute took place in the top of the sixth, the Ocean View players on the field did squats and jumping jacks together, before engaging in an impromptu game of "Duck, Duck, Goose."
Ocean View scored twice in the final inning to put the tying run on deck. Luke Graves and Kelsen Janney drove in runs in the inning.
Colin Choi had two hits, while Liam Haynes, Jaksen Palmer and Jack Gollinger each had one hit for Ocean View.
Ocean View reliever William Baker demonstrated toughness, staying in the game after a collision with Charlier at home plate. Charlier ran through home plate and scored on a wild pitch, and Baker's glove came off in the process.
"When I saw his arm snap there, I thought he was hurt," Ocean View coach Kevin Graves said. "When I came out there, he wasn't moving his arm, and so all I was doing was trying to get him to grab my hand and give me some pressure. When he started doing that and I didn't see any swelling, I just gave it a second. I wanted to see if he could grind it out and catch a ball. He got right back up there [on the mound].
"He came in and did great, and I wanted to reward him for that."
::
Support our sports coverage by becoming a digital subscriber.
For more sports stories, visit latimes.com/socal/daily-pilot/sports or follow us on Twitter @DailyPilotSport.
Twitter: @ProfessorTurner
---