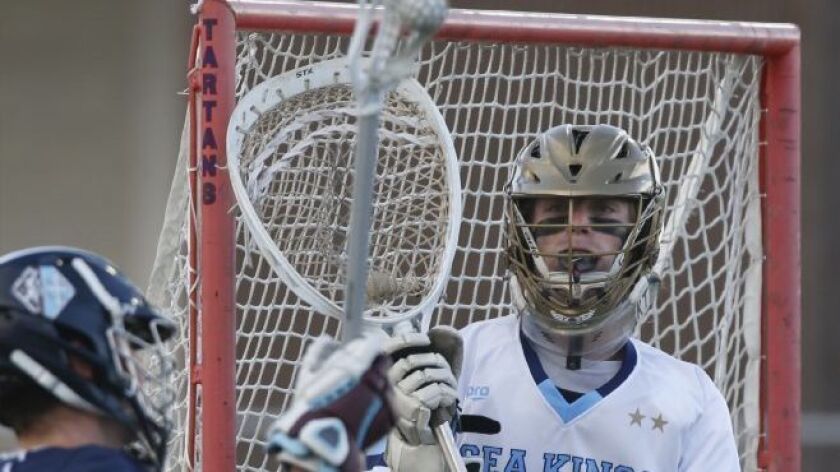 Sophomore Aidan Kelly scored four goals for the Corona del Mar High boys' lacrosse team in Saturday's 13-7 nonleague road win at Beckman High.
Sophomore Simon Hall scored twice and junior goalie Kyle Cord made nine saves for CdM (6-7). Senior defender Landon Whitney had four caused turnovers.
CdM plays host to St. Margaret's on Wednesday at 4 p.m.
*
BASEBALL
Tesoro 3-4, Marina 0-7: Andrew Sojka had three hits and two runs batted in for the Vikings in the second game of Saturday's nonleague road doubleheader, as Marina salvaged a split.
Steven Casas also had three hits in the second game for Marina (8-14).
Sojka, Cory Lewis and Drey Despot all had hits in the first game.
Kennedy 2, Ocean View 0: Gavin Kennedy, Daniel Mayorga and Matt Starr each had hits for the Seahawks (10-7) in Saturday's nonleague road loss.
Santa Margarita 4, Laguna Beach 3 (eight innings): Grady Morgan was two for four with a double and one RBI for the Breakers in Saturday's nonleague road game.
Eric Silva also had an RBI-single for Laguna Beach (10-8), which returns to Orange Coast League action Tuesday with a home game against Calvary Chapel at 3:15 p.m.
*
SOFTBALL
Huntington Beach 3, Santiago Corona 2: Sophomore starting pitcher Grace Uribe earned the win, and freshman reliever Devyn Greer picked up the save as the Oilers won their final game in the Michelle Carew Classic on Saturday.
Senior shortstop Allee Bunker and junior second baseman Megan Ryono each knocked in a run.
The Oilers went 3-2 in the tournament, with Bunker earning all-tournament honors.
Huntington Beach (10-5) travels to Marina as Sunset League play resumes on Tuesday at 3:15 p.m.
*
GIRLS' LACROSSE
Foothill 12, Newport Harbor 8: Delaney Knipp scored three goals for the Sailors in Saturday's nonleague game at Foothill High.
Joelle Rothbard and Caroline Farley each scored twice, while Willa Rath made seven saves for Newport Harbor (4-8).
Twitter: @DailyPilotSport
To report scores of high school games, or other newsworthy items from youth, college and professional sports, contact the Daily Pilot sports staff listed below:
David Carrillo Peñaloza, Sports Editor
(714) 966-4612, david.carrillo@latimes.com
Fall: football, girls' golf
Winter: boys' basketball, boys' soccer
Spring: baseball, boys' golf
*
Matt Szabo, Sports Reporter
(714) 966-4614, matthew.szabo@latimes.com
Fall: boys' water polo, girls' tennis
Winter: girls' soccer, girls' water polo
Spring: boys' tennis, swimming, lacrosse
*
Andrew Turner, Sports Reporter
(714) 966-4611, andrew.turner@latimes.com
Fall: girls' volleyball, cross-country, field hockey
Winter: girls' basketball, wrestling
Spring: boys' volleyball, track and field, softball
---