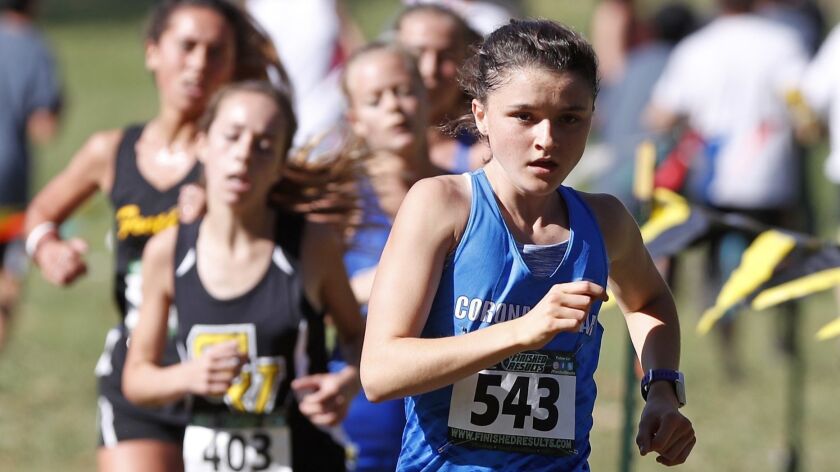 Corona del Mar High sophomore Annabelle Boudreau completed the Oak Canyon Park course in 18 minutes flat to place second in the girls' small schools cross-country race at the Orange County Championships on Friday.
Calvary Chapel senior Elizabeth Radmilovich won the race in 17:46.4.
CdM placed fourth as a team with 149 points. The Sea Kings entered the week ranked 10th in the CIF Southern Section Division 3 poll.
Senior Adriana Gil (15th, 19:27.8) led Ocean View, which finished third as a team with 145 points.
Los Amigos and Estancia did not have the requisite five runners to post a team score. Senior Beatriz Mondragon led the Lobos (75th, 21:55.5), while sophomore Hope Millon (114th, 23:29.8) paced the Eagles.
The boys' small schools varsity race saw Jason St. Pierre (eighth, 15:54.0), Edwin Montes (17th, 16:16.1), Adrian Ramirez (18th, 16:17.0), Miguel Flores (20th, 16:19.0) and Parker Walpole (24th, 16:23.2) take Ocean View to a second place showing. Esperanza won the boys' team battle 25-82.
Costa Mesa placed fifth with 177 points. Senior Kevin Cortez paced the Mustangs, finishing sixth in 15:46.9.
Estancia junior Diego Monroy (102nd, 18:38.6) and Los Amigos senior Oscar Ayala (133rd, 21:12.0) led their teams.
::
Twitter: @DailyPilotSport
To report scores or newsworthy items, contact the sports staff listed below:
David Carrillo Peñaloza, Sports Editor
(714) 966-4612, david.carrillo@latimes.com
Twitter: @ByDCP
Fall: football, girls' golf
Winter: boys' basketball, boys' soccer
Spring: baseball, boys' golf
::
Matt Szabo, Sports Reporter
(714) 966-4614, matthew.szabo@latimes.com
Twitter: @mjszabo
Fall: boys' water polo, girls' tennis
Winter: girls' soccer, girls' water polo
Spring: boys' tennis, swimming, lacrosse
::
Andrew Turner, Sports Reporter
(714) 966-4611, andrew.turner@latimes.com
Twitter: @ProfessorTurner
Fall: girls' volleyball, cross-country, field hockey
Winter: girls' basketball, wrestling
Spring: boys' volleyball, track and field, softball
---