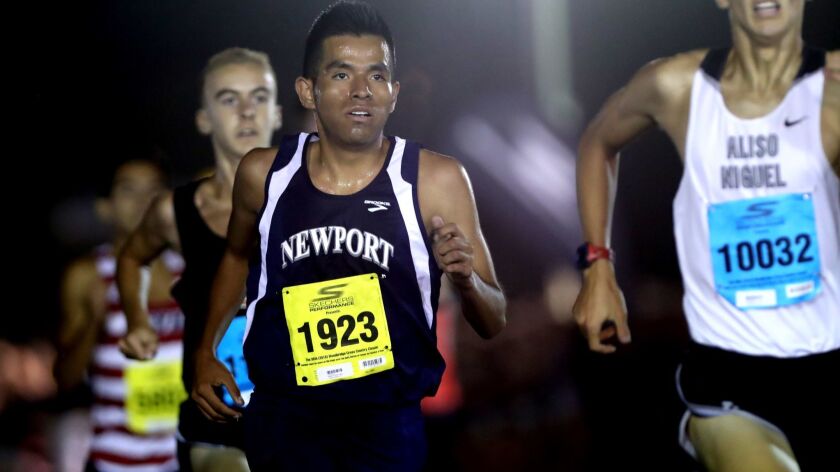 After near misses the last couple of years, Newport Harbor High senior Alexis Garcia finally has an Orange County cross-country title.
The Sailors ace crossed the finish line in 14 minutes 53.6 seconds to win the boys' sweepstakes race of the Orange County Championships at Oak Canyon Park in Silverado on Saturday morning.
"With about 400 meters to go, he said he pulled up to [Dana Hills'] Simon Fuller, and Fuller turned and saw him and said, 'Oh [no],'" Sailors coach Nowell Kay said. "Alexis said, 'I knew I had him then,' so Alexis went by him and beat him by four seconds."
Garcia was the runner-up at the event his sophomore year. He placed seventh as a junior.
"Last year was probably his worst race of the whole season, at Orange County Championships, so it was really nice to come back and run well there," Kay added of Garcia's victory.
Newport Harbor placed 13th with 277 points, while Corona del Mar finished 15th with 315 points. Senior Ian Turner (28th, 15:34.9) led the Sea Kings.
The girls' sweepstakes race saw Costa Mesa junior Diane Molina place seventh overall with a time of 17:55.8.
Fountain Valley, which came into the race ranked sixth in the CIF Southern Section Division 1 poll, placed third in the girls' sweepstakes team battle. Seniors Sara Feitz (12th, 18:03.1) and Ashley Faller (16th, 18:24.7) stood out for the Barons.
Newport Harbor senior Mia Matsunami outpaced the field, winning the Division 2 varsity race in 18:35.0. The Sailors placed second as a team, with Woodbridge winning the race by a margin of 56-96.
In the boys' Division 2 varsity race, Edison (82 points) rode a strong pack performance to a second-place showing. Tyler Baird (12th, 16:55.8), Christopher Chan (14th, 16:57.1), Cody Groom (15th, 17:00.6), Jeff Ritter (21st, 17:05.9) and Zach Baillie (22nd, 17:08.9) formed the scoring quintet.
Senior Justin Schmidt (2nd, 16:38.2) led Fountain Valley to fourth place (110 points). Marina came in fifth with 132 points.
FOOTBALL
Ocean View 49, Godinez 7: Noah Hickman had three passing touchdowns and rushed for two more scores, as the host Seahawks remained unbeaten this season.
Naeco Logan had two receiving touchdowns, and Will Earthman ran for a pair of scores. Brandon Alcaraz also caught a touchdown.
Ocean View (8-0, 1-0 in Pac 4 League), is ranked second in Division 11, behind league foe Western.
The Seahawks will travel to Laguna Beach (6-2, 0-1) next Friday.
Huntington Beach 30, Fountain Valley 15: Jeremiah Flanagan had three receiving touchdowns, and the host Oilers defeated the Barons in a Sunset League game on Saturday afternoon.
Defensive end Christian Moore scored a touchdown on a fumble recovery for Huntington Beach (6-2, 2-1 in league), and he added a two-point conversion catch at tight end from Arick McLawyer.
Fountain Valley dropped to 4-4 overall and 0-3 in the league.
Loara 42, Los Amigos 14: Joseph Garcia rushed for 130 yards and a touchdown, but the Lobos fell to the Saxons in Saturday's Garden Grove League game at Garden Grove High.
Adolfo Chavez added three catches for 60 yards.
Lobos coach Carl Agnew said that starting quarterback Brandon Tinoco missed the game after breaking his throwing hand in practice during the week.
Los Amigos fell to 3-5 overall and 0-3 in the league.
Segerstrom 59, Marina 13: The visiting Vikings fell in their Big 4 League opener Saturday night.
It's the fifth straight loss overall for Marina (2-6), which trailed 38-13 at halftime.
The Vikings host Garden Grove on Thursday at Westminster High.
GIRLS' VOLLEYBALL
Corona del Mar and Laguna Beach each earned No. 2 seeds in their respective CIF Southern Section playoff divisions on Saturday, while Ocean View and Pacifica Christian Orange County received No. 4 seeds.
Newport Harbor, Edison, Huntington Beach, Sage Hill and Costa Mesa also made the postseason.
Below is the schedule for Thursday's first-round matches at 6 p.m.
Division 2
Corona del Mar has a bye
Newport Harbor hosts Edison
Huntington Beach at Esperanza
Division 3
Laguna Beach hosts Murrieta Mesa
Sage Hill hosts Mission Viejo
Division 4
Costa Mesa at St. Margaret's
Division 7
Ocean View hosts the winner of Tuesday's wild-card match between Anaheim and Saddleback
Division 9
Pacifica Christian Orange County at Los Angeles New Covenant
::
Twitter: @DailyPilotSport
To report scores or newsworthy items, contact the sports staff listed below:
David Carrillo Peñaloza, Sports Editor
(714) 966-4612, david.carrillo@latimes.com
Twitter: @ByDCP
Fall: football, girls' golf
Winter: boys' basketball, boys' soccer
Spring: baseball, boys' golf
::
Matt Szabo, Sports Reporter
(714) 966-4614, matthew.szabo@latimes.com
Twitter: @mjszabo
Fall: boys' water polo, girls' tennis
Winter: girls' soccer, girls' water polo
Spring: boys' tennis, swimming, lacrosse
::
Andrew Turner, Sports Reporter
(714) 966-4611, andrew.turner@latimes.com
Twitter: @ProfessorTurner
Fall: girls' volleyball, cross-country, field hockey
Winter: girls' basketball, wrestling
Spring: boys' volleyball, track and field, softball
---