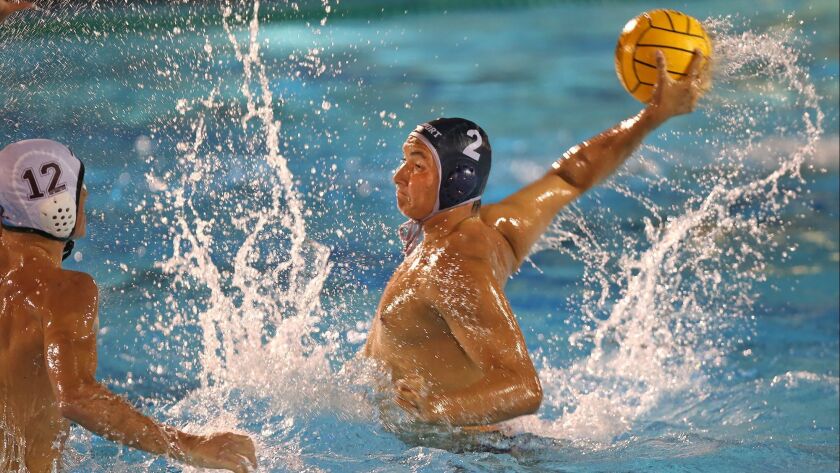 Makoto Kenney had five goals, three assists and four steals as the Newport Harbor High boys' water polo team defeated Moraga Campolindo 12-8 in the final of the Memorial Cup tournament on Saturday at Bellarmine Prep school in San Jose.
Ike Love added three goals for the Sailors, while Jack White had two goals and two assists. Makana Sanita and Tommy Kennedy also scored, while Blake Jackson made 12 saves.
"Obviously, it was a good result for us," Sailors coach Ross Sinclair said. "Campolindo is pretty loaded … [but] we did a good job at controlling the speed and pace of the game. It was a very well-rounded game for us."
Jake Liechty had three assists and Eli Liechty drew four exclusions for Newport Harbor (26-1), the top-ranked team in CIF Southern Section Division 1 and 2 which added to an 18-match winning streak. The Sailors beat host Bellarmine 11-4 in the semifinals.
It is the second major tournament win of the season for the Sailors, who also won the South Coast Tournament in September.
Newport Harbor closes out the regular season with a Surf League match against rival Corona del Mar on Wednesday at 4 p.m. at CdM. The Sailors have already clinched the outright league title.
CdM placed 10th in the tournament after splitting two matches Saturday. The Sea Kings (13-12) defeated San Ramon Valley 11-5 before losing to San Jose Valley Christian 11-5 in the ninth-place match at Gunderson High in San Jose.
With one match remaining, CdM, ranked No. 15 in Division 1 and 2, has assured itself of a .500 overall record if it needs to apply for an at-large berth into the Division 2 playoffs.
Steve Pal Memorial tournament
Laguna Beach won the tournament for the second straight year, defeating Northwood 9-4 in Saturday's title match at Beckman High.
Colton Gregory and Will Clark each scored three goals in the final for Laguna Beach (16-10). Logan McCarroll scored twice, while Zach Cord had a goal and two assists. Caden Capobianco made 14 saves.
McCarroll scored six goals in a 13-9 semifinal win over Palos Verdes earlier Saturday.
The Breakers close out the regular season with a Surf League match against Huntington Beach at 7:30 p.m. Wednesday at CdM. Laguna Beach can clinch outright second place in league with a win over the Oilers, plus a CdM loss to Newport Harbor.
GIRLS' VOLLEYBALL
Laguna Beach 3, Redlands East Valley 0: Piper Naess had a team-high 17 kills, as the visiting Breakers swept in the second round of the CIF Southern Section Division 3 playoffs on Saturday.
Cambria Hall added 12 kills for second-seeded Laguna Beach (16-12), which will host to Mission Hills Alemany (25-6) in a quarterfinal match on Wednesday.
Culver City 3, Sage Hill 0: Amiyah De'Long had a team-high 11 kills, but host Centaurs 25-20, 25-13, 25-21 won Saturday's CIF Southern Section Division 3 second-round match.
Danielle Beder handed out 23 assists, and Emily Elliott added five kills.
Sage Hill (13-11) won the San Joaquin League championship this season. It was the third consecutive league title for the Lightning.
Ocean View 3, San Gabriel Academy 0: Jillian Pratt had a team-high 11 kills, as the host Seahawks won 25-9, 25-17, 25-14 in Saturday's CIF Southern Section Division 7 second-round match.
Alyson Nguyen had 14 assists, Kelli Greiner had 14 digs, and Wendie Smith added four blocks.
Cambria Adams and Helen Reynolds excelled at the service line, providing eight and six service aces, respectively.
Fourth-seeded Ocean View (22-3) has won 16 matches in a row. The Seahawks will play at San Pedro Rolling Hills Prep (17-2) in the quarterfinals on Wednesday.
Pacifica Christian Orange County 3, Helendale Academy of Careers and Exploration 0: Casie Carlson had 10 kills to lead the host Tritons to a 25-5, 25-17, 25-17 win in the second round of the CIF Southern Section Division 9 playoffs on Saturday.
Breck Burwell added seven kills, Anna Eddy had six aces, and Maddy Alaluf chipped in with 16 digs.
Pacifica Christian (13-8) will host Riverside California School for the Deaf in the quarterfinals on Wednesday.
Lakewood St. Joseph 3, Edison 2: Nikki Logan led the visiting Chargers with 18 kills, but the fourth-seeded Jesters won 18-25, 25-21, 25-20, 17-25, 15-10 in Saturday's CIF Southern Section Division 2 second-round match.
Samantha Schofield added 16 kills for the Chargers.
Edison finished the season 17-15.
CROSS-COUNTRY
The Fountain Valley girls' cross-country team finished second behind Vista Murrieta 37-60 in the Division 1 race of the Riverside Invitational on Saturday.
Ashley Faller paced the Barons, finishing fourth in 17 minutes 44.2 seconds. Sara Feitz (sixth, 17:57.5), Maddie Jahshan (13th, 18:21.2), Julia Svartstrom (17th, 18:24.8) and Ashlee Gallegos (22nd, 18:37.5) completed the scoring quintet.
Fountain Valley entered the week as the No. 7 team in the CIF Southern Section Division 1 rankings.
Lars Mitchel shined for Huntington Beach in the boys' Division 1 race. The senior placed ninth in 15:23.8.
Corona del Mar finished as the runner-up in the Division 2 boys' race. Foothill won the team battle 84-95.
Ian Turner led the Sea Kings, placing seventh in 15:43.6. Duncan Taylor (11th, 15:54.4), Ethan Bollman (20th, 16:06.5), Nico Pence (25th, 16:10.5) and Joey Cianfrani (33rd, 16:18) were the other scoring runners.
Sophomore Annabelle Boudreau stood out for CdM on the girls' side, finishing second in 17:28.
Ocean View narrowly clipped Los Angeles Cathedral 85-90 to win the Division 3 boys' race. The Seahawks' scoring five were Jason St. Pierre (fourth, 16:09.2), Adrian Ramirez (15th, 16:41.9), Edwin Montes (16th, 16:42.1), Michael Hernandez (27th, 17:06.3) and Joshua King (32nd, 17:11.5).
Costa Mesa's Kevin Cortez took third with a time of 16:02.7.
Fellow Mustang Diane Molina broke 18 minutes for the fourth time this season, winning the girls' Division 3 race in 17:59.5.
::
Twitter: @DailyPilotSport
To report scores or newsworthy items, contact the sports staff listed below:
David Carrillo Peñaloza, Sports Editor
(714) 966-4612, david.carrillo@latimes.com
Twitter: @ByDCP
Fall: football, girls' golf
Winter: boys' basketball, boys' soccer
Spring: baseball, boys' golf
::
Matt Szabo, Sports Reporter
(714) 966-4614, matthew.szabo@latimes.com
Twitter: @mjszabo
Fall: boys' water polo, girls' tennis
Winter: girls' soccer, girls' water polo
Spring: boys' tennis, swimming, lacrosse
::
Andrew Turner, Sports Reporter
(714) 966-4611, andrew.turner@latimes.com
Twitter: @ProfessorTurner
Fall: girls' volleyball, cross-country, field hockey
Winter: girls' basketball, wrestling
Spring: boys' volleyball, track and field, softball
---
UPDATES:
Oct. 21, 6:10 p.m.: This article was updated with information on who the Ocean View and Pacifica Christian Orange County girls' volleyball teams will play in their respective divisions in the CIF Southern Section quarterfinals on Wednesday, and Saturday's results involving the Edison-Lakewood St. Joseph girls' volleyball match and the Riverside Invitational cross-country event.
This article was originally published on Oct. 20 at 10:55 p.m.
---