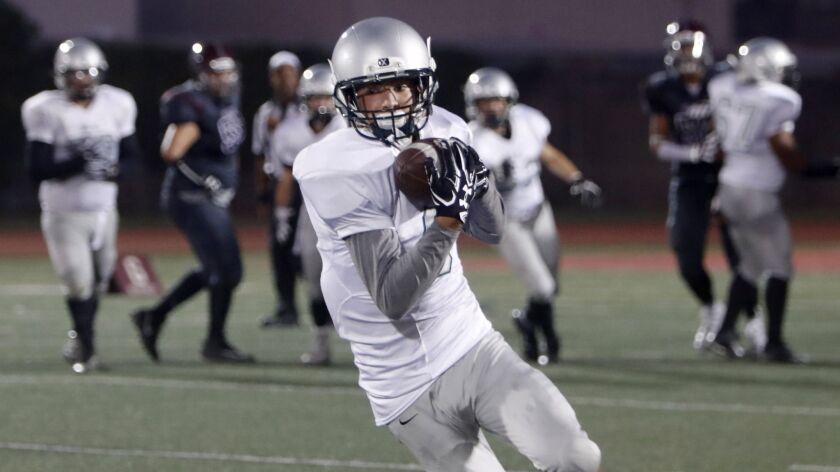 Sage Hill School's perfect 8-man football season ended on Monday.
Sage Hill suffered its first setback of the season, losing 56-7 at defending champion Canoga Park Faith Baptist in the quarterfinals of the CIF Southern Section Division 1 playoffs.
Senior quarterback Darius Shayan-Smith ran for a 60-yard touchdown for the Express League champion Lightning, who finished 10-1 overall.
Fourth-seeded Faith Baptist (9-2) will host Los Angeles Windward (8-3) on Saturday in the semifinals. Windward defeated visiting No. 1 Carpinteria Cate 31-27 in the quarterfinals on Monday.
"Thirty mph winds … neutralized our pass game," Sage Hill coach BJ Crabtree said in a text message, "but the game was lost in the trenches, where Faith was more physical all the way around."
The game was originally scheduled for Nov. 10, but the poor air quality caused by the Woolsey fire moved it to Monday.
BOYS' BASKETBALL
Fountain Valley 49, Portola 46: Sophomore guard Preston Amarillo finished with 10 points, helping the Barons begin the season with a pool-play win in the Jim Harris Classic at Ocean View High on Monday.
Adam Beerck also contributed for Fountain Valley, which resumes tournament play on Thursday against Compton Dominguez at 7:30 p.m.
The Barons host Crean Lutheran in a nonleague game on Tuesday at 7 p.m.
El Toro 62, Huntington Beach 48: The Oilers dropped their opener, a pool-play game in the Jim Harris Classic at Ocean View High on Monday.
Huntington Beach faces Pomona Diamond Ranch in pool-play action on Tuesday at 4:30 p.m.
Garden Grove 63, Los Amigos 37: Senior guard Steven Ruelas finished with 11 points in the host Lobos' first game of the season in the Four City Classic on Monday.
Los Amigos resumes tournament play at home against Irvine on Tuesday at 7 p.m.
BOYS' SOCCER
Costa Mesa 8, La Quinta 0: Under first-year coach Gus Gomez, the Mustangs started the season with a shutout at home on Monday.
Ethan Ervey scored three of his four goals in the first half. Samee Dokovic and Alan Morales had two goals apiece.
Costa Mesa plays at Oxford Academy on Thursday at 3 p.m.
::
Twitter: @DailyPilotSport
To report scores or newsworthy items, contact the sports staff listed below:
David Carrillo Peñaloza, Sports Editor
(714) 966-4612, david.carrillo@latimes.com
Twitter: @ByDCP
Fall: football, girls' golf
Winter: boys' basketball, boys' soccer
Spring: baseball, boys' golf
::
Matt Szabo, Sports Reporter
(714) 966-4614, matthew.szabo@latimes.com
Twitter: @mjszabo
Fall: boys' water polo, girls' tennis
Winter: girls' soccer, girls' water polo
Spring: boys' tennis, swimming, lacrosse
::
Andrew Turner, Sports Reporter
(714) 966-4611, andrew.turner@latimes.com
Twitter: @ProfessorTurner
Fall: girls' volleyball, cross-country, field hockey
Winter: girls' basketball, wrestling
Spring: boys' volleyball, track and field, softball
---