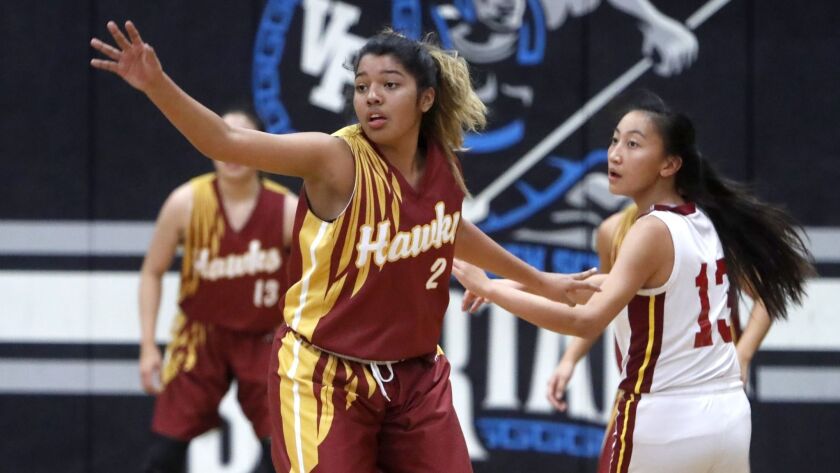 Kasey Torres scored seven points in the Ocean View High girls' basketball team's 44-28 season-opening loss at Saddleback on Wednesday night.
Helen Reynolds had six points, three rebounds, three assists and two steals for the Seahawks. Bella Caiazzo had five points, four rebounds and two blocked shots.
Ocean View begins play in the Rosemead Tournament on Thursday.
San Juan Hills 44, Edison 23: Madison Copeland had seven points, and Brooklyn Chang added five points in the Chargers' season opener on the road Wednesday.
Edison plays at Yorba Linda on Friday at 7 p.m.
Laguna Beach 43, Winchester Temecula Prep 17: Anna Cheng had 11 points and nine steals, and the host Breakers, who went winless last season, improved to 2-0 on Tuesday.
Mia Pitz scored a team-high 13 points for the Breakers, while Madilyn Garwal added 11 points and 12 rebounds. Autumn Moreland contributed 15 rebounds.
BOYS' BASKETBALL
Orange 44, Los Amigos 42: The visiting Lobos dropped to 0-3 on the season Wednesday.
::
Twitter: @DailyPilotSport
To report scores or newsworthy items, contact the sports staff listed below:
David Carrillo Peñaloza, Sports Editor
(714) 966-4612, david.carrillo@latimes.com
Twitter: @ByDCP
Fall: football, girls' golf
Winter: boys' basketball, boys' soccer
Spring: baseball, boys' golf
::
Matt Szabo, Sports Reporter
(714) 966-4614, matthew.szabo@latimes.com
Twitter: @mjszabo
Fall: boys' water polo, girls' tennis
Winter: girls' soccer, girls' water polo
Spring: boys' tennis, swimming, lacrosse
::
Andrew Turner, Sports Reporter
(714) 966-4611, andrew.turner@latimes.com
Twitter: @ProfessorTurner
Fall: girls' volleyball, cross-country, field hockey
Winter: girls' basketball, wrestling
Spring: boys' volleyball, track and field, softball
---