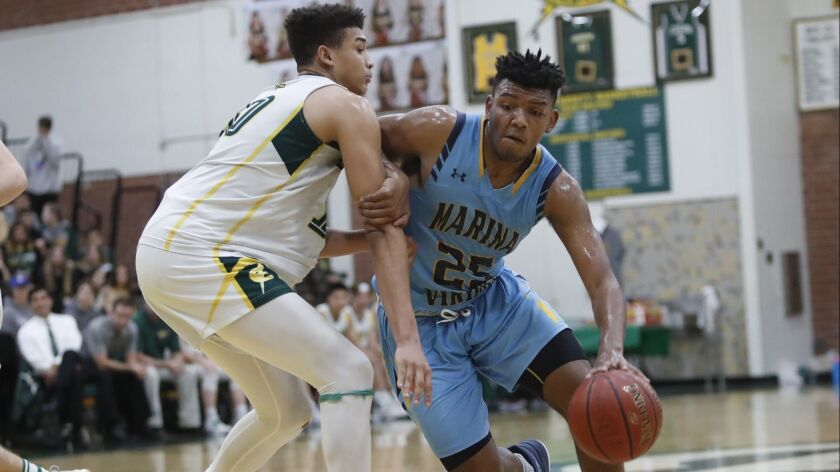 Senior forward Jakob Alamudun finished with 18 points, and the Marina High boys' basketball team earned a 58-52 victory over Freeport of Illinois to improve to 2-0 in the RPS 205 Tip-off Classic on Wednesday in Rockford, Ill.
Marina (2-2) resumes tournament play against Guilford of Illinois on Friday at 1 p.m.
Huntington Beach 64, Segerstrom 60 (OT): Senior guard Nick Saccacio led the visiting Oilers with 21 points in Wednesday's nonleague game.
Richard Imagawa contributed 12 points for Huntington Beach (2-3), while John Stenlund added 10 points.
Santiago 52, Estancia 46: Junior forward Jake Covey had 19 points for the Eagles in the the El Monte Tournament semifinals on Wednesday.
Estancia (3-1) plays in the third-place game on Saturday at 10 a.m.
::
Twitter: @DailyPilotSport
To report scores or newsworthy items, contact the sports staff listed below:
David Carrillo Peñaloza, Sports Editor
(714) 966-4612, david.carrillo@latimes.com
Twitter: @ByDCP
Fall: football, girls' golf
Winter: boys' basketball, boys' soccer
Spring: baseball, boys' golf
::
Matt Szabo, Sports Reporter
(714) 966-4614, matthew.szabo@latimes.com
Twitter: @mjszabo
Fall: boys' water polo, girls' tennis
Winter: girls' soccer, girls' water polo
Spring: boys' tennis, swimming, lacrosse
::
Andrew Turner, Sports Reporter
(714) 966-4611, andrew.turner@latimes.com
Twitter: @ProfessorTurner
Fall: girls' volleyball, cross-country, field hockey
Winter: girls' basketball, wrestling
Spring: boys' volleyball, track and field, softball
---