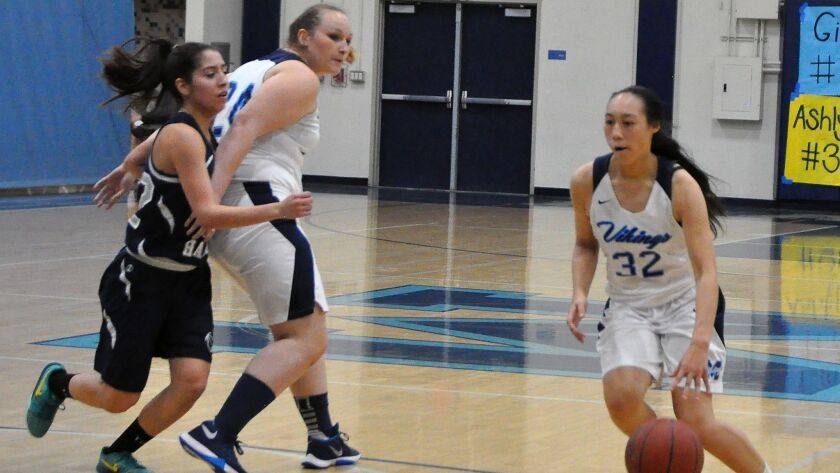 Emily Sakamoto finished with 24 points and 10 rebounds to lead the Marina High girls' basketball team to a 52-49 nonleague win at Portola on Tuesday.
Katie Nguyen added 13 points, six rebounds and four assists for the Vikings, and Greta Graeler had six points and eight rebounds.
Marina (7-2), which has won four in a row, will compete in the Hawk Holiday Classic at Ocean View High next week.
Palos Verdes 52, Sage Hill 36: Freshman guard Isabel Gomez had with 14 points and three three-pointers for the Lightning in Tuesday's CdM Tip-off Tournament game.
Emily Elliott had eight points for Sage Hill (2-1).
Sage Hill began the tournament with a 52-44 win over Laguna Hills on Monday. Elliott led the Lightning with 27 points.
Tustin 53, Newport Harbor 25: Reese Vickers and Willa Rath each scored six points for the Sailors in a pool-play game of the CdM Tip-off Tournament on Tuesday.
Chloe Swanson had five points and 10 rebounds for Newport Harbor (3-3).
Pacifica Christian Orange County 20, La Verne Lutheran 15: Annika Bahnsen had 10 points to lead the visiting Tritons in Tuesday's Western League game.
Pacifica Christian improved to 2-1 overall and 1-0 in the league this season.
BOYS' BASKETBALL
Costa Mesa 81, Huntington Beach 73: Senior guard Osman Hefner led the Mustangs with 27 points in their opening game of the Grizzly Invitational at Loara High on Tuesday.
Nico Dasca added 26 points, while Tre Villalpando had 11 points.
The Mustangs (1-0) face El Toro (3-3) in their final pool-play game on Wednesday at 7:45 p.m. The winner wins the pool and advances to Thursday's Gold Division quarterfinals.
Michael Hennessy had 18 points for the Oilers (2-5).
Edison 60, Dana Hills 57 (OT): Senior guard Kaden Headington poured in 23 points to lift the Chargers in Tuesday's Grizzly Invitational opener at Godinez High.
Edison (2-0) will claim its pool and qualify for the Gold Division quarterfinals with a victory against Santa Ana Calvary Chapel on Wednesday. The Chargers and Eagles play at 4:45 p.m.
Luke Serven had 14 points and Justin Strauss 12.
Pacifica Christian Orange County 99, Calvary Chapel Downey 28: Junior forward Judah Brown finished two assists shy of a triple-double in the Tritons' nonleague home game on Tuesday.
Brown had 19 points, 11 rebounds and eight assists.
Houston Mallette contributed 20 points for Pacifica Christian (5-2). Riyaan Jiwani had 17 points, Solomon Davis 16 and Josh Sims 12.
Western 52, Los Amigos 47: The Lobos dropped to 0-7 after Tuesday's setback in their tournament.
Tarbut V' Torah 59, Brethren Christian 25: The Warriors lost their season opener at Liberty Christian School on Tuesday.
GIRLS' WATER POLO
Marina 10, Estancia 5: Junior Rianne Gear scored four goals for the Vikings in Tuesday's nonleague road game.
Lana Kardos, a freshman, added three goals and three assists for the Vikings (1-1), and junior Madelyn Ruiz scored twice. Junior goalkeeper Emma Marsh made 11 saves.
Junior Sydni White scored three goals and junior Gidget Brestel scored twice for Estancia (0-1).
GIRLS' SOCCER
Sage Hill 1, Godinez 1: Sophomore Ava Cooper scored in the 40th minute for the host Lightning in Tuesday's nonleague season opener.
Freshman goalkeeper Lainey Cauffman made six saves for Sage Hill. Lightning assistant coach Megan Cid said that seniors Maya Jaffe and Karli Davis provided strong defensive play, while senior Olivia Lowe and sophomore Grace Robinson-Dorn were solid in the midfield.
Sage Hill plays at Carpinteria Cate on Friday at 3:15 p.m.
Pacifica Christian Orange County 8, La Quinta 0: The Tritons improved to 2-0 after winning Tuesday's nonleague match on the road.
Pacifica Christian opened the season Monday with a 7-0 victory over Brethren Christian. Senior Sadie Hill scored twice, while Brooklyn Motske, Grace Jordan, Buze Harrison and Leila Bahnsen also scored. Motske tallied four asssists.
Brethren Christian is 0-2.
Pacifica Christian plays at Torrance Ambassador in a nonleague match Friday at 2:30 p.m.
::
Twitter: @DailyPilotSport
To report scores or newsworthy items, contact the sports staff listed below:
David Carrillo Peñaloza, Sports Editor
(714) 966-4612, david.carrillo@latimes.com
Twitter: @ByDCP
Fall: football, girls' golf
Winter: boys' basketball, boys' soccer
Spring: baseball, boys' golf
::
Matt Szabo, Sports Reporter
(714) 966-4614, matthew.szabo@latimes.com
Twitter: @mjszabo
Fall: boys' water polo, girls' tennis
Winter: girls' soccer, girls' water polo
Spring: boys' tennis, swimming, lacrosse
::
Andrew Turner, Sports Reporter
(714) 966-4611, andrew.turner@latimes.com
Twitter: @ProfessorTurner
Fall: girls' volleyball, cross-country, field hockey
Winter: girls' basketball, wrestling
Spring: boys' volleyball, track and field, softball
---