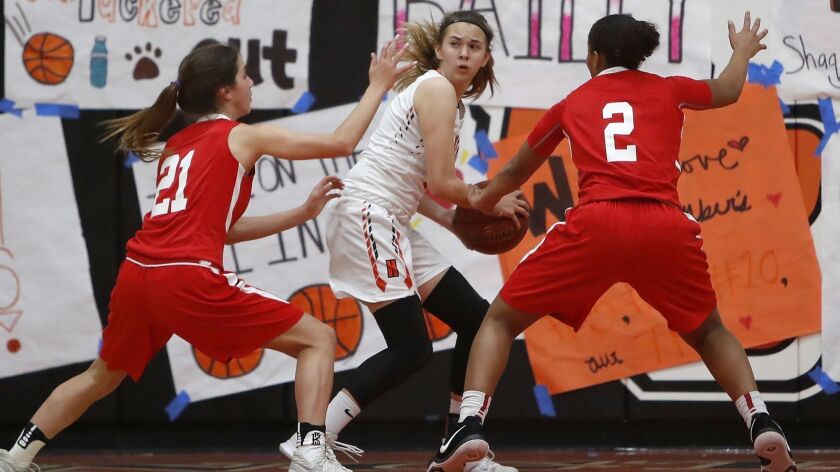 Alyssa Real sunk a buzzer-beating three-pointer from the right wing, and the Huntington Beach High girls' basketball team defeated host University 38-37 on Thursday to take second place in its pool of the South Coast Classic.
Andie Payne had six points, 14 rebounds and three blocked shots for the Oilers (5-2). Meghan McIntyre and Real each finished with nine points, and Bella Serrano had eight points and six rebounds.
Huntington Beach will play at 5 p.m. on Saturday at University in the third-place game.
Edison 46, Compton 45: Sarah Gray made the go-ahead free throw with five seconds remaining, lifting the Chargers in the Vernie Ford Tournament game at Fullerton High on Thursday.
Gwen Ontiveros had 17 points, and Madison Copeland added 14 points for Edison (2-3).
Edison will play the winner of Pomona and Bellflower on Friday at 4:30 p.m.
Sage Hill 41, El Modena 35: Emily Elliott had a team-high 15 points and 20 rebounds to lead the Lightning on Thursday in the CdM Tip-off Tournament.
Isabel Gomez added 14 points, eight rebounds and seven blocks, and Zoe Mazakas also had six points and 13 rebounds.
Sage Hill (3-1) will face the winner of Irvine and Dana Hills on Saturday at Newport Harbor High at 2:30 p.m.
Laguna Hills 51, Newport Harbor 31: Chloe Swanson had 12 points and 12 rebounds in the Sailors' pool play game in the CdM Tip-off Tournament on Thursday.
Willa Rath added four points and seven rebounds for Newport Harbor (3-4).
The Sailors will host Mission Viejo at 10 a.m. to finish out the tournament.
Fountain Valley 44, Riverside Ramona 42: Margaret Tengan had 21 points to lead the Barons in the SoCal Showcase game at Whitney High on Thursday.
Fountain Valley (2-2) will take on Villa Park on Friday at 7:30 p.m. as the tournament continues.
BOYS' BASKETBALL
Costa Mesa 64, Fullerton 58: Senior guard Nico Dasca's 24 points led the Mustangs in the Silver Division quarterfinals of the Grizzly Invitational at Loara High on Thursday.
Osman Hefner contributed 18 points for Costa Mesa (2-1), while Gio Quero had 14 points.
The Mustangs face Aliso Niguel in Friday's semifinal game at Loara at 7:45 p.m.
Huntington Beach 63, Irvine 61 (OT): Senior forward John Stenlund finished with 24 points in the visiting Oilers' Bronze Division quarterfinal game of the Grizzly Invitational on Thursday.
Nick Saccacio added 13 points and Richard Imagawa 10.
Huntington Beach plays Segerstrom in the semifinals Friday at Loara High at 3:15 p.m.
Ocean View 86, Riverside Carnegie Schools 19: The Seahawks tied a single-game school record for fewest points allowed in Thursday's game at the Coyote Classic at Buena Park High.
Ocean View improved to 3-4.
Riverside King 50, Fountain Valley 39: Sophomore Jeremiah Davis had 10 points for the Barons in Thursday's nonleague road game.
Fountain Valley fell to 6-4.
Garden Grove 63, Los Amigos 37: The Lobos dropped to 0-8 after Thursday's home game.
GIRLS' WATER POLO
Estancia 12, Savanna 4: Junior Sydni White had five goals and three assists for the Eagles in Thursday's nonleague match at home.
Junior Gidget Brestel added three goals and two assists for Estancia (1-1), while sophomores Cassie Corrigan and Lexi Thorpe each scored twice.
Goalkeeper Giannina Bauer made eight saves for the Eagles.
::
Twitter: @DailyPilotSport
To report scores or newsworthy items, contact the sports staff listed below:
David Carrillo Peñaloza, Sports Editor
(714) 966-4612, david.carrillo@latimes.com
Twitter: @ByDCP
Fall: football, girls' golf
Winter: boys' basketball, boys' soccer
Spring: baseball, boys' golf
::
Matt Szabo, Sports Reporter
(714) 966-4614, matthew.szabo@latimes.com
Twitter: @mjszabo
Fall: boys' water polo, girls' tennis
Winter: girls' soccer, girls' water polo
Spring: boys' tennis, swimming, lacrosse
::
Andrew Turner, Sports Reporter
(714) 966-4611, andrew.turner@latimes.com
Twitter: @ProfessorTurner
Fall: girls' volleyball, cross-country, field hockey
Winter: girls' basketball, wrestling
Spring: boys' volleyball, track and field, softball
---