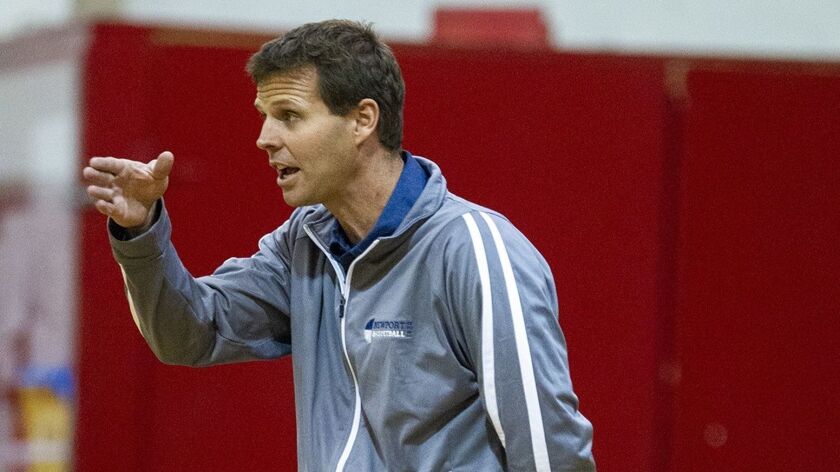 For the second straight year, the Newport Harbor High boys' basketball team will play for third place in the Grizzly Invitational Gold Division.
The Sailors suffered their first loss of the season, a 61-54 setback to undefeated Villa Park in the semifinals of the tournament at Godinez High on Friday night.
Sam Barela finished with 21 points for Newport Harbor (4-1), which faces Capistrano Valley Christian (3-1) in Saturday's third-place game at Godinez at 6:15 p.m. Dayne Chalmers and Will Harvey each added 11 points.
The Spartans (9-0), ranked No. 6 in the CIF Southern Section Division 2AA poll, play Yorba Linda (7-3) for the title at Godinez on Saturday at 7:45 p.m.
Huntington Beach 57, Loara 52 (OT): Behind junior guard Richard Imagawa's 14 points on Friday, the visiting Oilers won their second consecutive overtime game to reach the Grizzly Invitational Bronze Division championship game.
Nick Saccacio had 11 points and eight steals for Huntington Beach (4-5), which will play at Godinez in the final on Saturday at 10:45 a.m.
Aliso Niguel 83, Costa Mesa 75: Senior guard Nico Dasca had 33 points in the Mustangs' Grizzly Invitational Silver Division semifinal game at Loara High on Friday.
Costa Mesa's Osman Hefner and George Williamson scored 10 points apiece.
The Mustangs (2-2) close out the tournament against Dana Hills at Godinez High at 12:15 p.m. on Saturday.
Laguna Beach 47, Capistrano Valley 40: Sophomore guard Willie Rounaghi had 14 points for the Breakers in Friday's Grizzly Invitational Silver Division consolation game at Loara High.
Nolan Naess contributed 12 points and Lucas Kravitz 10 for Laguna Beach (4-2).
Edison 48, Northwood 36: The Chargers went ahead 16-5 in the first quarter, and they improved to 3-1 in the Grizzly Invitational.
Edison (4-1) wraps up tournament play on Saturday.
Marina 48, Cerritos Valley Christian 42: The Vikings are 4-4 after Friday's nonleague road game.
GIRLS' WATER POLO
Corona del Mar 12, Santa Barbara San Marcos 9: Senior Sophie Wallace and sophomore Grace Myers each had four goals in the Sea Kings' nonleague road match against the defending CIF Southern Section Division 1 champion on Friday.
Wallace added three assists and two steals for CdM (2-0). Carter Britt had two goals and an assist, while Ella Abbot (four assists) and Megan Peterson (five steals) scored one goal each.
Maya Avital made five saves for CdM.
CdM plays at Goleta Dos Pueblos on Saturday at 9:15 a.m.
GIRLS' SOCCER
Corona del Mar 2, Santa Rosa Montgomery 2: Megan Chelf had two first-half goals for the Sea Kings in Friday's Back Bay Invitational showcase match at Newport Harbor High.
Natalie Hueston and Maddie Rosen assisted the goals for CdM (1-0-1), and Giovanna Broderick made eight saves.
Montgomery scored twice in the second half to salvage the tie.
CdM has two more Back Bay Invitational showcase matches Saturday at Newport Harbor High, against Kingsburg at 9 a.m. and Lakewood Mayfair at 1:30 p.m.
Sage Hill 2, Carpinteria Cate 0: Sophomore Lexi Van den Bosch had a penalty shot goal and an assist for the Lightning in Friday's nonleague road match.
Sophomore Grace Robinson-Dorn also scored for Sage Hill. Assistant coach Megan Cid said the Lightning also benefited from strong midfield play from freshman Lauren Graham and defensive play from freshman Ann Wood.
Freshman Lainey Cauffman and junior Nicole Motherway each made two saves at goalkeeper for Sage Hill (1-0-1), which plays at Carpinteria on Saturday at 10 a.m.
Costa Mesa 2, Oxford Academy 1: Senior forward Rayleen Chavez scored twice for the Mustangs in the Katella Tournament match Friday.
Chavez notched her fifth and sixth goals of the season.
The Mustangs play Rancho Alamitos on Saturday at 8 a.m. in their final group stage match.
BOYS' SOCCER
Corona del Mar 2, Brea 0: Senior forward Niko Urban scored two goals, helping the host Sea Kings improve to 2-0 on Friday.
Goalkeeper Wally Korbler recorded the shutout with the help of Zane Weaver, Christian Flori, Chris Cruttenden and Kieran Hill.
Matt Katz had two assists for CdM, which plays at JSerra on Monday at 5 p.m.
Estancia 3, Marina 2: Junior forward Marcos Arreola produced three goals in the Eagles' nonleague match at home Friday.
Jesus Guerrero and Pablo Alcala had assists for Estancia (2-1-1), which travels to play Huntington Beach on Monday at 5 p.m. Goalkeeper Victor Jacinto made three saves.
Marina (0-3) is at home against Ocean View on Monday at 3 p.m.
Los Amigos 5, Canyon 3: Junior midfielder Brandon Alfaro scored a goal and assisted on another in the Lobos' nonleague match at home Friday.
Los Amigos (3-1) recorded four second-half goals.
The Lobos host Irvine on Monday at 3:15 p.m.
Edison 0, Valencia 0: Sophomore goalkeeper Bennett Flory made a couple of saves for the host Chargers in the Aliso Cup match on Friday.
Edison is now 1-0-1.
University 3, Huntington Beach 0: The host Oilers dropped to 0-2-1 on Friday.
Huntington Beach hasn't scored a goal this season.
Dana Hills 3, Laguna Beach 1: Junior forward Jet Rocha scored for the Breakers in Friday's season opener at home.
GIRLS' BASKETBALL
Pacifica Christian Orange County 34, Anaheim Discovery Christian 18: Hailey MacKay had 13 points to lead the host Tritons in a Western League game on Friday.
Anna Eddy added 12 points for Pacifica Christian (3-1, 2-0 in league).
::
Twitter: @DailyPilotSport
To report scores or newsworthy items, contact the sports staff listed below:
David Carrillo Peñaloza, Sports Editor
(714) 966-4612, david.carrillo@latimes.com
Twitter: @ByDCP
Fall: football, girls' golf
Winter: boys' basketball, boys' soccer
Spring: baseball, boys' golf
::
Matt Szabo, Sports Reporter
(714) 966-4614, matthew.szabo@latimes.com
Twitter: @mjszabo
Fall: boys' water polo, girls' tennis
Winter: girls' soccer, girls' water polo
Spring: boys' tennis, swimming, lacrosse
::
Andrew Turner, Sports Reporter
(714) 966-4611, andrew.turner@latimes.com
Twitter: @ProfessorTurner
Fall: girls' volleyball, cross-country, field hockey
Winter: girls' basketball, wrestling
Spring: boys' volleyball, track and field, softball
---